CSR Report(Corporate Social Resonsibility)
Section2: Description of Different Types of Activities
Global and local trends have turned the spotlight onto social, environmental and other non-financial corporate issues. Company executives are tuning into the needs to seemingly embrace non-traditional business imperatives and responsibilities. As a relatively new arena for corporate action, it is not surprising that there is some confusion around the terminology.

A plethora of terminologies are bandied around and used interchangeable – often incorrectly – by the media, academic institutions, consultants and companies themselves. Terms such as: corporate citizenship; corporate social investment (CSI); corporate social responsibility (CSR); sustainability; triple-bottom-line; corporate governance; transformation; a companies' social and environmental obligations and so on, are often referred to without a clear understanding of the choice of term of distinction between them.
This term encapsulates the current consensus for global development and refers to the ability to meet the needs of the present generation without compromising the ability of future generations to meet their needs. Within the corporate context, economic development and the pursuit of profit should not occur to the detriment of social and environmental sustainability. Corporates are responding to this global agenda through their corporate social responsibility and CSI activities.
Corporate Citizenship and Corporate Social Responsibility (CSR):
Both terms refer to a value system which a company adopts in order to be responsible to broader society. Such values inform and guide all company operations and activities. Within the South African context, a corporate citizenship value system should underpin activities such as corporate governance; employment equity; environmental management; product stewardship; preferential procurement; human rights; and corporate social investment (CSI).
Note that CSI is just one small, but influential, element of corporate citizenship or corporate social responsibility. It is an element that can provide much-needed development expertise to a company's other transformation activities such as enterprise development and preferential procurement.
Corporate Social Investment (CSI):
CSI refers to a company's contributions (cash and non-cash) to people, organizations or communities that are external to the company and should conform to the following broad criteria:
Excludes contributions to employees but may include input or giving to families of employees or local communities from which employees are drawn or where they live.

Predominantly or entirely focused on disadvantaged individuals and communities.
Excludes commercial sponsorship but may form a developmental arm of commercial sponsorship.

Is not marketing or public relations orientated but requires a communications element.
May be constituted as a Foundation or Trust, or form a company line department.

A Paradigmatic View of CSI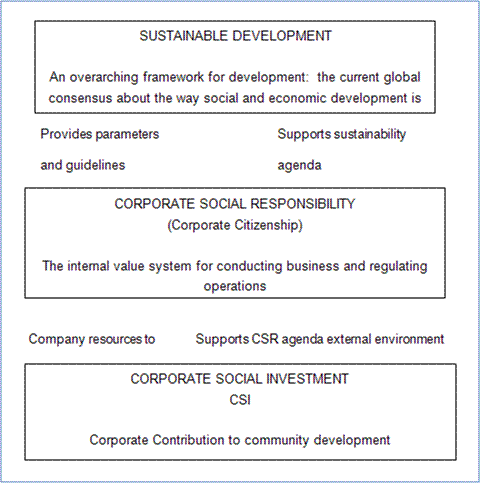 Corporate citizenship (or CSR) values should underpin core business operations and the pursuit of profits. Corporates are being called on to be 'responsibly competitive'. Increasingly, short-cuts that are not socially or environmentally sound for the sake of short-term profit are exposed and in some cases penalized.
It is true that there are costs associated with being socially and environmentally responsible, but if the investment is undertaken properly, those costs will be recovered in the form of stable and sustainable growth.
It is important that the CSI programme doesn't operate in isolation from other corporate citizenship and transformation activities. CSI should be seen as a specialist developmental function, with an external focus, beyond the boundaries of the business. However, CSI is also an integral part of the business and as such should be aligned to, and supportive of, core business objectives. As the developmental expertise centre of the business, the CSI department can also support other elements of the transformation agenda.
Oudated Forms of CSI (What is it Not …)
A welfarist rather than developmental approach
A wide range of 'worthy causes' supported
Mostly cash donations
Priority given to tax deductible categories of donation
'Discreet' giving, with low marketing profile and no co-ordination
Projects selected based on funding applications from NGO's
CSI Style in the Era of Economic Transformation (what it should be…)
Closer alignment with core business
Compliance with the requirements of charters and the BEE codes
Formula based CSI budgets in line with charters and the BEE codes
New and refined CSI strategies with defined benefits for the business
CSI thinking integrated throughout the business
Specialist staff to manage formalized CSI programmes
Wide use of EVP's to mobilize employee involvement
Long term working partnerships with NPO service providers and other partners
Social investment, rather than grant making, with emphasis on development returns
General Development Sectors Nominated for CSI Expenditure / Implementation:
Education
Health & HIV/Aids
Job Creation
Training
Social Development
Environment
Sports Development
Arts and Culture
Safety and Security
Housing