The closed door formulations of the Chinese policy-making apparatus found institutionalexpression in the subsequent meetings of the China-Africa Forums (CAFs) – thenrenamed FOCAC - held every three years alternatively in China and Africa. A mechanismto promote diplomatic, trade, security and investment relations between China and Africancountries, it provides the integrated framework governing Chinese African relations,buttressing and institutionalizing support for Chinese oil companies that have become thenew economic vanguard of China's diplomatic thrust into the continent.
China's hosting of the first China-Africa Consultative Forum (CACF)
Targeted debt relief
Participation in peace-keeping operations in places such as Liberia, DRC and Sudan
Cheap loans linked to infrastructure development
Political junkets for African leaders to Beijing
Support for Africa in global forums such as the United Nations (UN), World Trade Organisation (WTO), International Monetary Fund (IMF) and World Bank
Competitive military deals
Collaborative projects on "traditional medicines"
Political "non-interference" in the internal policies of African countries
The promotion of "south-south" linkages
The establishment of parallel funding agencies to institutions such as the IMF and World Bank.
FOCAC reflects the key tenets of the Five Principles of Peaceful Coexistence whichguides China's foreign policy objectives. The process is expected to promote politicaldialogue and economic co-operation, with the long-term aim of common economicdevelopment and prosperity framed squarely on a one-China ideology.
The first such meeting held in Beijing from 10 to 12 October 2000, was attended by over800 officials from China and 44 African countries. Representatives of 17 regional andinternational organisations, as well as business representatives also attended theconference. "South-South" cooperation with its "natural allies" and the creation of "anequitable and just new international political and economic order" were key tenets of themovement. Economic and diplomatic interaction with Africa had taken centre stage andwould define future relations.
The sentiment was substantiated in the "Beijing Declaration of the Forum on China-AfricaCooperation" and the "Programme for China'-Africa Cooperation in Economic and SocialDevelopment," the two key documents which emerged from the meeting.
Specific plans included an expansion of trade, investment, joint projects and increased cooperationin the fields of agriculture, transportation, medical care, the exploitation ofnatural resources and banking.
The establishment of a "China-Africa Joint Business Council" was proposed as amechanism for the further promotion of trade. Special funds for the establishment of jointventures, facilitated through China and the African Development Bank (ADB) as well asthe Eastern and Southern African Trade and Development Bank, were also committed.And the exploitation and effective utilisation of natural resources on the African continent,key for China's economic growth, were singled out for renewed focus.
Another important component to emerge from this conference was debt relief. An"Accounts Committee" was formed immediately after the CACF meeting in 2000, under thedirection of the Chinese Foreign Ministry and the Ministry of Foreign Trade and EconomicCooperation (MOFTEC), to draw up an exact picture from audits and analyses made byseveral public entities, to determine the exact value of African debt, together with thenature of each financial compromise.
According to a contact of a senior MOFTEC official in Angola at the time, it was plannedthat debt would be either scrapped in full, transformed into non-interest loans, solved bybarter of identifiable goods, reviewed and diminished, re-scheduled in terms of paymentand/or interests, or transformed into tax benefits and investment bonuses for Chinesefirms wanting to have a share in the African market. The above was to be decided on acase-by-case basis, as not all debts were considered equal, due to different political,historical, economic and financial circumstances. To date over US$2 billion in African debthas been cancelled.
The second FOCAC ministerial conference was held in Addis Ababa, Ethiopia, from 15-16December 2003. The conference was attended by Chinese Premier Wen Jiabao, alongwith seven African presidents and a number of other senior officials from African countries.More than 70 government ministers from China and 44 African countries attended theproceedings. The central theme of the second ministerial conference wason "pragmatic and action-orientated co-operation." Premier Jiabao proposed a four pointprogramme for the further consolidation of Sino-African relations through mutual support;democratisation of international relations; meeting the challenge of globalisation together;and enhanced co-operation at all levels.
The conference produced the "FOCAC Addis Ababa Action Plan 2004-2006," which furtheroutlined future China-Africa co-operation. The political framework of the AddisAbaba Plan encouraged continued high-level exchanges, enhanced political dialogue, arenewed promise from Beijing to participate actively in African peacekeeping operations,and pledges to co-operate on a range of security related issues. On social anddevelopment issues China promised to expand its African Human ResourcesDevelopment Fund to train up to 10 000 African technicians over three years, to enhanceits assistance on medical care and public health, to provide technical training onagriculture, to cancel outstanding debts of select countries, and to encourage cultural andpeople-to-people exchanges.
The China-Africa Business Conference, arranged by the China Council for the Promotionof International Trade (CCPIT – a MOFTEC affiliate), which was held simultaneously withFOCAC, was specifically intended to boost Sino-African trade and investment. CCPITfacilitated the signing of 20 agreements to the value of US$460 million, involving 17Chinese companies in 17 African countries. Moreover, CCPIT organised Chinese businessexhibitions in African markets regarded as priorities, such as Egypt, Nigeria, Kenya andSouth Africa. The goal was to significantly boost trade with those key countries with a viewto expanding commercial links to other African countries.[See Annexure I on a detailed review of the Ethiopian FOCAC conference.]
As an adjunct to FOCAC, the China-Africa Business Council (CABC) was launched inAugust 2005 with an initial funding of US$1 million provided by the UN DevelopmentProgramme (UNDP) to further boost trade between China and the continent. [See below]
The engine room behind the efficient functioning of FOCAC has been the China "Follow-Up Committee" (FUC) comprising senior Chinese commerce and diplomatic officials toensure the effective functioning of the conferences and the necessary follow-up requiredbetween each conference. [See Annexure II on the workings of FUC.]
At the 2006 FOCAC Summit held in Beijing in October, attended by 48 African countries,President Hu Jintao stressed the long history of China-Africa cooperation and the commonobjective of economic development and prosperity. China committed itself to stand withAfrican countries in advancing national and continental interests.
Key outcomes of the 2006 Beijing Declaration at the FOCAC meeting included:
China's intention to double its assistance to Africa by 2009
Provide US$3 billion in preferential loans and US$2 billion preferential buyer credits to Africa over the next three years
The establishment of a China-Africa Development Fund (CADF), valued at US$5 billion, to encourage Chinese companies to invest in Africa
The building of an African Unity (AU) conference centre in Ethiopia to assist in the advancement in the objectives of African unity
Further debt cancellation of interest free loans in the heavily indebted poor countries
Expanding from190 to 440 in the number of export products receiving zero-tariff treatment
Establishing five new trade and economic co-operation zones in Africa; and training 15 000 African professionals, build hospitals, malaria prevention centres, schools and double the number of Chinese scholarships offered to African students.
President Hu Jintiao's commitment to Africa reconfirmed China's strategic interest in thecontinent and laid the foundation for the further building of a common developmentagenda. Thus the Beijing Declaration largely confirmed previous FOCAC undertakings,while at the same time proposing a broader framework for future co-operation.
FOCAC also effectively serves as a giant lobbying forum for economic interests to discussand sign contracts under the umbrella of political "comrade-ship". One good example waswhen Huawei President Ren Zhengfei accompanying then-Chinese Foreign Minister WuBangguo on a diplomatic tour of African nations in November 2000, lay the groundwork forone of the company's biggest deals of recent years - a US$200-million contract to build aCDMA 450 network in Nigeria, awarded in 2005. [See below] More recently, the November2006 Focac summit saw ZTE and Huawei inking deals with Lesotho and Ghana, directlyworth US$300 million. According to one inside source, this established links for muchbigger contracts with at least 6 other countries (not disclosed, but capable of generating, iffinalized, something in the region of US$3,5 billion in new business).
The latest in the series of FOCAC meetings was the sixth senior officials meeting of theForum which took place in Cairo, Egypt on 18-20 October 2008. The meeting wasintended to review the FOCAC process and consolidate the agenda for the next FOCACMinisterial Meeting to be held in Egypt late in 2009. Representatives from China, 48FOCAC African members, as well as regional organizations attended the meeting.
The senior officials meeting confirmed the positive progress on China's FOCACundertakings and laid a stable foundation for the next FOCAC ministerial meeting due inOctober this year. Against the backdrop of the current global financial crisis, two key areasof discussions covered were "China-Africa agricultural cooperation and food security" and"infrastructure construction". Food security has become a major strategic issue for Chinaas it tries to cope with changing food demands of its burgeoning consumer rich middleclass. This is apparent in Chinese new agricultural investment projects planned for Sudan,Angola and Zimbabwe. Members also agreed to establish a "new type of strategicpartnership" between China and Africa based on the principles of "equality, mutual benefitand learning from each other".
Xu Jinghu, Secretary General of the Secretariat of the Chinese Follow-up Committee ofthe Forum, characterized progress to date as "fruitful," although it is widely known thatdifficulties related to working in Africa has undermined implementation of some ofFOCAC's promises, especially in the area of construction. China's Assistant ForeignMinister Zhai Jun proposed the following areas for future development within the FOCACframework:


Expansion of high-level diplomatic exchange with African countries
Increased input from Africa in planning the FOCAC agenda
Prioritising assistance to Africa to advance fulfillment of the Millennium Development Goals (MDGs)
Assisting Africa in strengthening food security.
4.2. The China-Africa Business Council
One of the important initiatives to emerge out of FOCAC was the establishment of theChina-Africa Business Council (CABC) which was launched in Beijing in March 2005 withbroad stakeholder participation. Established with an initial seed capital of US$1 millionprovided by the United Nations Development Programme (UNDP), it was a joint initiativebetween UNDP, the Chinese Ministry of Commerce (MOFCOM) and the China Society ofPromotion for the Guangcai Programme (Guangcai), a key link between China'sCommunist Party and the private sector with a membership of more than 16 500 Chinese"private" companies. The CABC has established offices in Baoding, Wuhan, Hong-Kong,Macao and Chongqing as well as in six African countries including Cameroon, Ghana,Kenya, Mozambique, Nigeria and Tanzania.
In early December 2008, the CABC concluded a seminar in Beijing focusing on the impactof the global financial crisis on China-Africa commercial relations. Leading Chinese thinkOctobertanks and African representatives in Beijing participated in the event. The seminarconcluded that FOCAC continued to provide a solid framework for China and Africa torespond to and overcome challenges associated with the global crisis.
These political and economic initiatives have seen trade soar between China and Africa.In 1999 two way trade stood at a mere US$2 billion in 1999 to US$108 billion in 2008 – afifty-fold increase. China's top trading partners in Africa in 2008 were as follows:
Angola (24 percent)
South Africa (17 percent)
Sudan (8 percent)
Nigeria (7 percent)
Egypt (6 percent)
Rest of Africa (38 percent)
Chinese trade with and foreign direct investment in Sub-Saharan Africa, 2001-2008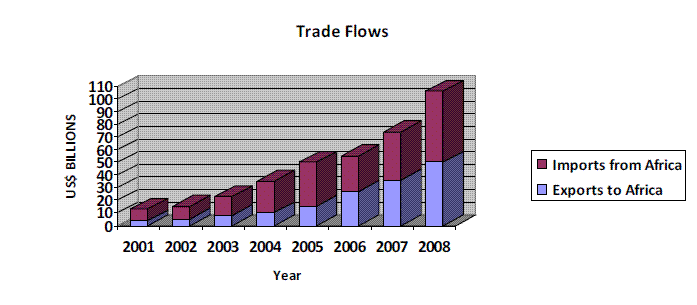 Source: IMF Direction of Trade Statistics (2006) and World Trade Atlas/Tralac (2008)