"Marine Plastic Debris and its Countermeasures in Asia: Impact on Ecosystems and International Cooperation"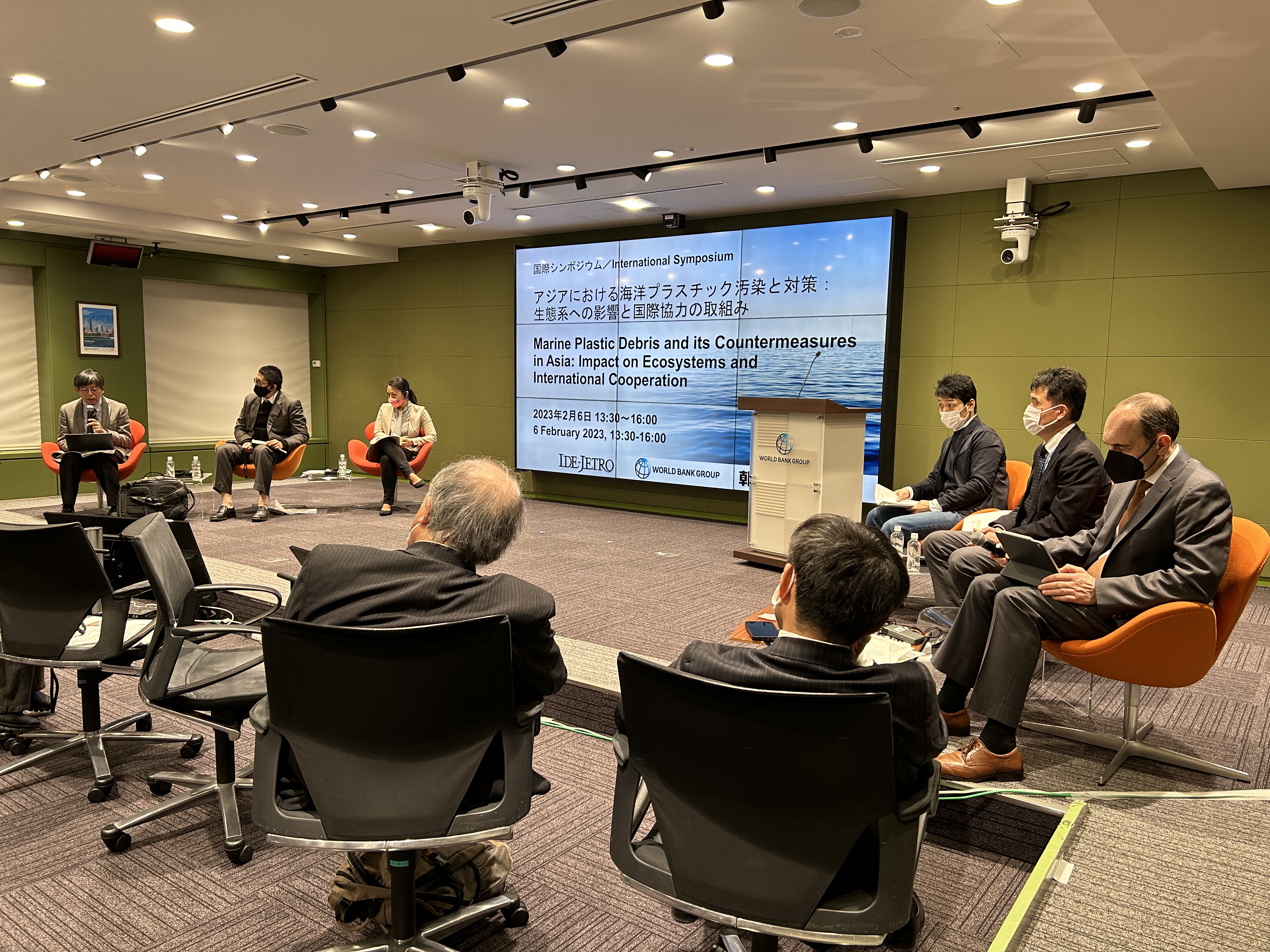 Every year, the Institute of Developing Economies - Japan External Trade Organization (IDE-JETRO) co-organizes an international symposium with the World Bank and the Asahi Shimbun Company. In fiscal 2022, it was held both in-person and online as a hybrid symposium on Monday, February 6, 2023. On this page, you can access videos of the keynote address and panel discussions delivered at the symposium.
Synopsis of the Symposium
Date & Time: Monday, 6 February 2023, 13:30-16:00 (Japan Standard Time)
Venue:
(In-person)World Bank Tokyo Development Learning Center (Fukoku Seimei Building 14th Floor, Uchisaiwaicho 2-2-2, Chiyoda-ku, Tokyo)
(Online)Zoom Webinar
Organizers: Institute of Developing Economies (IDE-JETRO), The World Bank, The Asahi Shimbun Company
Time

Program

13:30~13:40
Opening Remarks


Yasuaki YONEYAMA, Special Representative, Japan, The World Bank
Shu NOMURA, Managing Editor, The Asahi Shimbun Company
Kyoji FUKAO, President, IDE-JETRO

13:40~14:00

Keynote Speech I
"Marine Plastic Debris and its Countermeasures in Asia"

Michikazu KOJIMA, Chief Senior Researcher, Inter-disciplinary Studies Center/ Director-General, ERIA Support Office, IDE-JETRO

14:00~14:15

Keynote Speech II
"World Bank Group Experiences in Abating Marine Plastic Pollution in East Asia and the Pacific"

Benoît BOSQUET, Regional Director for Sustainable Development for East Asia and Pacific, The World Bank

14:15~14:25

Break

14:25~15:55

Panel Discussion and Q&A
Moderator: Michikazu KOJIMA
<Panelists>

Benoît BOSQUET
"The Threat of Plastic to the Future Sustainability of the Food System in Southeast Asia, the World's Largest Archipelagic Region"
Muhammad Reza CORDOVA, Senior Researcher, Research Center for Oceanography, The Indonesian National Research and Innovation Agency
"The Challenges of Eliminating the Leakage of Waste into the Natural World"
Fujio KOJIMA, CEO, Pirika, Inc./Pirika Association
"Waste Watch"
Anna OPOSA, Executive Director, Save Philippine Seas
"Marine Plastic Pollution: Current State and Countermeasures"
Michihiro OI, Director, Water Environment Division, Environmental Management Bureau, the Ministry of the Environment, Japan

15:55~16:00

Closing Remarks
Keynote Speech I "Marine Plastic Debris and its Countermeasures in Asia"
Michikazu KOJIMA, Chief Senior Researcher, Inter-disciplinary Studies Center/ Director-General, ERIA Support Office, IDE-JETRO
In 2015, the journal Science delivered a paper estimating contributions of countries around the world to marine plastics, which brought marine plastic debris into the international spotlight. The paper estimated that a total of 8 million tonnes of plastic waste was leaked into the ocean, and named Asian countries as the top sources. Another paper published in 2021 subsequently estimated that the total amount of plastic waste leaked into the ocean was much smaller than the estimation in the 2015 paper, and that it is currently unknown exactly how much plastic waste is being leaked into the ocean. However, in Southeast Asian countries too, there have been numerous reports of dead whales, dugongs, and other marine creatures washed ashore whose stomachs were found to be filled with plastics through dissection, and turtles with fishing nets entangled in them. It is apparent that the ecosystem has been affected negatively and we need to take some measures.
The measures can be divided into three parts. The first is to reduce the use of plastics. Asian countries such as China, India, Thailand and Indonesia have also introduced regulations to reduce the use of plastic products, including charging or banning single-use items such as plastic shopping bags. The second is to expand plastic recycling. The major method to promote this has been the Expanded Producer Responsibility, and Japan and South Korea have developed statutes since the 1990s to make it compulsory for producers to increase recycling rates and/or take economic responsibilities such as bearing the cost of recycling. We have to consider how we can expand such initiatives to other Asian countries. The third is to promote the proper disposal of plastic waste. In addition to raising individual's awareness, such as curbing littering, there is an urgent need to develop administrative mechanisms and facilities to collect and properly dispose of waste, especially in rural areas of developing countries from which a large amount of plastics are being released.
Keynote Speech II "World Bank Group Experiences in Abating Marine Plastic Pollution in East Asia and the Pacific"
Benoît BOSQUET, Regional Director for Sustainable Development for East Asia and Pacific, The World Bank
Plastics have long been a development driver, but have quickly gained attention as a problem in the wake of marine plastic pollution. As a solution to plastic pollution, the World Bank advocates Life Cycle Approach throughout the cycle from the production to trade, consumption and disposal of plastics. The World Bank collects data on how much plastic waste and what types of plastics are discharged from which countries in East Asia and the Pacific region, and based on the data, gives advice to governments regarding how to lay out evidence-based plastic policies. Asian countries have seen scant progress in recycling plastics, missing business and investment opportunities latent in proper waste disposal and recycling processes. In addition to giving support to boost investments in this field, the World Bank has been promoting initiatives to disseminate knowledge on plastic policies like Extended Producer Responsibility.
"The Threat of Plastic to the Future Sustainability of the Food System in Southeast Asia, the World's Largest Archipelagic Region"
Muhammad Reza CORDOVA, Senior Researcher, Research Center for Oceanography, The Indonesian National Research and Innovation Agency
Southeast Asian countries have achieved little in proper disposal of waste. In Jakarta, Indonesia, empty lots along rivers are filled with litter. The litter is released into the ocean through rivers. The source of marine plastic pollution consists of 80% land based and 20% sea based. Our research in Indonesia found that there was a relation between rainfall and the amount of plastics released into the ocean, and that large amounts of plastic waste are released into the ocean during the rainy season. It was also found that 70% of plastics released into the ocean were single-use products and that 65% of waste that was stranded in our research sampling area came from local sources. Although each region's capacity is different, it is crucial to control the pace of waste leak to the aquatic environment as effectively as possible. Plastic breaks down into microplastics that harm marine life and are suspended in the atmosphere. Humans are also taking them in through inhalation. Some concern that when they are combined with other pollutants, they might damage our health.
Pirika offers three services that directly contribute to resolving the problem of waste leakage. The first service is ALBATROSS, which is microplastics emission investigation to identify what products and through which paths they came from. By combining off-the-shelf products, we have developed a device and a method that enable us to carry out investigation anywhere at low cost. The collected samples were analyzed and have revealed that, in Japan, more than 20% of plastics leaked into domestic water bodies comes from artificial turf, and in Hokuriku region, large amounts of plastic coating used for fertilizers are leaked into rivers. After the investigation result was made public, ZEN-NOH (National Federation of Agricultural Cooperative Associations) declared that they discontinue the use of coated fertilizers. The second service is Takanome, which uses automobiles, smartphones and AI to measure the amount of litters found along streets and visualizes the litter distribution on a map. This will enable us to show with evidence which areas within the municipality should be budgeted for and what measures are effective for collecting litters and preventing littering. The third is Pirika, with which people can participate in litter collection activities anytime, anywhere using social networking services, and is currently used in 116 countries and regions around the world, with a track record of collecting nearly 300 million pieces of litters.
Save Philippine Seas works to conserve and protect marine resources in the Philippines. While the Philippines is rich in marine biodiversity, it is also a country that discharges large amounts of plastic waste into the ocean. The underlying problems include reliance on disposable items, low recycling rates, and a lack of infrastructure and political will for the proper disposal of waste. Save Philippine Seas uses social networking services and create numerous infographics and educational materials to share researchers' findings and data with the public in an easy-to-understand way. By doing so, we are raising people's awareness and giving options for actions to take. Putting particular efforts into working with the young, we have organized a number of environmental education and leadership workshops and support youth-led initiatives to reduce single-use plastics. Examples of campaigns are Waste Watchers, Straw Wars and Plastic Battle. In addition, we have advocated for changes in regulation to allow refilling of personal care products.
Calculations estimate that if plastics waste runoff into the ocean continues at the current pace, the total volume of plastic waste will exceed that of fish by 2050. How is the international community responding to the scientific alarm? The United Nations Environment Programme (UNEP) estimates that about 8.28 million tonnes of plastics are released into the environment worldwide, of which macroplastics accounts for a little more than 60% and microplastics for a little less than 40%. The biggest source of waste is the improper management of waste. Asia is the world's largest producer and user of plastics, discharging 50% of macroplastics and 40% of microplastics. Since most of them are discharged from emerging and developing countries, it is important for the entire world, including these countries, to take action. In 2019, the Osaka Blue Ocean Vision was shared at the G20 Summit. This is a vision aiming to reduce additional pollution by marine plastic litter to zero by 2050 and shared with 87 countries and regions as of February 2023. At the Intergovernmental Negotiating Committee (INC) in November 2022, negotiations began on a treaty on plastic pollution not only in the oceans but also in the air. Negotiating sessions will be held with the aim of completing the work by the end of 2024.
Q: To what extent is identifying causes of plastic pollution linked to measures to be taken?
A: When compared between Japan and Indonesia, for example, the sources and types of plastics released from both countries are different. Identifying the source of the waste is important to take more effective measures. (M. Kojima and Reza)
Q: Are biodegradable plastics likely to come into widespread use?
A: We need to discuss not only whether they will prevail but also whether they should become omnipresent. Biodegradable plastics decompose in the soil, but not in rivers and oceans. They might be suitable for fertilizer capsules to be degraded in the soil but not for artificial turf requiring durability. The possibility whether they will prevail or not is also dependent on the price and economic rationality. (F. Kojima)
Q: Is there industry consensus on the solution?
A: There is a mechanism to take into account opinions from industry as well as those from governments in negotiations on the treaty. (Oi)
Q: What is the concept of the Blue Economy proposed by the World Bank?
A: The World Bank views ocean plastic pollution as part of the broad framework of Blue Economy. This concept is based on sustainability. Plastic pollution is a negative aspect of the Blue Economy, but there is also a positive aspect, such as sustainable tourism, the creation of business opportunities, and jobs through recycling and other means. In the Philippines, for example, the World Bank and the Department of Energy are working together to develop offshore wind power. Based on a study conducted by the World Bank, we identified investment opportunities in off-shore wind power generation in each region, and provided lucrative business opportunities in the ocean and coastal areas to attract industry to take part in the initiative. Similarly, in addressing plastic pollution, one of the roles of the World Bank is to deepen the understanding of the actual situation of plastic pollution, and view it as an investment opportunity to attract industry, and thereby we will promote environmental conservation measures. (Bosquet)
Q: What do you think about this matter, Anna?
A: Cooperation between the government and industry is important. Through dialogue, we can develop a common understanding. It's true that everyone wants a clean ocean. (Oposa)
Q: Lastly, please give your short comment.
I feel we still need more scientific knowledge to stop plastic pollution. Various parties, including government, industry, academia and media, should work together in taking on this challenge. (Reza)
I have been thinking about the first question. The cause of plastic pollution is still unknown. However, our not knowing the cause does not necessarily prevent us from moving forward. Even though the cause has not been identified, we have to seek for solutions. (F. Kojima)
I believe we need to make investments in changing people's behavior. We do not have to wait for Olympics to make the change happen (comment made in response the fact that the Tokyo Olympics served as an impetus for the litter collection). Given that it takes time to change people's behavior, we should have a long perspective. (Oposa)
I would like to say three points. With regard to the first question, we need to figure out what we should do without knowing the cause. It is important to start and continue doing what we can do now, such as curbing inappropriate waste disposal and ending the use of single-use plastics. To shake off concerns of industry, we should convey the message that what is important is not to stop plastics but to stop plastic pollution and unnecessary plastics. Innovative solutions like biodegradable plastics are also available. Lastly, I would like to emphasize the importance of efforts by local governments that understand the situation in local area. (Oi)
Tokyo, Seoul and Singapore were very dirty 40 years ago. Manila, Jakarta, and other Asian cities can learn a lot from the experiences of those cities. Plastic pollution is a complex problem, but rather than demonizing plastic itself, the key is an effort to reduce unnecessary plastic. Regarding the treaty on plastic pollution that is currently under negotiations, we have a lot to learn from the experience of the Montreal Convention, which contributed to the reduction of the ozone hole. (Bosquet)
*All commentaries are as of the date of the speech.
Attention when watching video streaming
Please read carefully and agree to the following terms of use and legal disclaimers before watching the video streaming. By watching the video streaming, you agree to all of the terms of use and legal disclaimers. If you do not agree to the terms of use and legal disclaimers, please stop using the site immediately. The terms of use and legal disclaimers may change without notice.
Video Streaming: Terms of use and legal disclaimers
Contact
Outreach Event Division, Research Operations Department, IDE-JETRO
E-mail:seminar