Sappi Limited
Company Profile and History
Sappi Limited, a corporation organised under the laws of the Republic of South Africa, was formed in 1936 and is a major, vertically integrated international pulp and paper producer. The group has manufacturing facilities in nine countries, on four continents, and customers in over 100 countries across the globe.
In 1937 the construction of a pulp and paper mill began on land near Springs (South Africa). In 1973 the company re-registered as 'Sappi Limited' and in 1977 three operating subsidiaries were formed - Sappi Fine Papers, Sappi Kraft and Sappi Forests, each with its own board of directors. In 1980 a new division was formed - Sappi Timber Products, specialising in sawmilling and in 1986 Sappi International was created to handle export marketing of all Sappi products. In 1989 Saiccor, the world's single largest producer of chemical cellulose was acquired, followed in 1990 by the establishment of Sappi Europe with its head office in London.
In 2006 the group entered into a transaction that introduced empowered black ownership to the group's land portfolio in South Africa. This empowerment transaction has resulted in the empowerment partner, Lereko Property Company (LPC), obtaining an undivided 25% interest of this land portfolio via a swap arrangement for the continued right of use of the land. LPC is a company formed by a consortium led by Lereko Investments, which include Sappi South African employees. The composition of LPC is as follows: Lereko Investments (46.19%); Malibongwe Women Development Trust (10.14%); Sappi workers trust (30.00%); and AMB Capital (13.67%);
Sappi conducts its business through three business units: Sappi Fine Paper, Sappi Forest Products and Sappi Trading. Sappi Fine Paper is managed through three regional business units: Sappi Fine Paper North America, Sappi Fine Paper Europe and Sappi Fine Paper South Africa. Sappi Fine Paper has manufacturing and marketing facilities in North America, Europe, Southern Africa and Asia.
Of the 369,000ha of land owned by Sappi in South Africa, 132,170ha or about 34% is unplanted promoting sustainable forestry and managed for biodiversity conservation.
Sappi Fine Paper South Africa operates the following mills:
Enstra (located near Johannesburg) - an integrated pulp and uncoated paper mill;
Stanger (located north of Durban) – it uses bagasse to produce coated fine paper and tissue;
Adamas (located in Port Elizabeth) – it utilises pulp from local pulp mills and waste paper to produce speciality paper and some kraft products
Head office: Sappi House, 48 Ameshoff Street, Braamfontein, Johannesburg, South Africa;
Tel: +27 (0)11 407 8111;
Fax: +27 (0)11 339 8022
Sappi is a leading producer of coated fine paper widely used in books, brochures, magazines, catalogues and many other print applications. In addition, it produces newsprint, uncoated graphic and business papers, premium quality packaging papers, a range of coated speciality papers and a range of paper grade pulp. It is also the world's largest producer of chemical cellulose, used primarily in the manufacture of viscose fibre, acetate tow and consumer and pharmaceutical products
Mill and products produced
Capacity paper
(tpa)
Capacity pulp
(tpa)
Adamas Mill
Uncoated woodfree graphic paper (specialities)
40,000
Enstra Mill
Bleached chemical pulp for own consumption
105,000
Uncoated graphic and business paper
200,000
Stanger Mill
Bleached bagasse pulp for own consumption
60,000
Coated woodfree graphic paper and tissue paper
110,000
Worldwide: 17,400 employees; South Africa: 1,870 employees
Sales revenue by division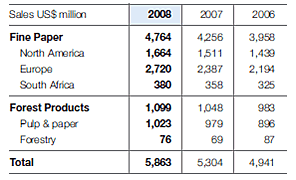 Sappi Fine Paper South Africa

Divisional contributions to operating profit excluding special items in the last three years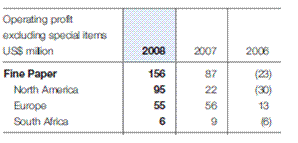 Sappi Fine Paper South Africa is the only producer of coated fine paper in South Africa. Sappi Forest Products, the forests, pulp, packaging and newsprint business based in South Africa, is also the world's largest producer of chemical cellulose (dissolving pulp) used in the manufacture of viscose staple fibre and consumer and pharmaceutical products.
"Sappi's goal is to be the most profitable company in the paper, pulp and chemical cellulose sectors."
"Our goal is supported by a new global business strategy to significantly improve the company's profitability and returns. The group completed a strategy review during 2008. A key element of our strategy in the Southern African business was the completion of the expansion at our Saiccor Mill, which has increased the annual capacity of chemical cellulose by 225,000 tons to 800,000 tons reinforcing our leadership in this market. As part of our strategy, Sappi will also invest in plantations to increase its low-cost fibre base to provide a platform for future growth. We plan to establish about 150,000 hectares of plantations in Southern Africa over the next five to 10 years.
''Other strategic objectives include: Achieve our ROCE target of greater than 12% and therefore exceed our cost of capital; Strengthen our leadership position in our core businesses through organic growth and selective acquisitions; Expand our low-cost plantation fibre base in Southern Africa as a resource to grow our pulp and chemical cellulose businesses; drive efficient manufacturing and logistics to ensure we are a low-cost producer; drive growth through customer service, innovation and reliability."
Large Block Holder Type
Number
Institutions
35
Total Number of Shares Held
537.12 M
% of Shares Owned by all Large Block Holders
100.00%
Mutual Fund
25
Other Major
—
Total Number of Large Block Holders
60
Top 10 Institutional Holders: SPP
| Name | Shares | Estimated Value of Shares * | Holdings | Shares Outstanding | Turnover Rating |
| --- | --- | --- | --- | --- | --- |
| Capital International, Inc. | 3.28 M | 9.81 M | 0.04% | 0.61% | Medium |
| Dimensional Fund Advisors, LP | 2.29 M | 6.84 M | 0.01% | 0.43% | Low |
| Capital Guardian Trust Company | 1.78 M | 5.32 M | 0.01% | 0.33% | Low |
| Bank of America Securities Merrill Lynch | 455,400 | 1.36 M | 0.00% | 0.08% | High |
| Swedbank Robur AB | 343,400 | 1.03 M | 0.00% | 0.06% | Low |
| Nordea Investment Management AB (Finland) | 176,400 | 689,724.00 | 0.05% | 0.03% | Low |
| First New York Capital Corp. | 209,036 | 625,018.00 | 0.25% | 0.04% | High |
| Nordea Investment Management (Denmark) | 176,400 | 527,436.00 | 0.00% | 0.03% | Low |
| Jane Street Capital, L.L.C. | 161,766 | 483,680.00 | 0.02% | 0.03% | High |
| SG Americas Securities, L.L.C. | 146,478 | 437,969.00 | 0.01% | 0.03% | High |
Benefits Offered and Relations with Government
Between 1920 and 1960, the state was responsible for most expansion in the area of industrial tree plantations. During the 1960s, private companies started establishing tree plantations. In the 1980s, Mondi and Sappi led a new wave of plantation establishment as Sappi built a new pulp and paper mill in eastern Transvaal and Mondi built a pulp mill in Richards Bay. The government subsidised the expansion of the pulp and paper industry with tax incentives and a General Export Incentive Scheme, which was withdrawn after 1994.
The Department of Water Affairs and Forestry is the custodian of South Africa's water and forestry resources. Forestry has been recognised as one of the key sectors with potential to contribute to poverty alleviation, and economic growth and development. As a result, forestry is part of the National Industrial Policy Framework (NIPF), and the Accelerated and Shared Growth Initiative (ASGI-SA).
The National Forest Act No 84 of 1998 provides that the Minister may develop a set of Principles, Criteria Indicators and Standards against which it could be measured whether or not the country's forest are managed on a sustainable basis. The Committee for Sustainable Forest Management (CSFM) - a permanent sub-committee of the National Forests Advisory Council (NFAC) - and the Department of Water Affairs and Forestry (DWAF), drive this process.
South Africa is a signatory of the Kyoto Protocol and Sappi is currently identifying and initiating Clean Development Mechanism projects at a number of our South African mills.
Broad-Based Black Economic Empowerment (B-BBEE) is a specific government policy to advance economic transformation and enhance the economic participation of black people in the South African economy. The Black Economic Empowerment (BEE) Act, No. 53 of 2003, established a legislative framework for the promotion of BEE; empowering the Minister to issue Codes of Good Practice and publishing Transformation Charters; establishing the BEE Advisory Council; and making provision for matters connected therewith.
The B-BBEE Codes of Good Practice emerged in February 2007 in terms of which a number of Transformation Sector Charters (also referred to as Sector Charters) were introduced, vetted and analysed for compliance, as per the stipulations of either Sections 9 or 12 of the B-BBEE Act, No. 53 of 2003.
The Sector Code is an industry-agreed empowerment initiative in the Forest Sector and seeks to deal with transformation challenges in Forest Sub-Sectors of commercial primary growth, fibre production, contracting, sawmilling, pole and charcoal. The Forest Sector Code gives bonus points as an incentive for enterprises to achieve the requisite 30% BEE ownership. It further seeks to encourage and support entities to undertake BEE-compliant procurement and job creation initiatives in the sector
More than half the land belonging to or managed by Mondi Group, Komatiland Forests and Sappi in Mpumalanga, Limpopo and KwaZulu-Natal are under land claim. Sappi faces 26 formal land claims in Mpumalanga alone. There are another 32 claims on plantations in KwaZulu-Natal. About 17.5% of the company's 540 000 hectares of forestry land is under claim, and currently three claims covering about 2 400 hectares are being finalised.
Safcol is the Government's forestry company and is undergoing a strategy review post the divestiture of majority shareholding in their commercial forestry land. In 2008 the privatisation of Safcol was postponed by former public enterprises minister Alec Erwin pending finalisation of land claims, which cover 61% of Komatiland forests. In October 2009 Safcol chairwoman Gugu Moloi said that the resolution of claims to Safcol forestry land should be fast-tracked to finalise privatization.
Safcol Strategic Mandate
Transfer Komatiland Forests (KLF) to the private sector in accordance with government policy objectives.
Maintain sustainable management of the forests.
Reform sawlog sales processes in accordance with government policy objectives.
Prepare SAFCOL for an orderly winding down
SAFCOL manages 129 000 hectares in South Africa (SAPPI: 369,000ha)
Following the success of its Triple Green product range, Sappi Fine Paper South Africa in March 2009 added another line extension, Triple Green Embossed to the range. Triple Green Embossed formerly known as Icena Embossed, boasts a distinctive surface embossing finished at Adamas Mill in Port Elizabeth. It is available in a one-and two sided coral and linen embossed finish. The grammage range provides end-users with a choice of five grammages ranging between 115g/m² and 230g/m². ( Remark: Triple Green is the coated range of paper from Sappi, which has an on-going commitment to producing high-quality coated fine paper in a sustainable and environmentally-sound manner. It is suitable for use in calendars, invitations, annual reports, book coverings and brochures to name but a few.)
Sappi is increasingly using biomass recovered from wood and bark waste instead of coal to generate thermal energy and steam to power operations at several of its mills. The move has allowed the company to cut down on industrial coal usage - South Africa's main source for carbon emissions.
In 2007, Sappi stepped up its replacing of coal with biomass recovered from the wood and bark waste that results from the debarking and chipping in the operations at several of its mills. In the same year, the company registered South Africa's sixth Clean Development Mechanism (CDM) project with the United Nations.