IDE-JETRO participated in the Fourth South Africa-Japan University Forum
June 13, 2019
Seven IDE-JETRO researchers and research management officer, including the Executive Vice President Dr. Katsumi Hirano, has participated in the Fourth South Africa-Japan University (SAJU) Forum at Pretoria, South Africa, from May 23 to 24, 2019.
SAJU is a strategic platform that started their activities in 2007. They intend to promote research collaboration between Japanese and South African universities and research institutes. In recent years, SAJU also puts weight on the collaboration among industry, academia, and government.
IDE-JETRO participated in SAJU Forum for the first time. During the Forum, EVP Dr. Hirano has introduced the history of industry-academia collaboration in Japan, its challenges, and recent collaborative activities at the Industry Roundtable and High-Level Meeting. In the Plenary Session, Dr. Takahiro Fukunishi, a director of IDE-JETRO's African Studies group and a SAJU academic review committee member, has introduced one of the sub-themes of this year's SAJU, "Growth Exploration and Conservation", which was also a session topic that he co-chaired.
In the afternoon on the first day, researchers from both Japan and South Africa made their research presentations at the parallel sessions on each sub-theme. From IDE-JETRO, Dr. Chizuko Sato, Ms. Kumiko Makino and Dr. Akiyo Aminaka gave their presentations in "Migration and Gender" category and Dr. Seiro Ito in "Economics & Business Science, Area Studies" category.
South Africa is one of the African countries having superb research environment. In addition, Southern African Research & Innovation Management Association (SARIMA) is furthering knowledge sharing on and providing accreditation for research management within Southern Africa region. IDE-JETRO will continue to promote research collaborations with universities and research institutes in various countries.
About Fourth South Africa-Japan University Forum
Date : Thursday May 23 to Friday May 24, 2019
Venue : Future Africa Campus, University of Pretoria
Organized by:
[South Africa] Universities South Africa (USAf), Centre for Japanese Studies (CJS) at the University of Pretoria, National Research Foundation (NRF)
[Japan] The Embassy of Japan in the Republic of South Africa, African Studies Center - Tokyo University of Foreign Studies (ASC-TUFS, SAJU secretariat), Japan-Africa Academic Network (JAAN)
Supported by:
Ministry of Education, Culture, Sports, Science and Technology (MEXT, Japan), Ministry of Foreign Affairs (MOFA, Japan), Japan Society for the Promotion of Science (JSPS), Japan Science and Technology Agency (JST), Japan International Cooperation Agency (JICA), The Japan Association for National Universities, Japan Agency for Medical Research and Development
Main theme : The Human Being in the 21st Century in the Context of Global Changes
Sub-themes : (1) Health and Wellness, (2) Security and Social Justice, (3) Growth, Exploration and Conservation
Number of participants : approx. 200 people (total from Japanese and South African side)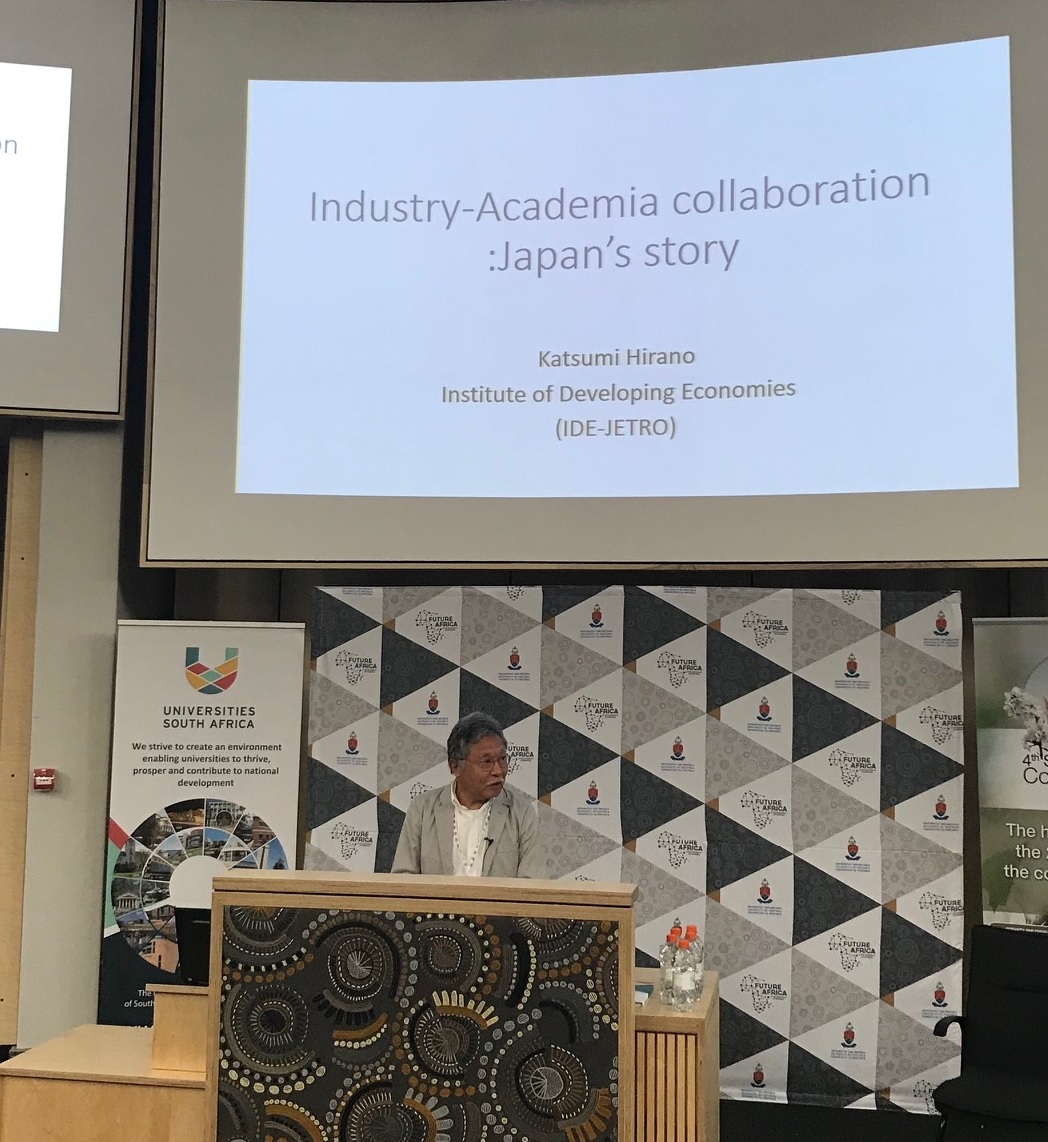 EVP Dr. Hirano giving a presentation at the Industry Roundtable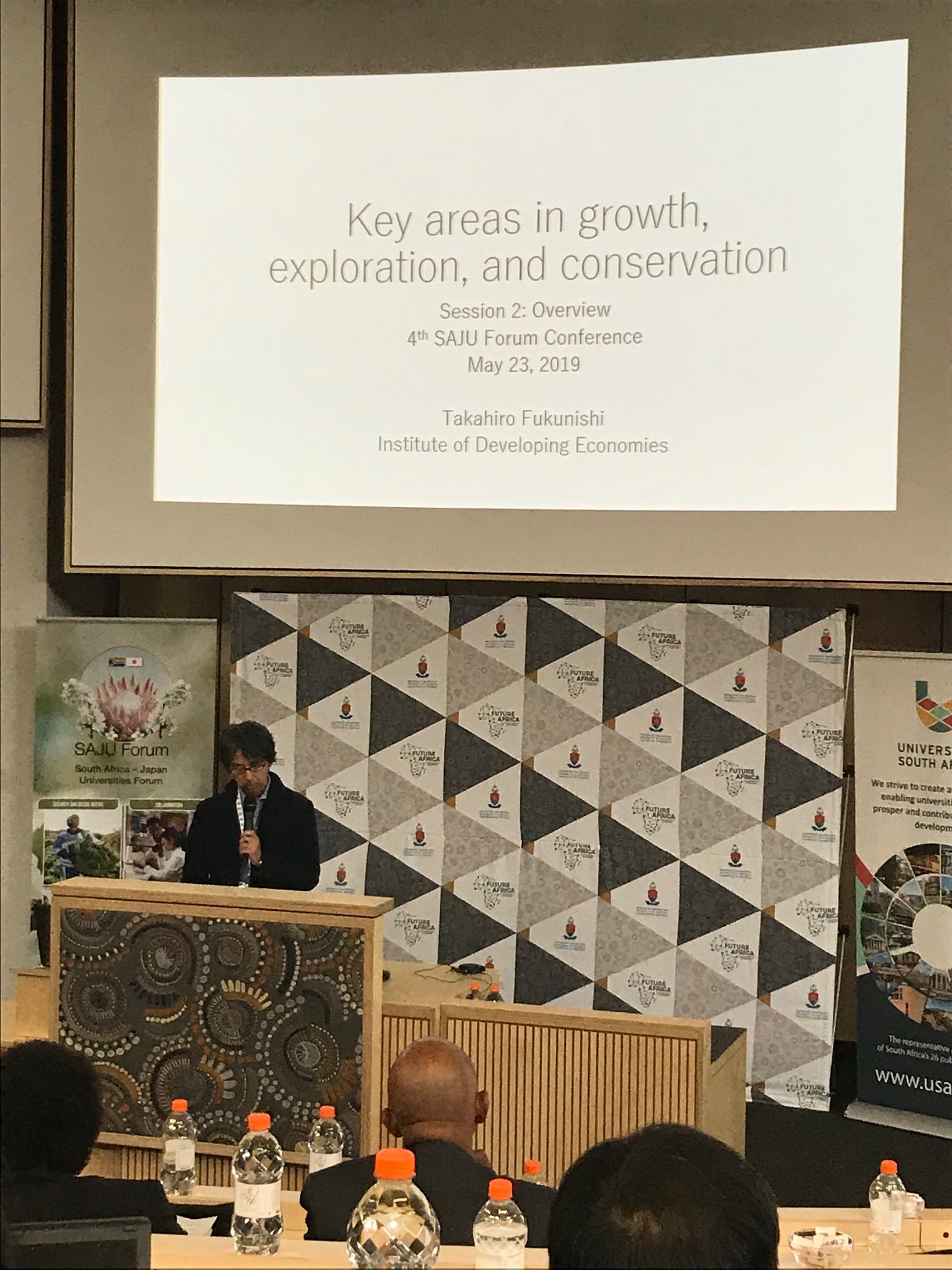 Dr. Fukunishi explaining a sub-theme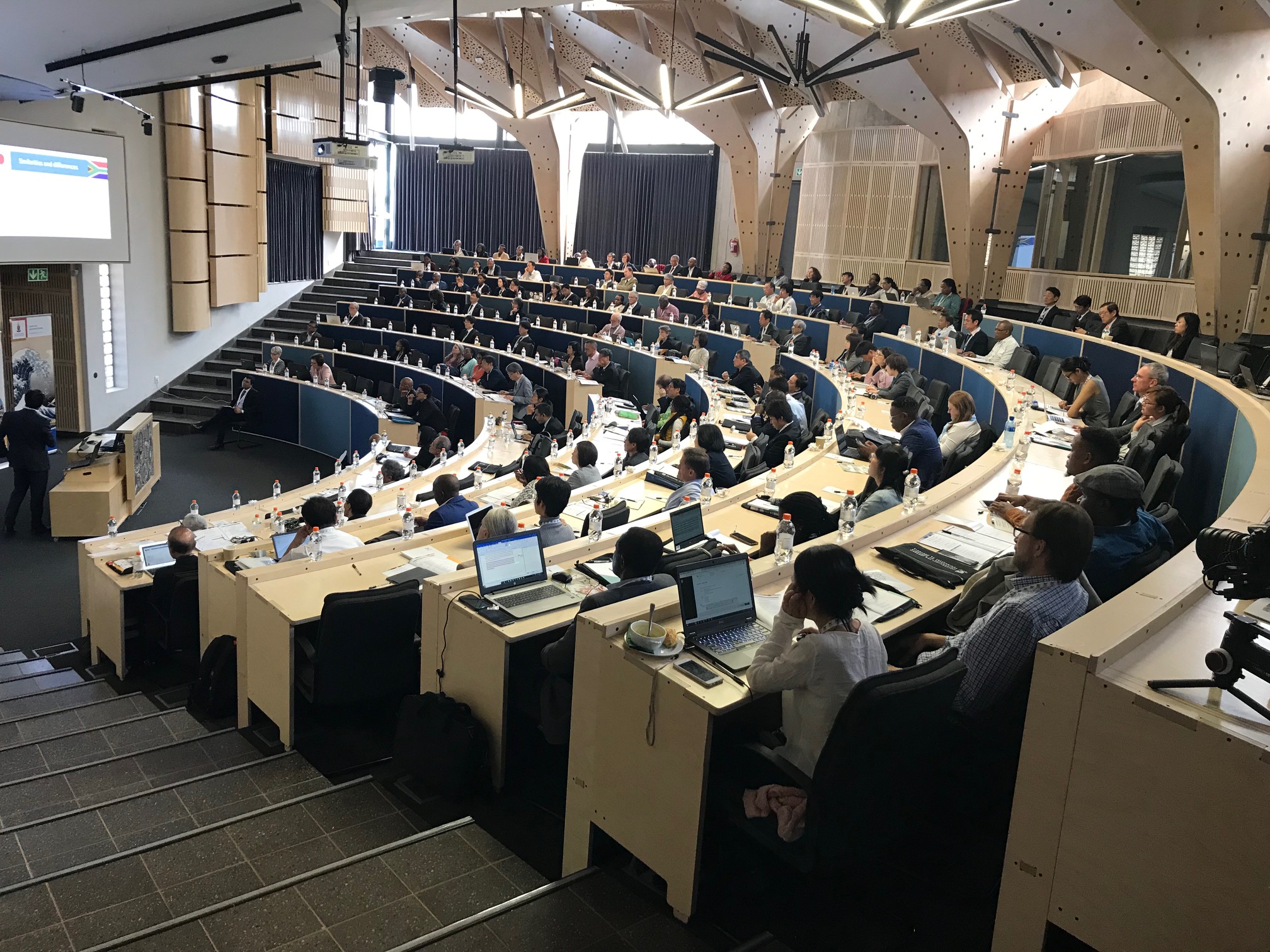 Plenary session
For queries, please contact:
Development and Inter-disciplinary Studies Operations Division, Research Operations Department, IDE-JETRO
Phone: +81-(0)43-299-9664
E-mail: rob