IDE-JETRO hosted IDE-GVC Workshop on "The Future of Global Value Chain Research"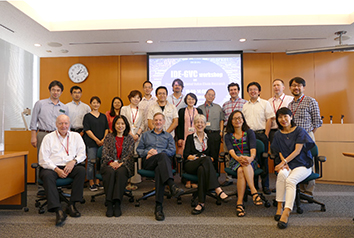 IDE-JETRO has accumulated research on firms, business and industries in developing and emerging economies over decades by applying empirical analysis in particular as our mainstream of research method. We have developed our research on global value chains (GVCs) in the recent decade.
Over the past decade, new dynamics have unfolded – including the increasing consolidation and concentration of GVCs alongside the integration of new economies, the rapid growth of end-product markets in the South, and the emergence of large and highly competent suppliers and lead firms from emerging economies, most notably in East Asia. To make sense of the ongoing dynamics and complexity of GVCs, theory development has progressed. Many of such attempts have built on the theory of GVC governance developed by Gereffi, Humphrey and Sturgeon (2005), refining the key concepts of governance, power, and upgrading and elaborating the relationships between them.
The aim of this workshop was to bring together insights that have come out of some of the important works done recently, discuss their implications for the GVC approach, and identify potential directions for future research. IDE-JETRO successfully hosted the workshop by accommodating eminent scholars both from overseas and in Japan. All contributors to the workshop would hope carrying the stimulated discussion on to the further research development.
(Noburu Yoshida, Research Planning Department)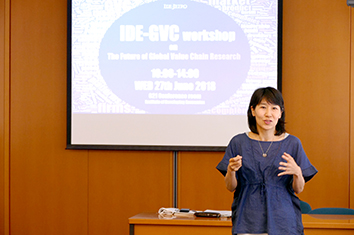 Dr Mai Fujita, Director, Southeast Asia Studies II Group, opened the workshop by addressing key issues and questions to be discussed.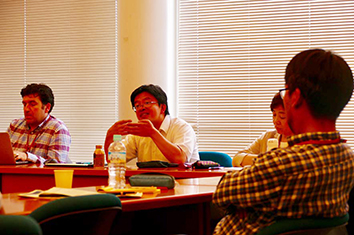 Dr Ding Ke, Research Fellow, East Asia Studies Group, actively joined the discussion on further development of theoretical framework.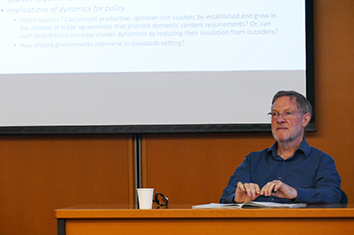 Dr John Humphrey, Honorary Professor, School of Business, Management and Economics, University of Sussex, took a role of leading of the discussion.
(From the left)Dr Michelle Hsieh, Dr Ding Ke, and Professor Douglas Fuller at Session 1.

(From the left)Professor Mark Dallas, Professor Susan Helper, and Professor Mari Sako at Session 2.

Date:
June 27, 2018 (Wednesday) 10:00-14:00
Venue:
Institute of Developing Economies
Programme:
Opening Remarks by Mai Fujita, IDE-JETRO
Session 1: Have recent developments in East Asia changed our global value chain (GVC) thinking?
East Asia used to be the example of classic global outsourcing: one that is based around developed country lead firms transferring low-value activities and shaping the upgrading opportunities for local producers. Some of the dynamics that unfolded over the past decade do not seem to fall within this characterisation. Highly competent suppliers from Taiwan are increasingly leading innovations and/or giving rise to new governance structures. China has been a mixed story of state-led drive to nurture national champions and vibrant private enterprises serving the large middle- and low-end domestic market. Do these developments challenge our conventional GVC thinking?
Chair:
Speakers:
Douglas Fuller (Zhejiang University)
Michelle Hsieh (Academia Sinica)
Ding Ke (IDE-JETRO)
Session 2: Power, governance and upgrading in GVCs
Gereffi et al. (2005) identified five governance types, but most of the subsequent GVC literature has focused on just one-captive governance and how powerful lead firms control suppliers performing low-value activities in developing countries. Session 1 on East Asia challenges this perspective. How much does responding to these challenges require new conceptualisations of power in value chains, new approaches to innovation and upgrading, and new ways of thinking about the interactions between value chains and their environments? Conversely, how much can be learnt from considering neglected areas of existing theory?
Chair:
John Humphrey (University of Sussex)
Speakers:
Mark Dallas (Union College)
Susan Helper (Case Western Reserve University)
List of contributors (alphabetical order)
| | |
| --- | --- |
| Mark Dallas | Associate Professor, Department of Political Science, Union College |
| Douglas B. Fuller | Professor, Innovation, Entrepreneurship and Strategy, School of Management, Zhejiang University |
| Susan Helper | Frank Tracy Carlton Professor of Economics, Department of Economics, Weatherhead School of Management, Case Western Reserve University |
| Michelle Hsieh | Assciate researcher, Institute of Sociology, Academia Sinica |
| John Humphrey | Honorary Professor, School of Business, Management and Economics, University of Sussex |
| Michiko Iizuka | Professor, National Graduate School for Policy Studies (GRIPS) |
| Patarapong Intarakumnerd | Professor, National Graduate School for Policy Studies (GRIPS) |
| Joonkoo Lee | Professor, School of Business, Hanyang University |
| Dennis L. McNamara | Special Assistant to the President, China Affairs, Georgetown University |
| Yumiko Okamoto | Professor, Faculty of Policy Studies, Doshisha University |
| Stefano Ponte | Professor of International Political Economy, Department of Business and Politics, Copenhagen Business School (CBS) |
| Mari Sako | Professor, Said Business School, University of Oxford |
IDE-JETRO
| | |
| --- | --- |
| Naoko Eto | Research Fellow, East Asia Studies Group, Area Studies Centre |
| | Director, Director Southeast Asia Studies II Group, Area Studies Centre |
| | Research Fellow, Global Value Chains Studies Group, Inter-disciplinary Studies Centre |
| | Deputy Director-General, Area Studies Centre |
| | Research Fellow, East Asia Studies Group, Area Studies Centre |
| | Research Fellow, Business and Industry Studies Group, Development Studies Centre |
| Tomohiro Machikita | Research Fellow, Economic Integration Studies Group, Development Studies Centre |
| | Research Fellow, Environment and Natural Resource Studies Group, Inter-disciplinary Studies Centre |
| Yuri Sato | Executive Vice President |
| | Director, Latin America Studies Group, Area Studies Centre |
| Kenmei Tsubota | Research Fellow, Economic Geography Studies Group, Development Studies Centre |
| | Deputy Director, Law and Institution Studies Group, Inter-disciplinary Studies Centre |
| Noburu Yoshida | Deputy Director, Planning and Coordination Division, Research Planning Department |