Julis Berger Nigeria, LTD
Company Profile and History
Bilfinger Berger AG operates as the second-largest general contractor in Germany. With origins that date back to 1890, Bilfinger Berger has evolved from a heavy construction services firm to a global multi-service group involved in civil engineering, building and industrial construction activities, build-operate-transfer (BOT) projects, industrial and real estate services, and environmental services. The German industry experienced an upswing after German reunification in the early 1990s. It has since deteriorated dramatically, forcing Bilfinger Berger to focus heavily on diversification and international operations.
The company's structure is the result of the 1975 merger of Grün and Bilfinger A.G. and Julius Berger-Bauboag A.G. During 2001, the firm officially adopted the name Bilfinger Berger AG.
Founded in 1892, Grün and Bilfinger incorporated in 1906. Berger-Bauboag was itself the product of a 1969 merger. Bauboag was founded in 1890 as a public construction firm named Berlinische Bodengesellschaft; it built thousands of apartments and many banks, stores, and shopping centres. Julius Berger, also founded in 1890, incorporated in 1892 as Julius Berger-Civil Engineers.
By 1913, both firms had expanded their international activities to less developed countries. Grün and Bilfinger began excavation work in Tanga (German East Africa) and Cameroon in 1912, and Julius Berger began surveying for road projects in southwest Africa, Costa Rica, and Colombia the following year. Between that time and the firms' merger in 1975, their combined efforts accounted for a large share of the road, rail, bridge, and dam development in Africa, southwest and southeast Asia, and Central and South America.
The subsidiary Julius Berger Nigeria, Ltd., based in Lagos, modernized much of the transportation infrastructure in that country since 1970. The firm was also involved in the design and construction of the new Nigerian capital at Abuja. Julius Berger AG's first contract in Nigeria was the construction of the Eko Bridge, Lagos, in August 1965. In 1970 Julius Berger Nigeria Ltd. became incorporated and in 1991 Julius Berger Ltd. is listed in the Nigerian Stock Exchange as Julius Berger Nigeria Plc.
Bilfinger Berger provides engineering services to its associated company Julius Berger Nigeria, supports it with specialist personnel, and secures its successful further development by providing technical and commercial expertise.
Berger Junction, Utako District, Abuja F.C.T, Nigeria;
Phone: (09) 611 0000, (09) 523 30 67 69;
Fax: (09) 611-40 41, (09) 611-40 43, (09) 611-44 44
Julius Berger Nigeria is primarily occupied with infrastructure projects in the country's capital, Abuja, and in Akwa Ibom State. The company is currently working on expanding Abuja's urban highway. In the government district, a ten-lane stretch of highway with numerous intersections is being built.
Julius Berger Nigeria has withdrawn from parts of the Niger Delta due to the security situation in that area; its capacities are being transferred to other federal states.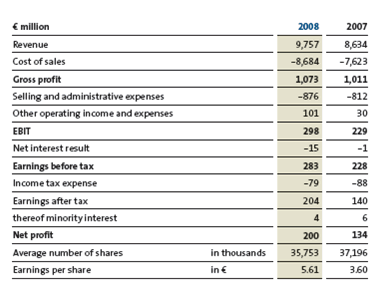 Currency in Millions of Nigerian Nairas
Jan 2005
Jan 2006
Dec 31 2007
PressRelease
Dec 31 2008
PressRelease
Revenues
29,487.2
39,842.6
79,073.0
114,028.0
TOTAL REVENUES
29,487.2
39,842.6
79,073.0
114,028.0
Cost of Goods Sold
26,266.1
34,950.9
--
108,787.0
GROSS PROFIT
3,221.1
4,891.7
79,073.0
5,241.0
Selling General & Admin Expenses, Total
2,904.2
4,271.6
--
--
Other Operating Expenses
--
--
75,921.0
--
OTHER OPERATING EXPENSES, TOTAL
2,904.2
4,271.6
75,921.0
--
OPERATING INCOME
317.0
620.1
3,152.0
5,241.0
Currency Exchange Gains (Loss)
-163.0
217.4
--
--
Other Non-Operating Income (Expenses)
--
--
--
-1.0
EBT, EXCLUDING UNUSUAL ITEMS
153.9
837.5
3,152.0
5,240.0
Gain (Loss) on Sale of Assets
539.7
278.7
--
--
EBT, INCLUDING UNUSUAL ITEMS
693.6
1,116.1
3,152.0
5,240.0
Income Tax Expense
306.2
489.3
1,384.0
2,732.0
Earnings from Continuing Operations
387.4
626.9
1,768.0
2,508.0
NET INCOME
387.4
626.9
1,768.0
2,508.0
NET INCOME TO COMMON INCLUDING EXTRA ITEMS
387.4
626.9
1,768.0
2,508.0
NET INCOME TO COMMON EXCLUDING EXTRA ITEMS
387.4
626.9
1,768.0
2,508.0
Julius Berger Nigeria Plc is the largest building, construction and civil engineering contractor in Nigeria. Julius Berger is also the largest civil works contractor to the Federal Government of Nigeria.
"Our prime goal is to be a preferred partner to our customers, offering outstanding services in both domestic and international markets"
The company focuses on winning privately financed concession projects, international expansion, and providing integrated solutions for construction projects.
"Our long-term corporate strategy aims to consistently strengthen our positions in domestic and international markets. Our stated goal is to achieve significantly higher earnings in our Civil business segment. In the future therefore, we will only work on projects in our core regions that are of great strategic significance or projects with particularly good earnings prospects combined with a controllable risk profile.
With intensified risk management and more efficient organization, we have created the right conditions for growing financial success. We also want to improve the profitability of our Building and Industrial business segment. In order to reduce risks and achieve sustained appropriate margins in Germany, we have streamlined our organization and refocused our activities. We seek to compete on terms of competence and to avoid pure price competition. We therefore focus on public private partnerships with public-sector clients and on the partnering model with clients in the private sector.
We see good opportunities for success in our Services business segment also in the future. Repair and maintenance services on the basis of long-term framework agreements are less susceptible to economic cycles than the construction business, which is driven by new investment. We continue to apply the highest standards in connection with acquisitions. The portfolio of our Concessions business segment should continue to grow. It is still our goal to increase the Group's total equity investment in this field to €400 million. The financing of new projects has become more difficult due to the financial market crisis.
However, as we only pursue projects with a favourable risk profile, we see good prospects of continuing the successful expansion of our concessions business in the future.

Our operating business is organized in a decentralized manner. The subgroups act as independent profit centres. Controlling and monitoring functions are based on close management by the Executive Board, strong Group headquarters with clearly defined tasks, and a risk management system that encompasses the entire Group. We can only achieve our strategic goals with qualified and motivated employees. Our continuous growth in combination with acquisitions, an expanding workforce and a broad range of products constantly presents our Human Resources department with new challenges concerning staff recruitment, development and retention, which we successfully met also in the year under review."
The company is 49% owned by Bilfinger Berger AG of Germany and two Nigerian state governments.

Benefits Offered and Relations with Government
In 2009 the Nigeria Customs Service sued Julius Berger at the Federal High Court, Lagos, for alleged importation of prohibited goods. The Office of the Attorney-General and the Nigeria Customs Service (NSC) filed the suit. According to the suit, the company committed an offence contrary to Customs and Excise Management Act (CEMA), 2004 by importing one 20 feet container holding woven and laminated sacks.
Also in 2009 the government ordered Julius Berger to pay back around $42 million after it failed to finish a major road project in the Niger Delta. Julius Berger pulled out of the restive Niger Delta last July after two of its employees were kidnapped. The company had been working on rebuilding the main east-west road across the region, but the contract has since been terminated and given to local engineering firm Setraco. A Julius Berger spokesman said it was still in discussions with the government over the terminated project.
Local sources say that the company's extremely close relationship with the government has benefitted it immensely in winning contracts but there are suspicions that the company is guilty of unethical practises, given the nature of business in Nigeria.
Julius Berger Nigeria, is currently gaining most of its contracts in the oil and gas industry and from public-sector clients. For example, the company is constructing most of a large gas liquefaction plant for Chevron and is carrying out extensive supplementary work in a major project for Nigerian Liquefied National Gas.