Cosumar
Company Profile and History
The company was created in 1929 by Saint Louis de Marseille. In 1967 the government took a 50% stake in the company, which then became Cosumar. The ONA Group obtained a controlling stake in 1985.

In addition to the sugar refinery in Casablanca, Cosumar owns the beet sugar fac­tories in Zemamra and Sidi Bennour (Doukkala). Until 2002, Sidi Bennour exclusively produced raw sugar which was then refined into white sugar in the Casablanca factory. Since 2002, 4,500 tons of beets per day are being directly processed into white sugar of EC 2 standard quality.

In 2005 Cosumar acquired four public sugar companies: Suta, Sucrafor, Surace and Sunabel. Sunabel is a major food company in the region of Gharb-Loukkos. Sunabel has three manufacturing units: in Ksar El Kebir (established 1978), Sidi Allal Tazi and Mechraa Bel Ksiri (created in 1968). With a processing capacity of 13,000 MT of sugar beet per day, Sunabel produces sugar granules marketed under the trademark "El Bellar, pellets and molasses.

Surace specialises in the production of sugar cane and has a capacity of processing 10,500 tons of cane sugar per day. Through three sites (Bel Mechraa Ksiri, Ksibia, Laâouamra), the company produces granulated sugar, marketed under the name "Al Kasbah".

Sucrafor, created in 1972, is the only candy producer in the Oriental region. It has a 3,000 T beet processing capacity per day. Suta has a production unit in Ouled Ayad, commissioned in 1971. Suta produces sugar and granulated bullion, marketed under "Palm", and by-products, such as pellets and molasses.

8, rue Mouatamid Ibnou Abbad BP 3098 Roches Noires, Casablanca, Morocco;
Telephone: +212-5-22678300
Telefax: +212-5-22241071

The Group's principal activity is to extract and manufacture sugar in various forms. Their main products include manufacturing of sugar loaves, bars, sugar pieces and granulated sugar. The Group's principal clients are wholesale dealers, food and pharmaceutical industry. Their products are distributed throughout Morocco via various agencies

Consolidated turnover: 5.7 billion dirhams; 2008 Sales: 5,698,700,000 billion dirhams (Year Ending Jan 2009); Annual production: 1,119,000 tons of sugar; 200,000 tons of molasses; 190,000 tons of pulp.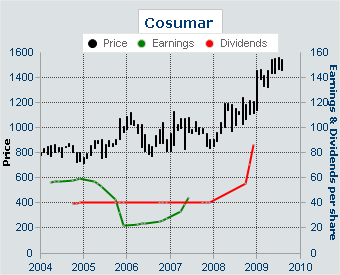 Cosumar is the leader in sugar production, import, transformation, branding and distribution. The overall production of Cosumar represents 70% of national production.

"To sustain the sugar industry and ensure performance at all levels of the value chain"

The Moroccan agriculture plays a crucial role in the country's economic growth. In opting for the modernization of the sugar industry, the Cosumar Group is committed to making the sector a key driver of growth of the national economy. In this regard the company committed itself to the deal signed in 2008 between the government and the Moroccan Federation of Sugar Professionals (FimaSucre) for a "Green Morocco". Amongst others the "Green Morocco" project aims to increase the production of sugar to 657,000 tonnes against 480,000 tonnes currently, in 2013.

In terms of its contribution to the program, Cosumar plans to: improved agricultural performance by reducing costs, increasing productivity and improving the technological quality of sugar crops; increase industrial performance through improved extraction and increasing labour productivity; optimization of energy and logistics costs and manufacturing; improving water services for irrigation; stepping up Research & Development; and improve marketing channels and distribution of sugar products.

Following the acquisition of the four national companies in 2005, Cosumar established a program called "INDIMAGE 2012", which aims to upgrade the sugar industry, improve agriculture and industrial performance. Interms of the programme sugar yield has improved by over 20% per hectare; the mechanization of sugar beet cultivation was introduced; drip irrigation to save water was introduced; and mechanized planting and harvesting was started.

Cosumar SA has also completed a 372 MDH investment programme to: continue modernising the industrial refinery with automated manufacturing and packaging of loaves of sugar; increase production efficiency and quality of finished products; and improving competitiveness by raising the performance of the refinery (extraction efficiency, fuel consumption and water).

Its R & D division plans the following: strengthen the reputation of products and improve their image; continually developing new products to support changed consumer expectations for quality and packaging; improve operational performance by introducing new technologies; and identify and evaluate external growth opportunities.
Cosumar: 55.5% owned by ONA Group

Benefits Offered and Relations with Government
Cosumar has signed on to the government's "Green Morocco" plan which aims to: ensure food security; improving farmers' income; protection and conservation of natural resources; and the domestic and International integration of agriculture

The market freely determines commodity prices without government involvement with the exception of staple commodities such as gasoline, vegetable oil, sugar and subsidized flour. Morocco protected its domestic industry with a bound WTO tariff of 168 per cent.

Increase production capacity of sugar; automating the manufacture and packaging of sugar loaves; increase the area dedicated to sugar plants; 1.6 billion dirhams will be spend to upgrade sugar processing units; 2 billion dirhams for the extension and modernization of the refinery in Casablanca.