Unilever Tea Kenya (UTKL)
Company Profile and History
Unilever Tea Kenya Ltd, a subsidiary of Unilever, an Anglo-Dutch conglomerate, is involved in the production of tea, mainly for export.
Unilever Tea Kenya Ltd. started as Brooke Bond Kenya (BBK). Tom Rutter, then in charge of Brooke Bond in Calcutta, India, during a hunting safari in Kenya in 1914, realised that the country was ideal for tea growing. In 1922 a BBK sales office was opened in Mombassa and in 1924 the company acquired approximately 400 hectares of land at Limuru and also built Mabroukie tea Factory.
In 1925 Kenya Tea Company Limited registered with a share capital of 1 million. BBK's first major Tea Factory in Kenya was completed at Kerenga in 1927. The 1970s saw a major expansion of BBK activities into tea estates, factories and hotels. The name was changed to Unilever Tea Kenya Ltd. (UTKL) in 2004.
Between 1920 and 1939 Brooke Bond controlled all key stages of production, marketing and distribution of Kenyan tea. Between 1947 and 1960 Brook Bond was able to increase quality and labour productivity by sponsoring research for higher yielding varieties, processing techniques to improve tea quality and introducing new plucking techniques. These advancements were realized at the Tea Research Institute, which was established by the company at Kericho.
Today UTK is one of the largest commercial enterprises in Kenya. Its contribution to the economy as a foreign exchange earner has increased from Kshs. 0.25 million in 1972 to Ksh. 5.5 billion. Its total land holding stands at 16 223 acres. UTK owns 20 tea estates and eight factories manufacturing an average of 32 million kgs of tea per year.
In January 2009 Unilever Tea delisted from the Nairobi Stock exchange after Brooke Bond took its holding in the company to 97.65 percent. The drive for Unilever Kenya to de-list from the NSE emanated from the fact that it does not meet the requirement that all listed firm should have at least 25% equity stake owned by local shareholders.
Unilever has a worldwide turnover worth €40.5 billion and employs 174 000 people in around 100 countries worldwide. Unilever achieves close to half of its turnover in developing and emerging markets in Asia, Africa, Central & Eastern Europe and Latin America.
Nakuru Kericho Highway, Kericho, Kenya: Phone: (25) 229-951
UTKL grows, processes and packages black, green and speciality teas for markets in Europe, US, Pakistan, Japan, the Middle East and Australia.
Unilever Tea Kenya is the single largest private sector employer in Kenya, employing 20,000 people
For the six-month period ended June 30th, 2008, Unilever Tea reported an 18% drop in turnover and an operating loss of KES35 million compared to a profit of KES12 million in the first six-months of 2007. Profit after tax for the first six months of 2008 was KES1.5 million compared to a loss of KES82 million reported for the same period in 2007. The company's profit before tax for the first half year improved from a loss of Kshs. 122 million in 2007 to a profit of Kshs 16 million in 2008. Inventories increased by 12% in the first six months of 2008 while receivables and payments rose by 44%.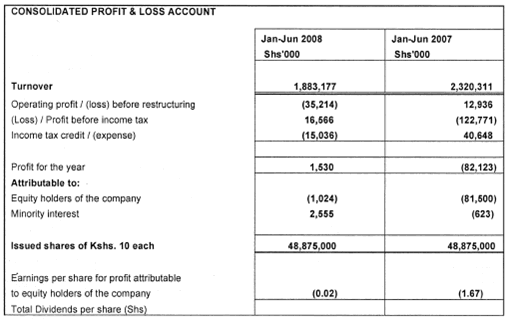 Kenya is Africa's largest tea producer and tea is its leading export crop. Unilever Tea is the third largest tea company in the world. It is the largest producer of tea in Kenya and the world's largest private buyer of Kenyan smallholder tea.
Kenya is the leading global exporter of black tea. In 2008 it produced 345 million kg Lipton Limited, with Unilever the leading exporter. It bought 14.8 million kg compared with 17.20 million kg in the first quarter of 2007.
"Our long-term ambition is to be in the top third of a group of 21 fast moving consumer goods companies in terms of total shareholder return on a three-year basis."
In 2008 the company continued to focus on investing resources in markets that are attractive and where it has competitive advantage, notably Vitality, Developing and Emerging (D&E) markets and personal care. In addition the company continues to seek to enhance profitability and productivity through a transformation agenda, the key features of which are the simplification of its structure under the 'One Unilever' programme, the strengthening of its brand portfolio through acquisitions and disposals, and the rationalisation of the supply chain.
The D&E strategy aims to increase the penetration and consumption of categories with D&E consumers at all income levels and to trade consumers up to higher added value products as needs change with rising incomes. The focus is to maintain and develop its leading category and brand positions in D&E strongholds, whilst simultaneously investing aggressively for growth to build up new brand and category positions in countries that present important new growth opportunities.
During 2008, the company re-organised the management of its regions so that its operations in Central & Eastern Europe were managed together with those in Asia and Africa, whereas they had previously been managed with those in Western Europe. This change reflects the strategic focus on the developing world and the fact that these markets share many common characteristics.
The regions have profit responsibility for the local go-to-market operations in their geographic territory. The focus is primarily to build and develop relationships with customers, to develop the regional supply chain to deliver customer service and asset productivity, and to deploy brands and innovations effectively, focused on excellent execution in the market place.
The functional teams, notably Finance and Human Resources, are responsible for providing business partnering, strategic support and competitive services across the global business. These functions are organised around the same principles of business partners, shared services and expertise teams.
The company also focuses on providing consumers with added-value products that bring "Vitality to Life", in several ways: creating and nurturing attractive brands that are trusted and preferred by consumers and which seek to address consumer needs and aspirations better than other brands; developing and rolling out new and better products and concepts across our regions and product categories, supported by innovative communication campaigns; and optimising and improving the productivity and efficiency of our cost and asset base whilst ensuring a consistent high quality of our products.
The change in ownership structure of Unilever Kenya enabled it to capitalize on shared services and increased the Group's synergy and help the firm attain higher levels of efficiency, improve productivity and earnings.
Yet another focus of the business model is to meet the needs of low-income consumers in developing and emerging markets. The aim is to satisfy the needs and aspirations of consumers at all levels with quality products.
UKTL is a subsidiary of Unilever. UTKL has been delisted from the bourse after its main shareholder, Brooke Bond, bought out its minority shareholders. This followed the decision of the shareholders of Unilever Tea to voluntarily de-list from the NSE with approval from the Capital Markets Authority. Brooke Bond offered to pay KES 62 (US$ 0.79) per share for 5.75 million UTKL shares to increase its holding to 97.65 percent.
The Company's wholly owned subsidiaries include Mabroukie Tea and Coffee Estates Limited, Kenya Tea Blenders Limited, Brooke Bond Mombassa Limited, The Buret Tea Company Limited and Kitco Limited. It also has a 52% interest in The Limuru Tea Company Limited, which is involved in the production of green leaf tea.
Benefits Offered and Relations with Government
A law passed in 2007 reduced the limit on foreign ownership (personal or corporate) of firms listed on the Nairobi Stock Exchange (NSE) from 75 percent to 60 percent. As a result of the new law, several leading Kenyan firms - including Barclays Bank, Unilever Tea Kenya, and Total Kenya - are now closed to any new foreign investor participation.
In 2008 the government gave the Tea Board of Kenya, the industry regulator, sweeping powers that give the board total control over the industry from the farm to the tea cup. The Tea (Licensing, Regulation and Trade) Regulations 2008, which are part of the reforms intended for the industry, give the TBK powers to license and regulate tea growers, manufactures, packers, buyers, exporters, importers and warehousemen.
Under the new regime, licenses for manufacturers, packers, buyers, exporters, importers and warehousemen will be renewable annually subject to meeting a set of conditions. The regulations give the market regulator powers to cancel, suspend or vary any of the licenses after consultations with the minister in case of failure to meet the set terms. For instance, manufactures, packers, buyers, exporters and importers are required to furnish the board with their monthly and annual returns.
The Kenya government has taken a number of steps to improve the competitiveness of the economy and the tea cluster. In 2007, President Kibaki unveiled "Kenya Vision 2030". The goal of Kenya Vision 2030 is to transform Kenya into industrializing middle-income nation by the year 2030. At the sector level, two policy strategies have significant impact on the tea cluster. The first is the Strategy for Revitalizing Agriculture (SRA) 2004-14 unveiled in 2008. Its objective is to transform agriculture into a profitable, commercially oriented, and competitive sector. The second is related to Kenya's the 2003-2008 National Export Strategy (NES). The Strategy aims to improve Kenya's export performance by deepening existing export markets, opening new markets, diversifying the export base away from reliance on traditional exports, enhancing market access, and strengthening institutional support networks through trade facilitation and enhancing competitiveness. The tea and coffee clusters are among the fourteen priority sectors identified in the NES.
Kenya maintains generous incentives for processing and packaging tea. They include VAT exemptions, a ten year corporate, income and withholding tax holiday and high quality infrastructure. Kenya's Export Processing Zone (EPZ) offers additional incentives particularly to export oriented investors. However, over-taxation is a significant issue in Kenya. The government imposes a wide range of levies, fees on inputs, production and services used by the cluster. The import tariff on tea and tea products, for example, has risen from 15% in 1999 to 25 % today.
Unilever participated in a public-private partnership to train smallholder farmers in sustainable tea cultivation through special field schools, working with the Kenya Tea Development Agency (KTDA), the UK's Department for International Development, Wageningen University in the Netherlands, development organisation ETC East Africa and the Tea Research Foundation of Kenya.
The field schools, based at four factories where farmers bring their tea for weighing and collection by the KTDA, offered a hands-on experience, encouraging farmers to talk about common problems, find their own solutions and devise field experiments to identify sustainability best practice. The farmers received practical guidance - for example, on keeping tea bushes the same height to improve harvesting efficiency - accompanied by courses on book-keeping and health and safety. The three-year project, which started in March 2006 and concluded in December 2008, improved farmers' tea yields by an average of between five and 15%. The training also encouraged participants to apply for Rainforest Alliance certification. Two factories, used by 19 000 farmers, were certified as 'sustainable' by the Rainforest Alliance in the first half of 2009. The remaining two factories, used by 17 000 farmers, are on track to achieve certification by September 2009.