Mumias Sugar (MSC)
Company Profile and History
In 1967, the Government of Kenya commissioned Booker Agriculture and Technical Services to do a feasibility study on the viability of growing sugarcane in Mumias and then initiate a pilot project. At the time, the Mumias area was underdeveloped, land utilization was poor as farmers grew food crops on small areas for subsistence only, while the rest of the land was purely for grazing. The relative remoteness of the area and poor communication prevented the development of an active market economy.
It was possible to establish a viable sugar scheme at Mumias with the factory supplied with cane from both the Nucleus Estate and indigenous farmers. The Government accepted the findings and on July 1, 1971 incorporated Mumias Sugar Company as the body to implement the project. The Government was to hold majority shares (71%) and minority interests held by the Commonwealth Development Corporation (17%), Kenya Commercial Finance Company (5%), Booker McConnel (4%) and the East African Development Bank (3%).
In 1979 the company decided to proceed with an expansion of factory capacity to 300 tons of cane per hour, an expansion equivalent to the construction of a large new factory.
In 1997 factory rationalization was completed and daily milling capacity increased to 7,000 tons of cane per day and the efficiency of sucrose extraction was raised from 82% to the current 86%.
In 2000 a nationwide distribution network for sales and marketing was established and a power sale agreement with Kenya Power and lighting Company to supply 10 000MWh of electricity per annum to the national grid was concluded.
In 2001 the company was converted from a private to a public company and listed on the Nairobi Stock Exchange. The management contract with Booker Tate expired in 2003.
In 2006 an agreement with Avant Garde Engineers and Consultants (P) Ltd of India to put up a US$ 40 million power production unit, which will see its generating capability increased to 35 MW and enable the company to sell up to 25 MW to the National Grid was signed.
Mumias District, Western Province, Telkom Landline: +254 56 641620, 641621; Telkom Wireless: +254 20 2037174/94, 20 8028344/5, 20 8006013; Safaricom E1 link: 0711 094 000; Cell: +254 722 203891-5, 734 600334/5; Fax: +254 56 641234
Mumias is engaged in the manufacture and sale of sugar. Its primary source of sugarcane is over 50,000 registered "out growers" with over 400 km² under cultivation. It has also piloted the production of a hybrid high-yielding palm oil variety. It also sells power.
1,606 permanent employees and 129 contract employees
Gross revenue in 2008 was KShs 14,305 million and was 11% ahead of the previous year of KShs 12,865 million. The company processed 2,408,141 tonnes (2007 - 2,118,563 tonnes) of cane, which is 14% higher than the previous year. Sugar produced is 265,263 tonnes (2007 - 217,200) tonnes, which is 22% above that produced the previous year.
Gross turnover was KShs 14,305,457,000 in 2008 (2007-Shs 12,864,962,000) which is 11% above that achieved the previous year. 25,000 tonnes of sugar were exported in 2008 of which 2,000 tonnes went to the European Union.
The company made a profit before tax of Kshs 1,589 million in 2008, which is 17% below that achieved in 2007. Profit after tax of Kshs 1,213,837,000 (2007- Kshs 1,393,611,000) was a decrease of 12.9%.
A total of 207,038 tons cane was delivered from the Nucleus Estate and 2,200,164 tons were delivered from the Outgrowers. Of this, 67,977 tons of cane came from the Nzoia Sugar zone. 2,773 hectares were harvested on the Nucleus Estate and 28,407 hectares were harvested on the Outgrowers fields. Yields were 74.7 tons cane per hectare for the Nucleus Estate and 72.1 tons cane per hectare for the Outgrowers.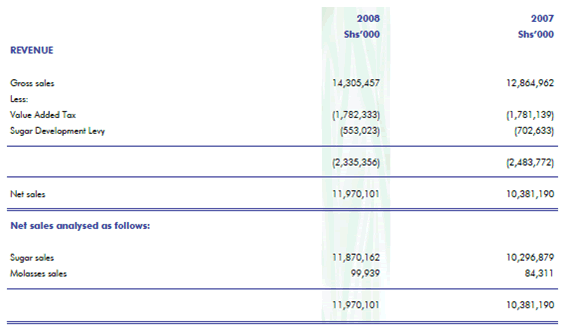 The following are the comparative statistics of cane processed and sugar production for the last fiv

The table below shows the current sugar production of the major mills in Kenya:
| Factory | Sugar Production in Metric Tonnes | Sugar Production in Metric Tonnes |
| --- | --- | --- |
| Nzoia | 67,000 | 13.19% |
| Sony | 79,000 | 15.55% |
| Chemelil | 43,000 | 8.46% |
| Muhoroni | 26,000 | 5.12% |
| West Kenya | 23,000 | 4.53% |
| Mumias Sugar | 270,000 | 53.15% |
| TOTAL | 508,000 | 100% |
The company provides 60% of Kenya's sugar through appointed distributors countrywide and is the largest sugar processor in Kenya.
"To be a world class producer of sugar and energy"
During 2008 the company reviewed its Strategic Plan that culminated in the detailed 2008-2012 Strategic Plan. The strategy amongst others include: improve on branding by increasing the volume of pre-packed sugar, expanding on the product range offering, and improvement of product and packaging quality to maintain a competitive edge; sugar fortification by adding nutrients for improved health is being explored; repositioning of the brown sugar range in the market; rationalise the distribution network to enhance its operations and effectiveness; implementation of specific territory management strategies; reduction of operating costs and waste elimination; improvement of cane yields through better cane husbandry; cost-dilution via diversification into co-generation and ethanol; strategic partnerships with the Southern Africa COMESA producers of Swaziland, Malawi, Zambia and Zimbabwe; expansion into new Greenfield operations; and dispersed small sugar mills via acquisition and amalgamation.
The company has also invested heavily in plant and process modernization to ensure increased production efficiency aimed at minimizing the unit production costs. The cost of production per ton is now under Sh. 27,000 down from Sh. 31,000.
Permanent Secretary, Treasury -102,000,000 20.00 Kenya Commercial Bank Limited -15,500,000 3.04 The Jubilee Insurance Company Limited - 9,562,834 1.88 Kanouti Trustees - 7,478,701 1.47 Barclays (Kenya) Nominees Limited A/C 1853 - 4,341,531 0.85 Kenya Commercial Bank Nominees A/C 769G - 4,045,127 0.79 Barclays (Kenya) Nominees Limited A/C 1256 - 3,926,479 0.77 Barclays (Kenya) Nominees Limited Non-Resident A/C 9318 - 3,649,900 0.72 Kenya commercial Bank Nominees Limited A/C 744A - 3,049,648 0.60 Insurance Company of East Africa Limited – Pooled - 2,255,405 0.44 Others - 354,190,375 69.45

Benefits Offered and Relations with Government
Tax is currently charged on locally manufactured sugar after adding profit (ex factory price) while tax on imported sugar is charged on cost and insurance. Local manufacturers can therefore not claim 100% Value Added Tax (VAT) when it is sold, as the cost includes 70% non-taxable inputs like sugarcane, labour, diesel etc while importers claim 100% VAT. The unclaimed VAT increases cost of locally produced sugar. VAT is also charged on Sugar Development Levy (SDL), hence a tax on tax scenario.
The company's contribution to the exchequer in taxes from VAT, Corporation Tax and SDL and other taxes was over Shs 3.2 billion this year (2008 - Shs. 3.4 billion). The taxation credit of Shs 417 million in 2009 resulted from the 150% investment deduction on the cogeneration projects. The tax incentive by the government will encourage investments outside the main urban centres resulting in rural development.
The government is in the process of privatising the parastatal sugar millers as part of the recommendations for the COMESA safeguard measures extension so as to make them more competitive.
Although the Sugar (Imports, Exports and By-product) Regulations 2008 (LN 114 of 2008) have been gazetted to try and regulate the importation of sugar, competition from imports will continue to be a challenge. In 2008 the Minister for Agriculture banned both importation and exportation of sugar in contravention of regional and international trade protocols.
Kenya has huge potential for ethanol from sugarcane but lacks the institutional and regulatory framework, as well as tax incentives to facilitate development of the Industry. Kenya's requirement for ethanol for blending with petrol is 60.0 million litres out which Mumias can produce 27.0 million litres from molasses. Energy policy needs to be reviewed to accommodate this policy and management will be working with Government to achieve this.
Kenya is a signatory to the East African Community Customs Union, COMESA, Cotonou Partnership Agreement (ACP-EU) arrangement and the WTO Agreements. In order to implement a programme to enable locally made sugar attain price competitiveness, Kenya applied for and was granted a four-year safeguard period starting March 2004 which ended in February 2008 under the COMESA Trade Agreement.

In 2007 despite the fact that the industry had made remarkable progress, it was still not ready to open its market to sugar from the region and hence saw the need to apply for the safeguard to be extended by a further four years.

COMESA's council of ministers acceded to the request and agreed to extend the safeguard measures on condition that the country undertake a raft of radical measures which include:

i) Total elimination of state control of the industry through a speedy privatization programme of state owned sugar mills to be concluded in the next two years;

ii) The implementation of the Sucrose Based Pricing and Payment System as the basis for compensating sugar cane growers in Kenya. This new measure will introduce a fundamental shift in pricing of sugar cane using recoverable sucrose content as basis rather than weight;

iii) Steady rise in the sugar import quota in tandem with a graduated fall in the duty charged.

The quota under the safeguard will be enlarged in each successive year of application, and the tariff applied on import quantities above the quotas reduced in each successive year of application of the safeguard as follows: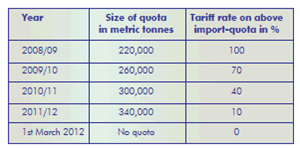 A number of issues have arisen from the new labour laws that will have a direct financial impact on employers. These include: Maternity leave-increased from 60 days to 90 days exclusive of annual leave; Paternity leave - 14 days; insurance for all employees including casuals; increased injury compensation up to 96 months' wages.
Product development include amongst others: A new modern packaging plant to increase the pre-packed sugar was commissioned and will be ready by 30 September 2009; the company has completed and commissioned the co-generation project to produce heat and electricity from the baggasse produced in a sugar factory and has increased its power generation from 12MW to 38MW. This has led to an increase in export of power to the national grid from 3MW to 26MW; the company is exploring opportunities of setting up a water-bottling plant from the excess water derived from the co-generation plant operations; following the successful completion of a feasibility study for an integrated sugar project in the Tana River delta in collaboration with Tana and Athi River Development Authority (TARDA) and conclusion of the legal and regulatory issues, the company is in the process of identifying sources of funds and partners so that the project can commence; a feasibility study has been completed on the viability of setting up an Ethanol Plant in Mumias and ways of implementing the project are being explored; and the company entered into a ten year agreement (2009 – 2019) with Japanese Carbon Finance Company Limited. This arrangement should see the company receive "carbon credits" as a result of replacing thermal production of electricity with the more environmentally friendly "baggasse" production.