Messebo Cement Factory
Company Profile and History
The construction of the Messebo Cement Factory started in February 1997 and was completed at the end of 1999. The plant is located in the northern part of Ethiopia, 7 km from Mekele city. The annual capacity of the plant is 900,000 tonnes and it is capable of producing Portland cement with or without additives. The production process of Messebo cement factory consists of the latest pre-calciner technology.
Messebo Cement Factory, Mekelle, Addis Ababa, Ethiopia; Tel: 034-4404083/034-4409271; Fax: 034-405804/05
The main product of Messebo is Ordinary Portland Cement (OPC)
30 percent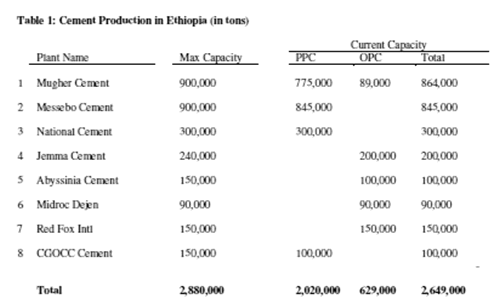 Messebo Cement Factory was established with the following objectives: to become a leader in manufacturing of building materials in Ethiopia and in the Tigray region; to substitute the importing of cement to reduce cash out flows; to export qualitative and competitive cement; to supply cement at low cost; to facilitate the expansion of construction activity in the region as well as in the country; and to generate profit for its persistence and further expansion.
Messebo Cement Factory is owned by the Endowment Fund for the Rehabilitation of Tigray (EFFORT)
Benefits Offered and Relations with Government
In 1978, the Tigrayan People's Liberation Front (TPLF), the main party within the ruling Ethiopian People's Revolutionary Democratic Front (EPRDF), created the Relief Society of Tigray (REST), a financial umbrella organization of the TPLF which acted as an NGO despite headed by a TPLF Central Committee member. It collected donations from the international community and channelled it to the TPLF, playing a key role in the survival and ultimate victory of TPLF over the Derg.
After the rise of the TPLF to power in 1991, REST was formally registered with the governmental Relief & Rehabilitation Commission in Ethiopia as an NGO. As the TPLF's financial backbone, it continued enjoying the state protection, and the restructured organization emerged as the richest "NGO" in the continent. In 1995, about four years after it took control of central power in Ethiopia, the TPLF established a stronger peer for REST - the Endowment Fund for the Rehabilitation of Tigray (EFFORT). EFFORT started its business venture with an investment volume of about 2.7 billion birr-then just under US $1 billion. Azeb Mesfin, the wife of Prime Minister Meles Zenawi, has been appointed as deputy head of the Endowment Fund for the Rehabilitation of Tigray, also known as EFFORT
Through EFFORT, the TPLF has considerably diversified its economic activities and expanded its outreach even to foreign countries. EFFORT is divided into several sectors directed by members of the TPLF Central Committee, like Abadi Zemo for industrial activities, Arkebe Oqubay Mitiku for construction and transportation, and Tewodros Hagos for mining. The TPLF also benefits EFFORT by ordering free transfer of funds from government accounts, often under a bogus claim of services that TPLF institutions offered to the public. It allows free flow of goods in the name of EFFORT, without customs and taxes, but EFFORT is allowed to compete with for-profit businesses of the country through its tentacle bureaus. Thus, Messebo Cement factory was built with public expenditure at a cost of 1.5 billion birr, and a Textile factory in Adwa at 1.2 billion. However, the incomes from these public investments are fully controlled by the TPLF through EFFORT.
The market for cement, one of Ethiopia's main manufactured products, has experienced turbulent conditions in 2009. In May 2009 the Ethiopian Electric Power Corporation (EEPCo) instructing Messebo and Mugher to close for a month due to severe shortages in power supply. A week after EEPCo's decision was made public, cement prices rose from levels of around Birr 275 to over Birr 360 per quintal, or a jump of 31 percent. These events follow an April 2009 ban on private sector imports of cement which follows a period of about two years when private sector imports had been permitted on a franco valuta basis.
The ex-factory selling price for cement (PPC) in Ethiopia has risen from near Birr 80 in early 2006 to Birr 155 in early 2009. However, ex-factory prices have little relation to actual retail prices and apply to only a few customers able to access factory sales.
Import prices: Imported cement retail prices are very close to domestic cement retail prices, despite the fact that import prices on a CIF basis alone are well below local retail prices. Data for the first four months for 2009, for example, show that cement import prices (CIF basis) averaged Birr 152 per quintal though retail prices averaged Birr 276 during this time frame. This implies that Birr 124 (or 45 percent) of the retail price of domestic cement reflects some combination of domestic transport costs, official charges, and retailer margins. A sizeable entry of much lower-priced imports would normally be expected to bring down domestic prices, but the fact that this has not taken place in the Ethiopian context is somewhat puzzling: the possible culprits here are high transport costs, high retailer margins, and/or obstacles in the trading regime (such as limited cement import licenses being offered) that work to reduce the amount of imports that would otherwise enter the country.
Messebo plans to expand cement production to 1.2 million ton per year