Karuturi Global Limited
Company Profile and History
Karuturi Global Limited is the world's largest producer and exporter of cut roses with operations spread across Ethiopia, Kenya and India. Incorporated in 1994, its farmlands, spread over an area of 250 hectares under Greenhouse cultivation, produce about 500 million rose stems annually. Having established a strong presence in floriculture, the company is now in the process of broad-basing its portfolio to become an integrated agri‐products company with a global presence. The company acquired large tracts of land in Ethiopia to cultivate and export agricultural products such as cereals, cash crops and fresh vegetables.
Karuturi started business in Ethiopia in 2004 through its 100 percent subsidiary, Ethiopian Meadows Plc. Karuturi has two production farms in Addis Ababa: 100 ha of land in Holeta (40 km from Addis Ababa, the capital city), where the net cultivable area is 60 ha; and 385 ha of land in Wolisso (90 km from Addis Ababa), where the net cultivable area is 200 ha. The entire production is under greenhouses. The company started exporting cut flowers from Ethiopia to the Middle East, Holland and Russia in 2006. While the existing 100 hectares of land in Ethiopia became fully operational in FY09, of the additional 385 hectares acquired for roses, 25 hectares will become operational in FY09 and the rest in FY 10-11.
The Company also has palm tree, sugarcane and rice farms in Etang, Gambella State and corn and vegetable farms in Bako, Oromia State.
Ethiopian Meadows Plc: Kebele 03/05, House No.2112, Addis Ababa, Ethiopia: Tel: +251-116632437 / 38 / 39
Holleta Unit: Sadamo Kebele, Wolmera Woreda, West Shoa Zone, Oromia Regional State; Tel: +251-0112372500 / 01 / 09
Wolesso Unit: Maro Bariyo & Haile Mariam Kebele, Woliso District, Shouth west Shoa zone; Tel: +251-0113305754 / 55 / 56
Floriculture in Ethiopia and the start-up of cereals, sugarcane, palm oil and fresh‐cut vegetables production in the country
3,000 employees in Ethiopia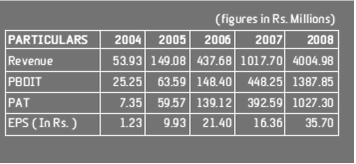 The consolidated financial statements relate to Karuturi Global Ltd and its wholly owned subsidiary companies, Ethiopian Meadows Limited, Flower Express FZE and Karuturi Telecom Private Limited. The consolidated financial statements have been prepared on the following basis:
a) The financial statements of the Company and its subsidiary companies are combined on a line-by-line basis by adding together the book values of like items of assets, liabilities, income and expenses, after fully eliminating intra-group balances and intra-group transactions resulting in unrealized profits or losses in accordance with Accounting Standard (AS) 21 -"Consolidated Financial Statements" issued by the Institute of Chartered Accountants of India;

b) In case of foreign subsidiary, being non-integral foreign operations, revenue items are consolidated at the average rate prevailing during the year. All assets and liabilities are converted at rates prevailing at the end of the year. Any exchange difference arising on consolidation is recognized in the foreign exchange fluctuation reserve;

c) The difference between the cost of investment in the subsidiaries, over the net assets at the time of acquisition of subsidiaries is recognized in the financial statements as Goodwill or Capital Reserve as the case may be;

d) As far as possible, the consolidated financial statements are prepared using uniform accounting policies for like transactions and other events in similar circumstances and are presented in the same manner as the Company's separate financial statements.
Break-up of Revenues and Profitability

Production base of Karuturi

The Dubai-based Karuturi Overseas Ltd (KOL) consolidates KGL's operations in Ethiopia. The total acreage under rose cultivation in Ethiopia is 70 hectares with stem production of around 92 million. In 2007-08, KOL reported a net profit of Rs. 0.41 billion on a turnover of Rs. 1.07 billion.
Ethiopian Meadows Plc is the largest floriculture operation in Ethiopia. After acquiring Ethiopia's Sher Agencies in 2007, Sher Karuturi became the largest rose producer in the world.
"Management is focused on growing Karuturi into an integrated Global Player in agriculture and therefore increasingly focuses on vast agricultural opportunities in Africa especially, Ethiopia"
"An integrated production model encompassing in-house plantation, cultivation and distribution capabilities coupled with a series of green initiatives make us one of the lowest cost producer of cut roses in the world. Almost our entire produce is exported to high-value markets such as Holland, Germany, United Kingdom, Italy, Singapore, Hong Kong, Taiwan, Bahrain, Muscat, Dubai, Australia, Japan, New Zealand, Brunei and North America, with a small portion sold in India.
Our key management strategies are built around synergistic forays, expansion into low-cost production bases and integrating the value chain to emerge as a leading agri-products company in the global market. We believe in our potential to serve the ever-rising demand for agri-products in different markets. Over the years, we have been able to identify and procure resources such as land and labour at relatively economic prices, and thus increase shareholder value.
We have an enviable track record of consistent growth and profits, and delivering value to all our stakeholders, especially our investors. Our consistent performance has been enabled through strategic acquisitions globally and healthy organic growth. We firmly believe in value creation and maximising shareholder's wealth
Our company is looking at evolving into an end-to-end agri-focused company. To meet that end, our company is moving towards aggressive expansion of our floriculture, horticulture and agriculture portfolio in terms of its own production &processing facilities. Simultaneously, our company is looking at going directly to the market for its products through its own distribution network. Moving ahead, in order to fund its strong growth, our company plans to raise up to US$ 100 million from investors. The raised capital will be used mainly to fund our company's floriculture growth plans in Africa and agricultural operations in Ethiopia The thrust will be on expansion of the agriculture business."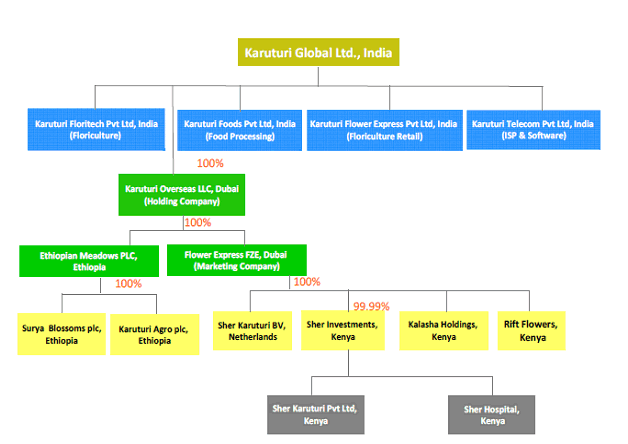 Benefits Offered and Relations with Government
The Ethiopian government, pursuant to its objective of encouraging private and foreign participation in capital inflows and technology, has put in place favourable policies for floriculture, horticulture and agriculture development: generous financial support to the floriculture industry; 100 percent exemption from the payment of import and customs duties and other taxes levied on all investments in capital goods, such as plant, machinery, equipment, etc; exports of Ethiopian products and services are exempt from payment of all export taxes; income from an approved new manufacturing and agro-industry investment or investment made in agriculture is exempt from income tax for about five years depending upon the area of investment, volume of export, and location of investment; roses imported from Ethiopia into the European Union are exempt from taxes levied on imports; the Investment Proclamation allows foreign investors liberal terms to remit profits and dividends, principal and interest on foreign loans, and fees related to technology transfer; and foreign investors are also allowed to remit proceeds from the sale of liquidation of assets, transfer of shares or partial ownership of an enterprise, and funds required for debt service or other international payments.
In 2009 Karuturi commenced operations on 11,700 hectares of land in Bako, Ethiopia to cultivate maize, rice and vegetables. It plans to bring 750,000 acres of land in Ethiopia under cultivation by 2014-15. Also in 2009 it acquired 300,000 hectares in Gambela, Ethiopia for agriculture expansion.