Elfora Agro-Industries Plc
Company Profile and History
ELFORA is a private agro-industrial company established in December 1997. ELFORA is a subsidiary of MIDROC Ethiopia Investment Group. ELFORA was established through the acquisition of eight livestock and meat processing plants with a total value of US$ 54.7 million.
ELFORA, is divided into three major operations: Food Processing and Crop Production which manages five meat processing plants; Livestock Operations is engaged in live animal supply, purchasing centres, ranches and quarantine stations; and the Poultry Operations has modern broiler processing and packing units. It produces table eggs, broiler meat and day old chicks.
Currently, ELFORA exports Livestock and Meat products to the Middle East Countries (Saudi Arabia, Dubai and Yemen) and African Countries (Djibouti, Congo Brazzaville, Cotê-d'ivoire and Egypt). The Company's Meat Plants at Melge Wondo, Dire Dawa, Kombolcha, Gondar, Metehara, Netehara and Debre Zeit are engaged in the production of meat either in canned form or carcass for both domestic and export markets.
The Melge Wondo Meat Plant is utilized exclusively for beef carcass export to the Egyptian Market, and the Debre Zeit & Metehara Abattoirs for export of mutton and goat carcass to the Middle East.
The Cheffa, Nettle and Melge/Shallo Farms are engaged in producing different crops including Cereals, Fruits, Vegetables and animal fodders. The Debre Zeit Poultry Operation produces live chicken and table eggs, mainly for the local market.
Since its establishment in 1997, the Company's profitability and return on investment has been very low and even declining. For a company with total investment of over Birr 400 million, the rate of return on total investment (ROI) has averaged only 2.3 percent during its ten years of operation. The low level of return on investment (ROI) is the result of a combination of various factors. Among the problems are: high fluctuation in demand for some products and difficulty in planning production; underutilization of existing capacity; gap between time of production and demand volume resulting in supply inconsistency, loss of sales, and stocks piling up; higher selling prices than competitors'; inadequacy of promotional activities; escalation of air freight charges, making selling prices too high to be competitive in the international market; and high administrative and general expenses.
Lamberet, Bole Sub-City, Kebele 12/13, Addis Ababa, Ethiopia:
Telephone: 251-011-645 0361; Fax: 251-011-645 0503 OR 251-011-645 0504

Production of livestock, meat canned food, poultry products and various crops.
1,108 employees in Ethiopia
ELFORA processes and export up to 90 tons of mutton and goat carcass per week or 3400 tons per annum.
Financial Performance of ELFORA Agro-Industries Plc (1997-2006)Note: Latest figures not available

ELFORA is the largest Agro-Industrial company in the country. Below are selected comparisons:
Commercial Supplies of Beef and Mutton (2005/06)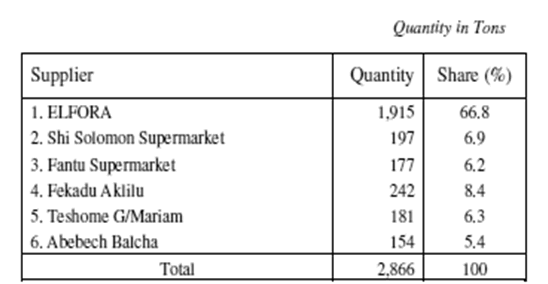 Commercial Supplies of Poultry Meat (2005/06)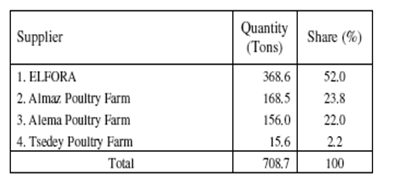 Commercial Supplies of Table Eggs (2005/06)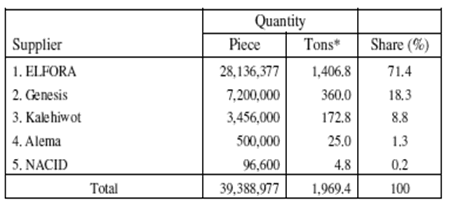 Source: Marketing and Sales Strategies of Elfora Agro-Industries Plc: Getinet Hailu: Addis Ababa University: July 2007
"To provide quality products and sustained services to every customer and user"
"ELFORA is committed to further investment in advanced technology and equipment, quality control and competent management and staff to enhance the operational capabilities and increase labour productivity of its ranches, feedlots, and meat processing planets as well as poultry and crop farms. One meat plant will give special emphasize to the production of chilled mutton. Our intended investment to develop both irrigated and rain-feed farms would prove our commitment to contribute to the development of Ethiopia's agricultural resources.
To satisfy the ever increasing demands and the stringent requirement of its clients, for quality and safe products, ELFORA is constantly engaged in developing and upgrading abattoir facilities for slaughtering and processing of chilled carcasses, particularly mutton. To double the capacity of sheep and goats processing, and increase productivity the carcasses dressing line has been completely overhauled. In its endeavour to improve product quality, the veterinary laboratory facility, which is set up to perform various examination and taste, is ELFORA's latest development in quality control assurances.
In order to achieve ELFORA's long-term business objectives, more upgrading and expansion activities will be undertaken in the future. Towards this end and in order to increase the company's livestock market: upgrading of the feedlots and ranches will be undertaken to increase the size and quality of live animals; selection of the appropriate breeds and holding own breeds in the company's own ranches will be practiced based on study results; produce and market high quality livestock and meat products both to the domestic and export markets; and supply special quality chilled/frozen beef, mutton and goat carcasses, beef cuts, and broiler meat to the local and overseas markets; secure entry into non-traditional foreign markets by increasing the supply of special quality chilled mutton goat meat and beef.
Furthermore ELFORA will: engage in the commercial production and marketing of poultry products, including broiler chicken, portioned chicken meat, day-old chicks and table eggs; engage in the production and marketing of cash and industrial crops for the local and export markets as well as for use by own processing/canning plants; develop, process and market canned meat and vegetable products for the domestic and foreign markets; and build-up a competent management and staff workmanship by constantly upgrading their skills and encouraging teamwork and a sense of belongingness."
The well-known business tycoon, H.E. Sheik Mohammed Hussein Ali AL-Amoudi and his family established the MIDROC Investment Group in Ethiopia. ELFORA is wholly owned by MIDROC.
Benefits Offered and Relations with Government
Since 1991 the government adopted a market-driven strategy and introduced policy and institutional reforms in the 1990s encompassing fiscal, financial, exchange rate, trade and industry, management of public resources and enterprises. At the turn of the Millennium the Government shifted its development strategy from the structural adjustment program of the 1990s to a poverty reduction program.
The Sustainable Development and Poverty Reduction Program (SDPRP) aims at promoting growth and alleviating poverty. The program rests on four pillars, as it were, comprising agricultural-development-led industrialization (ADLI) and food security; justice and civil service reform, governance, decentralization and empowerment and capacity building which predate the SDPRP. The program focuses on the following major areas: agriculture which is the source of livelihood for upwards of 85 percent of the population where the bulk of the poor live; agriculture is also believed to be a potential source to generate primary surplus for growth of other sectors of the economy (industry); strengthening private sector growth and development, especially in industry as means of achieving off-farm employment and output growth; rapid export growth by increasing the production of high value agricultural products and increased support to export oriented manufacturing sectors particularly intensified processing of high quality skins/leather and textile garment; - deepening and strengthening the decentralization process to shift decision-making closer to grass-root levels, to improve responsiveness and service delivery; and improving governance to empower the poor and create a conducive environment for private sector growth and development.
Since 1993, the tariff structure has undergone extensive reforms. The government has issued a number of proclamations and regulations to revise and streamline the old tax system. Four important proclamations are Tax Amendment Proclamation No. 38/1993, Sales and Excise Tax Proclamation No 68/1993, Duty Drawback Proclamation No. 69/1993, and Value Added Tax (VAT) Proclamation No. 282/2002. These policy initiatives have brought about five distinct changes: (i) the former system of specific duties/taxes (weight-based) have almost completely been converted to ad-valorem, making tax administration much more efficient, (ii) the maximum tariff has declined from a high 230 percent to 50 percent, and the difference between the maximum and minimum tariff has declined from 225 percent to 45 percent, (iii) the proportion of duty free imports has declined from 60 percent to 3 percent, (iv) the sales tax, on both imported and exported goods, has been reduced to 5 percent on essential commodities and to a uniform 12 percent on all other commodities and (v) the country's tax structure has been harmonized with the COMESA member countries in 2002. There has been another proclamation regarding taxes on exportable commodities, initially for coffee (Proclamation No. 287/2002) and later for other commodities. The 1993 proclamation replaced the complex tax structure of the Derge regime by introducing a flat 6.5 percent tax on coffee exports, which was completely eliminated in 1998 following declining coffee prices in the international market. The Proclamation No. 287/2002 is a follow-up to the 1998 tax elimination decision. With these reforms, most exports are now free of tax.
In 2007 Prime Minister Meles Zenawi awarded Sheik Mohammed Hussein Al Amoudi, with the "first special millennium golden medal" for his "exemplary deeds for the development of Ethiopia and its people." During the awarding ceremony, Meles said Sheik Mohammed Hussein Al Amoudi is elected as "Special Millennium Person" because he has "proved his love and sympathy for Ethiopia and its people." Meles added that the sheik "has been launching various investment projects in Ethiopia, even without proving the profitability of the projects, due to his love and sympathy for the country".
Upgrading and expansion activities have been carried out in the Debre-Zeit Abattoir and the Poultry Operation. In 2008 ELFORA for the first time exported grapes from its 14.8 hectares farm at Meki. It plans to expand the farm to 40 hectares.