Petronas
Company Profile and History
Engen, as a PETRONAS subsidiary, is an African-based petroleum company with a history going back to 1897 when the UK branch of the American Vacuum Oil Company set up a sales office in Cape Town. The company eventually became part of the US-based Mobil Corporation.

The enterprise grew rapidly through a series of amalgamations and name changes over the years, including the 1989 acquisition of Mobil's interests by Gencor, to create the largest energy group in Southern Africa. In May 1990, the company was renamed Engen and in 1992, Engen Limited, was listed on the Johannesburg Stock Exchange. The company was de-listed in December 1998 when it became a wholly owned subsidiary of Petroliam Nasional Berhad (Petronas) the Malaysian National Oil Company. Subsequent to the de-listing Petronas sold 20% of its shareholding in Engen Limited to Worldwide African Investment Holdings (Pty) Limited late in 1999.

In May 2004, Engen entered into a lubricants alliance with ExxonMobil. ExxonMobil is the world's largest manufacturer of lubricant base stocks, a leading marketer of finished lubricants, and the world's leading producer of synthetic lubricants. The basis of the Engen/ExxonMobil alliance is that ExxonMobil provides technical and marketing support while Engen is the sole marketer and distributor of a range of ExxonMobil's lubricants in South Africa, Namibia, Botswana, Lesotho and Swaziland. The range of lubricants that Engen manages and markets includes Engen, Mobil, and selected Esso products.

Its Durban-based refinery, which has a capacity of 135 000 barrels a day, is one of the most sophisticated crude oil refineries in Africa. This refinery is capable of converting light and heavy crudes into high value product streams. A variety of separation, conversion and purification processes ensure maximum flexibility for producing basic fuels and a wide range of high quality by-products from bitumens through chemical feedstocks up to exotic solvents. The refinery's product range includes petrol, jet fuel and diesel fuel, aviation gasoline, liquefied petroleum gas, solvents, bitumen, sulphur, illuminating kerosene and bunker fuel oil. Our lubricating oil base stocks are produced at SAFOR. Engen owns 47% of SAFOR and is the operating company. SAFOR produces 45 % of the base oils in Southern Africa.

The state-of-the-art Lube Oil Blend Plant (LOBP) produces in excess of 72 million litres of finished lubricants every year. Engen supplies both automotive and industrial markets and provide products for petrol and diesel engines, gearboxes, hydraulics, turbines, compressors, machine tools and a variety of other applications from both mineral and synthetic base oil stocks.

Under previous ownership (the US Mobil Corporation, and later, Gencor), Engen had penetrated the African market extensively – and had already set up 'affiliate businesses' in Namibia, Botswana, Swaziland and Lesotho. In 1996, Engen added Kenya, Tanzania and Zimbabwe. In 1998, Zambia, Ghana and Burundi followed, and in 1999, Uganda and Mozambique. In 2007, Engen started operating in the Democratic Republic of Congo proper after purchasing 60% of 'Shell en RDC'. The following year (2008), Engen established a presence in Gabon, Guinea Bissau and Rwanda, following the acquisitions of the interests of other multinational oil companies in these countries.

Engen Botswana (Pty) Ltd is currently the only oil company listed on the Botswana Stock Exchange. Its head office is in Gaborone with another office in Francistown. Seventeen of its 38 sites have Quick Shops and three have fast food outlets.
Plot 54026, Western Bypass, Gaborone, Botswana;
Telephone: +267 3922210
Telefax: +267 3922284

The company's core business is the refining of crude oil, marketing of primary refined petroleum products, and the provision of convenience services through an extensive retail network. Products include fuels (petrol, diesel, kerosene etc), lubricants (auto, industrial, etc) and bitumen.

Turnover rose by 7.3% to P921.4 million (FY07: P858.6m), Cost of sales rose marginally by 0.3% to P752.5 million (FY07: P750.3m) due to the increase in stock valuation resulting from the volatility of crude oil prices and gross profit firmed by 56% to P168.9 million (FY07: P108.3m). The system of regular payments for imported products reduced foreign exchange losses by 72.9% to P578, 000 (FY07: P2.1m).

Operating profit grew significantly by 94.8% to P128.1 million (FY07: P65.8m), while profit before tax jumped by 94.4% to P127.4 million (FY07: P65.5m).

Currency in
Millions of Botswana Pulas
As of:
Apr 02
2005
Press
Release
Apr 02
2006
Press
Release
Apr 02
2008
Press
Release
Revenues
445.0
680.2
921.4
TOTAL REVENUES
445.0
680.2
921.4
The company currently has a market share of approximately 24% in Botswana.

The EPIC 2016 Vision sees Engen seeking to be the largest or second-largest downstream petroleum company in Africa by 2016

In 2006 Engen launched its EPIC 2016 Vision and Values, which spell out the company's plan to be a 'Champion in Africa' by 2016. Under its EPIC 2016 growth strategy, Africa will be Engen's main source of growth for the next 10 years. The Vision explains Engen's plans to achieve this. In terms of EPIC, Engen will need to grow sales volumes four times and before-tax operating income eight times. Looked at in a different way, Engen must double its African market share from 8% to 16%, and make profits of about R1 billion on sales of 2.5 billion litres of products (currently it sells 0.9 billion litres).

EPIC focuses Engen's operations on sub-Saharan Africa's 'downstream' petroleum markets (refining, marketing and retailing petroleum products in sub-Saharan countries with good opportunities). Epic has four main threads: be the first- or second-largest oil company in sub-Saharan Africa, in terms of market share, by 2016; stay on top in the South African market; grow income from 'related businesses'; operational excellence in manufacturing, trading and supply; and three main enablers: people; Values-one shared belief system underpins the company's culture; and proactive stakeholder engagement.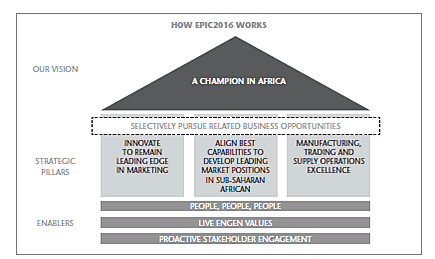 Engen Limited's shareholders are Petroliam Nasional Berhad (PETRONAS), the Malaysian national oil company, which holds 80% of its equity, and Worldwide African Investment Holdings (WAIH), which holds the balance. Engen Petroleum Limited is a wholly-owned subsidiary of Engen Limited, and conducts all downstream activities in South Africa. WAIH is a leading South African black-controlled and -managed company focusing on the broader energy sector in Sub-Saharan Africa. WAIH owns 55% of the share capital of Afric Oil (Pty) Ltd through its wholly-owned subsidiary Afric Energy Resources (Pty) Ltd). Engen Limited owns the remaining 45% of Afric Oil (Pty) Ltd.

Enpet Insurance Limited, domiciled in the Isle of Man, and Enpet Africa Insurance Limited, are both 100% subsidiary companies through which Engen's insurance programmes are placed and managed. The International Business Development Division (IBDD) is responsible for all Engen's downstream marketing operations in Africa other than South Africa, Lesotho and Swaziland. IBDD has a retail and consumer presence in Botswana, Burundi, Democratic Republic of Congo, Ghana, Kenya, Mozambique, Namibia, Tanzania, Zambia and Zimbabwe.
Benefits Offered and Relations with Government
The Ministry of Trade and Industry controls the retail prices of petrol, diesel, and illuminating paraffin, along with profit margins (Control of Goods Prices and Other Charges Act). Domestic retail prices are based on the imported cost plus local taxes and levies, where applicable, and the industry and dealer margins. The Government believes that such controls are needed to safeguard consumers against unscrupulous pricing by the limited number of suppliers.

VAT of 10% is charged on most sales of goods and services. Sales of petrol, diesel, paraffin, maize and sorghum meal, financial, educational, and health services are exempt from VAT.

The current policy whereby fuel prices are reviewed regularly in line with movements in international prices is a positive development for the domestic oil industry at large as this allows a more responsive market related fuel prices in line with the import parity price. The group has established a solid platform to exploit growth opportunities as they build on existing strong relationships with the government and quasi government customers.
Engen Botswana Limited released strong financial results for the year ended 31 March 2008. This was mainly driven by strong customer focus and improved product availability from the traditional sources compared to the prior year. In 2009 Engen Botswana was awarded the Diamond Service League Award. The award is given to a company that in the previous year consistently stayed on top of the league table.