Lafarge S.A.
Company Profile and History
Lafarge S.A. is a limited liability company incorporated in France and governed by French law (société anonyme). Based on sales, the Group is the world leader in the cement market, the second largest aggregates producer, the third largest concrete producer and the third largest gypsum wallboard manufacturer worldwide. The company has cement production facilities in 50 countries, aggregates and concrete businesses in 40 countries and its shares have been traded on the Paris Stock Exchange since 1923.

In 2009, for the fifth year in a row, Lafarge featured on the list of the "Global 100 Most Sustainable Corporations in the World". Lafarge was the only company in the construction materials sector to be listed in the 2008 '100 Global Most Sustainable Corporations in the World'.

The company began operating in 1833 when Auguste Pavin de Lafarge set up a lime operation in France. Lafarge S.A. was incorporated in 1884 under the name "J. et A. Pavin de Lafarge". Through numerous acquisitions of lime and cement companies throughout France, it became France's largest cement producer by the late 1930s.

Its first foray outside France took place in 1864 when the company supplied lime for the construction of the Suez Canal. This also marked the start of Lafarge's business in Algeria when, with the Suez Canal project, the company decided to set up in Algeria to produce the 110,000 tons of lime required for the project. This cooperation was interrupted in 1962, at the time of the country's independence. Lafarge returned in 2002 with the setting up of a joint venture for the Gypsum business. The purchase of Orascom Cement in 2008 confirmed the Group's return to the country. The Orascom-Lafarge deal was the Middle East's largest ever M&A divestiture.
Algeria
Impase Ahmed Kara building B, Hydra, Alger
Telephone: +213 21 549494
Telefax: +213 21 549968
Algeria
Impase Ahmed Kara, Alger
Telephone: +00 213 21549494
Telefax: +00 213 21549966 / 72
The Group produces and sells building materials-cement, aggregates, concrete, gypsum wallboard, and related products-worldwide, primarily under the "Lafarge" brand. This includes an extensive range of cements and hydraulic binders for the construction industry, including basic portland and masonry cements and a variety of other blended and specialty cements and binders.

The primary aggregates the company produce and sell are hard rock (usually limestone and granite), but also natural sand, gravel, recycled asphalt and concrete. Local geology determines the type of aggregates available in a given market .

In North America and the United Kingdom, Lafarge produce and sell asphalt for road surfacing and paving. Lafarge has developed Durapave, with enhanced appearance, placing and energy efficiency properties.

In Algeria, Lafarge has two plants with a cement capacity of 8 million tonnes, six concrete plants, five quarries and a plasterboard facility. Lafarge operates a gypsum plant with a capacity of 150,000 tons at Bouira in Kabylie, as a joint venture with the Algerian group Cosider. By June 2009, the Group had a total of twelve plants across nine sites.
The Group had 83,438 employees at December 31, 2008, representing an increase from December 31, 2007 of 5,717 employees or 7.4%. This increase is mainly attributable to the Orascom Cement acquisition (7,173 employees). Lafarge employs 2100 staff in Algeria.
In 2008, the Group generated 19,033 million euros in sales and posted a current operating income of 3,542 million euros. At year-end 2008, its assets totalled 40,608 million euros. The Orascom Cement businesses contributed revenues of 1,510 million euros and net income (Group share) of 297 million euros to the Group for the period from January 23, 2008 to December 31, 2008.



Geographic area information

Africa (18% Of the Division's 2008 Sales)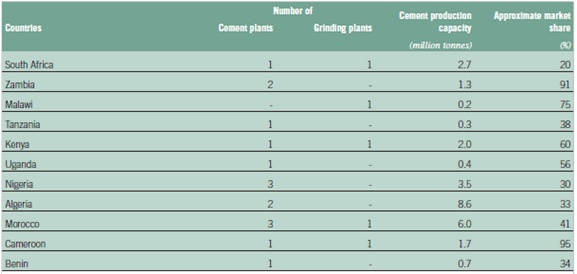 The Group's strategy aims at strength ENIng its position as world leader in building materials, in terms of market share, corporate image with customers, geographic deployment, innovation and profitability.
Lafarge have two strategic priorities: cement, notably in fast-growing markets, and innovation, especially in concrete.

It base its current business model on the assumption that despite the current economic and financial crisis, the mid and long term prospects remain favourable notably in emerging markets, which now account for 60% of Group earnings. The company is taking a number of measures in response to the market downturn and slowdown in construction activity, including reinforcing its financial structure by increasing capital and reducing debt, bolstering leadership in the sector and positioning the Group to benefit from the recovery. It is also implementing an increased cost cutting initiative, a reduction in capital expenditures and a continued divestment program.

Most of its new production capacity projects are located in emerging markets and the company particularly wants to accelerate the pace of development in China, where it intends to double our production capacity to 50 million tonnes by 2012.

The Group also has three operating priorities: the safety of the women and men who work within the Group; cost cutting, improvement of operating margins and streamlining operations; and sustainable development-combating climate change by reducing greenhouse gas emissions by 20% worldwide between 1990 and 2010; setting up a biodiversity plan for all quarries; and ensuring the safest possible environment for employees.

To manage the cyclicality of the construction sector it operates in geographically diverse markets, with a portfolio of operations both in mature markets such as Western Europe and North America and in emerging countries, thereby minimizing exposure to risk in a given country. To manage the risk in emerging markets the company spreads emerging markets' operations among a large number of countries (with no individual country representing over 6% of consolidated current operating income before capital gains, impairment, restructuring and others).

In June 2008 it acquired a 35% stake in the Meftah cement plant.
Benefits Offered and Relations with Government
In August 2008 Algeria tightened its control on foreign investment. Among them, all future joint ventures involving foreign investors will require local firms to hold a majority stake. In addition, the state will have the right to intervene in the sale of companies due for sale to foreign investors.

The measures were prompted by the merger of Lafarge and Orascom, without consulting Algeria's government and reportedly turned president Bouteflika against foreign investors. Algeria, which had previously blocked several of Lafarge's investment projects, saw the merger as a violation of its right to decide on the admission of foreign companies.

Orascom sold its cement arm to Lafarge for 8.8 billion (LE 74 billion). AS.P.Art of the deal, Lafarge assumed $2 billion (LE 10.8 billion) in debt from Orascom. NNS Holding-a Sawiris family investment holding company headed by Nassef Sawiris, CEO of Orascom -took a stake in Lafarge at a price of 125 (LE 1.325) per share for 22.5 million new shares.

The acquisition handed Lafarge Orascom's upgraded 5Mta works in the south, plus a new coastal plant of about 2.5Mta and extremely low cash costs of production, estimated at no more than US$15 per tonne. Lafarge also benefits from the fact that the government is in the middle of a US$250 billion investment programme and is building the biggest highway in Africa, the biggest mosque in the region, two new power plants, 12 new desalination units, a metro in Algiers, and a million new homes. It is also building a US$6 billion city in the Sahara for 80,000 people. "In Algeria," explains Guillaume Roux, Executive Vice-President and Co-President of the Group's Cement Business, "we are the leading cement manufacturer and the only non-Algerian company, even though all the public sector companies carry more weight than we do. "
The company focuses strongly on innovation, especially in concrete with the brands Agilia(R), Chronolia(R), Extensia(R) and Artevia(R). By 2012, high value-added products should account for 35% of Lafarge's ready-mix concrete production in terms of volume. Lafarge states that "growth and innovation must benefit not only the Group but also our customers: ultramodern production facilities close to their markets and innovative products that provide them with greater satisfaction.

Lafarge Cement is currently the only company in the Algerian cement industry to supply white cement of n exceptional quality. This enables them to offer personalized services to each of its customers: delivery to site, after-sales service and technical back-up.

The 35% stake in the Meftah cement plant, in Algiers comes with a 10-year management contract, for € 43.5 million. The company is implementing an investment program to modernize the plant which dates from 1975. Capacity will be increased from 0.8 to 1.1 million tonnes by 2010.