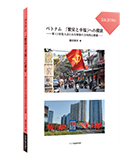 Vietnam in Search for a Path toward "Prosperity and Well-being": Development Orientation and Challenges seen from the 13th Party Congress
Download eBook for free
Available in EPUB and PDF format for full book. EPUB files can be opened in eBook readers.
Buy the print-on-demand book
Thirty-five years after the official adoption of the Doi Moi, Vietnam has undergone a major transformation. The 13th Party Congress, held in early 2021, set forth the objective of becoming a developed country with a high-income status by 2045 and developing the country's prosperity and well-being. How is Vietnam trying to maintain political and social stability and promote economic development amidst new challenges such as technological change, population aging, and climate change? This book outlines the basic orientation in each area, analyzes the characteristics of the new party-state leadership, and discusses expected challenges and future prospects.
Introduction Vietnam in Search for a Path toward "Prosperity and Well-being": Development Orientation and Challenges seen from the 13th Party Congress
Chapter 1 The 13th Party Congress, the 15th National Assembly Election, and the Leadership Reshuffle of Vietnam's Party-State
Chapter 3 Promoting Industries amidst New Trends: Renewable Energy and Digital Technology
Chapter 4 Agriculture, Rural Areas and Farmers at the Stage of Middle-Income Country
Chapter 5 Future Direction of the Social Security in Vietnam chosen by the 13th Party Congress