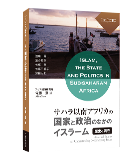 Islam, the State, and Politics in Sub-Saharan Africa: Historical Studies for Understanding Contemporary Issues
Download eBook for free
Available in EPUB and PDF format for full book. EPUB files can be opened in eBook readers.
Buy the print-on-demand book
This book focuses on Western Africa, Eastern Africa, and South Africa, which have had particularly deep historical ties with Islam, and examines how Islam has been involved in nations and politics since the colonial period. The topics covered includes the relationship between Islamic law and the modern state, the connection between political Islam and political history, the interlocking relationship between Islam and the independence movement, and Islam in migrant communities. The goal of this ambitious collection of papers is to provide clues for understanding present situations through case studies that analyze and reconstruct historical events in detail and to contribute to presenting an overview of Islam in sub-Saharan nations and politics, which is a major subject.
Introduction Islam, the State, and Politics in Sub-Saharan Africa: Toward Study Based on Regional Contexts
Chapter 1 Sharia and the Native Court System in Colonial Northern Nigeria
Chapter 2 Historical Institutionalization of Muslim Courts in Kenya: Colonial Policies and the 1963 Constitution
Chapter 3 The Development and Changing Configuration of Islam in Somali Political History
Chapter 4 Searching for Traces of a Lost Union: The Independence Movement and Islam in Colonial Côte d'Ivoire
Chapter 5 Indian Muslims in South Africa: Double Minority Status and Religious Practices
This book is a collection of papers written by researchers in the field of African area studies who are specialized in states, politics, and international relations. It is an attempt to explain the role of sub-Saharan Muslims in relation to their state and its politics. A particular characteristic of this book is that, as it traces history, it brings into view the timing and process of the formation and establishment of states and describes concretely and in detail the involvement of Muslims in the history of each state's founding. The cases discussed are those of Nigeria, Kenya, Somalia, French West Africa, and South Africa.
Research on Islam in Sub-Saharan Africa has advanced in fields such as religious studies, anthropology, and history, but has yet to progress in the fields of political science and political history. This book is published as a humble start of research into Islam in Sub-Saharan Africa in relation to the state and politics.
This book is also published as part of a series of electronic books that the Institute of Developing Economies starts publishing in earnest in 2020. The series is based on an open-access approach in which the results of specialized research conducted by the Institute are published in widely accessible forms. The publications are available in two formats, EPUB and PDF, and can be downloaded from the Institute's website for free. It is my hope that people interested in Africa or Islam will feel free to download and read this book.
Editor