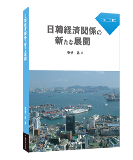 New developments in Japan-Korea economic relations
Download eBook for free
Available in EPUB and PDF format for full book. EPUB files can be opened in eBook readers.
Buy the print-on-demand book
The economic relationship between Japan and South Korea has not been active in recent years. One of the reasons is that the countries' industrial relationship has shifted from one based on vertical division of labor to a competitive relationship. At the same time, however, new activities have started to emerge that are aimed at horizontal division of labor between the two countries. This book traces the economic relationship between Japan and South Korea since the 2000s, focusing on developments in trade and direct investment and on competition and cooperation in, for example, the IT, steel and silver industries. The book also clarifies issues to be addressed to revitalize the two countries' economic relationship.
Chapter 1 Japan-Korea Economic Relations in Transition: An Analysis on International Trade from Korea's Perspective
Chapter 2 Changes in Japan-Korea Relations in the IT Industry: Focusing on materials, components and equipment for semiconductors and FPDs
Chapter 3 Japan-Korea relations in the steel industry: From cooperation to competition
Chapter 4 The Korean silver industry and Japan's experience in the midst of aging society
Chapter 5 Trends and the current state of Japanese direct investment in Korea