Delta Corporation
Company Profile and History
Delta Corporation Limited is a holding company that has invested in and taken management responsibility for a broad based portfolio of businesses, which operate throughout Zimbabwe. The company was established in 1898 as Zimbabwe's first brewery. The company has over the years expanded to encompass more than just a brewery and today its primary activities are lager and sorghum beer brewing, the bottling of carbonated and non-carbonated soft drinks, supermarket and furniture retailing, tourism and various agro-industrial operations. It is listed on the Zimbabwe Stock Exchange and is one of the top quoted companies in terms of market capitalisation. It was first listed on the Stock Exchange in 1946 as Rhodesian Breweries Limited. It later changed its name to Delta Corporation in 1978.

The group was established in competition with SAB's Castle Breweries, which was acquired by the Rhodesian breweries in 1952. Following the de-merger of Pelhams, Zimsun (now African Sun) and OK from the group in 2001, the group is now effectively a beverage company with associated businesses.

In its 2009 annual report the company highlighted the following:

"Total Lager volumes for the year to 31 March 2009 were down 46percent against prior year; volumes of traditional beer for the year to 31 March 2009 were 36percent below prior year.

Having scaled down operations during the latter half of the second quarter and well into the third quarter sales performance recovered strongly in the fourth quarter due to improved availability of packaging material and the ability to import maize; volumes of Sparkling Beverages for the year to 31 March 2009 were 53percent below prior year. Plant performance has been relatively stable but supply chain issues, principally sugar and carbon dioxide availability, negatively impacted on plant throughput; labour shortages and electricity problems at the Ariston tea estates continued to negatively affect operations.

Tea volumes were 92percent of prior year; the macadamia nut crop was up some 300percent, though international prices have been soft; livestock has been maintained but cattle prices have been severely affected by the liquidity constraints in the economy.; and chicken production was suspended on account of stock feed shortages and uneconomic input costs.

Demand for our products has generally remained firm, but this has not translated into sales volumes for a number of reasons: there were periods when consumers were unable to draw cash for purchases; at times price controls made sales unviable; and the failure of water and power supplies resulted in lost production. There have been significant levels of imported products in the market filling the supply gap; at their peak, imported beers and carbonated soft drinks accounted for a large share of the market. By the end of March 2009, when some normalcy had returned, this had dropped significantly."
Sable House, Northridge Close, Borrowdale, Harare;
Telephone: +263-4-883865/883872
Telefax: +263-4-883864

Delta Corporation Limited engages in the manufacture and distribution of beverages in Zimbabwe. It offers lager beer (Castle Lager, Castle Milk Stout, Golden Pilsener, Lion Lager, Carling Black Label, Zambezi Lager, Zambezi Lite Lager, Bohlinger's Lager, Eagle Lager); traditional sorghum beer (Chibuku and Rufaro); and beverages (Coca-Cola, Coca-Cola Light, Fanta, Sparletta, Sprite, Schweppes), juices and juice drinks, and ready-to-drink teas and coffees. The company also engages in the barley malting business. In addition, it manufactures PET, injection, and blow moulded plastic products; glass containers; and wine and spirits.

Further, the company operates as an agricultural producer, and fruit and vegetable distributor.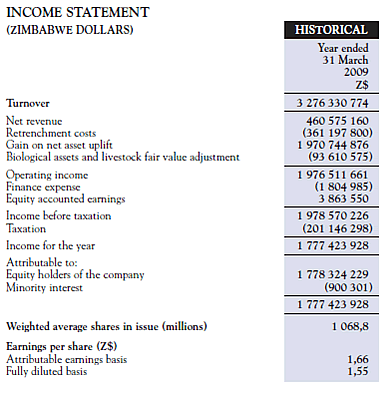 Delta Corp. is the largest beer and beverages maker in Zimbabwe with a 90 percent share of the beer market and an 85 percent share of the soft drinks market.

"We are, and seek to remain, an integrated total beverage business dominating all sectors of the cold beverage market in Zimbabwe."

"To grow the value of the business in real terms on a sustainable basis, through offering our customers outstanding service and through rigorous attention to the health of the business at all times. By so doing we will seek to enhance the value we create for all our stakeholders.

''The last year has been extremely difficult. The acceleration of economic decline during the early part of the year compounded a decade of contraction and pushed many companies into business failure. Accordingly it has been a period in which lofty ambitions have had to be moderated and achievement measured more in terms of survival rather than prosperity. For the immediate term the business focus will be on ensuring that inputs are correctly priced so that products are priced to compete with imports and beginning the process of recapitalising operations and achieving volume recovery. It is also intended that the Group will dispose of noncore investments.

''The first quarter to June 2008, saw a spiral of price increases on all goods and services following policy changes which ushered in what was termed the 'interbank market', which in its early stages approximated a market based exchange rate determination. In a period of strict controls this, together with other indicators, enabled manufacturers to justify price applications on the basis of realistic costings. Six price increases were effected in the quarter. However, in mid June 2008, a general directive to freeze prices of all goods and services was issued; and whilst the freeze was not total, the process became much more difficult and price changes were delayed. While producer prices were controlled, costs of inputs continued to rise unchecked following the informal exchange rate market. This called for dramatic action to scale down both production and distribution in order to preserve value.

''The stop/start nature of operations experienced in the second quarter maintained well into the third quarter as the company transitioned from cheque/electronic payments to cash/barter only and finally to full US$ sales across all product categories. By early December the company operated through 20 licensed foreign currency sites. The ZUS$ cash limits and our insistence on cash trading during this period had a considerable dampening effect on the company's October and November volumes. Reduced product availability in the market created gaps that further offered inroads for competitor products in both the lager and Sparkling Beverages categories.

''The ever increasing proportion of business transacted in USD placed the business on a firmer footing to run a viable business delivering profitable sales. As a consequence the operations stepped up. Direct distribution was resuscitated as capacity to procure fuel improved thus creating a strong foothold for our affordable returnable packaging. Work was done with customers to charge our competitive recommended retail prices through the creation and publicising of compliant anchor outlets. We re-launched our lager and Sparkling Beverages Brands in 330ml cans. Importation began of SABMiller international brands namely Peroni, Miller Genuine Draught and Redds to fill a need that had opened in the market. Similarly we imported finished Sparkling Beverage mixers and core brand variants.

''The fourth quarter to March 2009 was characterised by a continued and concerted push to recover volumes and market share. These two interrelated objectives were met to some degree with average lager beer market share recording strong gains in the top 20 monitored outlets in key centres. Product shortages persisted in the market. These arose from a combination of raw material supply chain, and utilities and plant performance constraints. To mitigate this, importation of finished product from associate brewers in South Africa and Botswana was instituted.

''Introduction of a foreign currency duty regime dramatically reduced the incidence of competing imported beer whilst our ability to source from the foreign brewer, with associated certificates of origin, conferred a favourable duty structure on our imports of finished product.

''Given the weak working capital base of key customers credit terms were reintroduced on a tiered basis offering the best terms to credit worthy customers complying with recommended pricing and actively participating in the return leg of our container pool. A lager national promotion designed to push product into the trade was launched in the quarter.''

'In its economic commentary, Kingdom Stockbrokers (KSB) noted that Delta "will be able to leverage its position on the market by making full use of economies of scale, which keep production costs down and the divisions have high barriers of entry cementing its dominance in the market. The brand name, distribution strength and domination of the market give Delta a clear competitive advantage. Delta has a strong distribution network, which allows the group to cover the greater part of the country. In our opinion, the high capital cost of entry into the brewing industry shields the Lager business' dominant position from any significant threat from competitors in the medium to long term. A number of competitors have come into the market but have failed to stay."

Delta is 36 percent owned by SABMiller and 28 percent held by Old Mutual.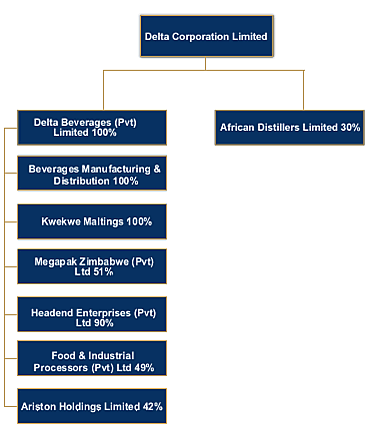 Benefits Offered and Relations with Government
Joe Mutizwa the chief executive officer of Delta Corporation has close relations with Gideon Gono the governor of the Reserve Bank of Zimbabwe (RBZ), widely regarded as a key architect of Zimbabwe's economic woes. Gono forged close links with Mutizwa, in a bid to wrest control of Delta from SABMiller. The Ruwa-based Delta's subsidiary, Mega Pak Pvt Ltd, was one of the beneficiaries of the RBZ's Basic Commodities Supply Side Intervention (BACOSSI) programme (to amongst others provide cheap funds to businesses) by receiving US$1 million, which was the largest chunk of the foreign currency portion of the programme.

In June 2009 government approved the acquisition of Schweppes Zimbabwe Ltd (SZL) and Schweppes Exports (Pvt) Ltd (SEL) by its employees and Delta Corporation (Pvt) Limited from Coca-Cola Central Africa Ltd and Coca-Cola Holdings Netherlands to BV Africa Ltd respectively. Youth Development, Indigenisation and Empowerment Minister Saviour Kasukuwere said the Government approved the indigenisation arrangements of SZL and SEL because they met the 51 percent indigenous shareholding requirements as prescribed in terms of the country's indigenisation and economic empowerment law.

In a statement Kasukuwere said Government was satisfied that the transaction would ensure broad-based indigenous participation through the shareholding by the SZL and SEL employees and Delta Corporation (Pvt) Ltd. "The new shareholders have demonstrated experience in managing bottling operations to ensure the continuity of SZL and SEL business and its franchise relationship with the Coca Cola Company in Zimbabwe. "This transaction allows local brands, local raw materials suppliers and downstream industries to continue in business, consequently jobs are protected," he said.

The merger could take a bit longer amid revelations two South African firms are claiming ownership of SZL's equipment stemming from a 2003 sales agreement. Southern Asbestos Sales (SAS) and Petter Trading both in liquidation and formerly owned by businessman Mutumwa Mawere say the merger cannot go ahead as they are the rightful owners of the equipment.
Delta aims to increase its annual output to 10 million hectolitres (264.2 million gallons) by 2014, from 2.2 million hectolitres in the fiscal year through March, 2009, by investing US$150 million to revamp underutilized equipment. Delta, which has a market value of US$411 million according to Bloomberg data , plans to sell its stake in Ariston Holdings Ltd and also wants to dispose of its starch and glucose businesses and "dilute" its stake in its packaging unit.
Delta Beverages is currently installing a new bottling line worth US$15 million at its Southerton Brewery. The machinery purchased from Krones AG of Germany, reputed to be one of the world's best manufacturers of such equipment, is multi-purpose technology designed to handle the whole process from unpacking of bottles and washing them right through to labelling and including date coding.

The group received US$12 million from SABMiller for the refurbishment. SABMiller has already injected US$4 million into local operations.

SABMiller received just over one percent of the issued shares for the US$4 lent to Delta, and a further 40 million shares were issued to the company for the recent US$12 million cash injection. The injection by SABMiller followed a pledge made by the company that it would inject up to US$15 million into the Zimbabwean associate firm should the current inclusive government subsist. The investment is one of the biggest outside the country's capital-intensive mining sector.