Mtn Uganda
Company Profile and History
Launched in 1994, the MTN Group Limited (MTN Group) is a multinational telecommunications group, with its core operations in 21 countries in Africa and the Middle East. As at the end of December 2008, MTN had more than 90 700 000 subscribers.
On October 21 1998, MTN Uganda launched commercial services in Uganda, just six months after acquiring and signing of the license. MTN has since grown to be the leading Telecommunications Company in Uganda servicing in excess of 3,500,000 customers. Despite insufficient infrastructure (power, roads etc) MTN has covered in excess of 90% of the urban population, providing services in over 150 towns and villages and their immediate environments.
MTN Uganda, 22 Hannington Road, Kampala; Telephone Numbers: +256 (0) 312 212 333, +256 (0) 312 212013, +256 (0) 312 212008, +256 (0) 312 212334
In Uganda MTN offers fixed and mobile wireless telecommunication services. Over 2500 pay phones were installed in less than 24 months and the demand for these is growing. The payphones also use wireless technology and can be used to make both local and international calls. MTN together with the Grameen Foundation set up villagePhones to provide affordable telecommunication services in rural areas.
To date MTN has border-to-border coverage in 52 district capitals and over 150 towns have network coverage-from Kisoro (Rwanda border), to Busia - Malaba at the Kenya border to Arua and Koboko at the Sudan/Congo border to Kabale and Kisoro close to the Rwanda border.

Ericsson provides all MTN technical infrastructures. Three large capacity switches with complete back up guarantee that the network operates smoothly all year round. This same technology is able to support all value-added services that MTN offers to its customers, such as, voice mail, SMS, data, etc. MTN has also installed high technology equipment at all its base stations in the country.
MTN Uganda has the biggest customer services centre in Uganda offering the largest language preference base and extended hours of operation. MTN has established customer services points at Shoprite Ben Liwanuka Street, lugogo Mall, General Post Office, Crested Towers, Kikuubo branch, Jinja and in Mbarara. MTN offers Customer Care in over 19 local and international languages when customers call the 123 help line for Prepaid customers or 121 for Post paid queries.
Revenue: R102, 5 billion up 40% from December 2007; Uganda-revenue contribution to Group (Rm): 3 523 000
MTN Uganda has a 52 percent market share
"To be the leading provider of telecommunications in emerging markets"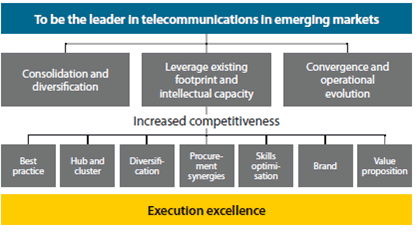 MTN's strategy is built on three pillars-consolidation and diversification; leveraging its footprint and intellectual capacity; and convergence and operational evolution. MTN estimate that the addressable mobile telephony market in its present footprint will grow to over 381 million in the next five years from 220 million now. MTN remains highly competitive in all its markets, putting it in good stead to take advantage of significant future growth opportunities.
Consolidation and diversification:
In the last financial year, MTN continued to evaluate various opportunities to continue to grow its business and diversify earnings through leveraging its scale and offerings. Its comparatively low level of gearing enables it to consider potential acquisitions with confidence regarding its ability to finance such acquisition.
Leveraging its footprint and intellectual capacity:
MTN has built a strong global brand and is recognised for its leadership in mobile telephony in emerging markets. Its brand is a key differentiator, and its strategy is to leverage it to achieve even greater growth and efficiencies.
Convergence and operational evolution:
There is a growing acceptance of the inevitable importance of data within the industry, with significant implications for infrastructure. MTN accelerated its preparations for an era, in which mobile operators will become meaningful providers of internet-based connectivity. It has started work on the transition of the network infrastructure across all 21 markets to the next-generation, packet-switch network, based on Internet Protocol (IP). The installation of new-generation radio equipment makes use of network technologies such as EDGE and 3G, allowing for increased data access and improved voice quality.
The Group had the following effective percentage interests in the Uganda business: MTN Publicom Limited Payphone services Uganda: 100 percent; MTN Uganda Limited Network operator Uganda: 95 percent
Benefits Offered and Relations with Government
The licence authorises MTN Uganda Limited to construct, maintain and operate a 900MHz and 1800MHz national second generation digital mobile radio telephony service within the geographic territory of Uganda. The licence is valid for a period of 20 years. The license required that MTN provide 89,000 lines in the first five years of operation. MTN adopted a wireless approach to providing telecommunications services to the Ugandan market which has proved to be convenient and fast in rolling out of services. The Group paid an initial licence fee of US$5, 8 million and an annual spectrum fee of 1% of network revenue is payable as a contribution to the Rural Communications Development Fund.
The Uganda Communications Commission (UCC) is the regulatory body for telecommunications, broadcasting and postal services. The UCC is accountable to parliament and the Ministry of ICT. It is responsible for issuing licences. The UCC is funded by a levy on operators' Gross Annual Revenues.
Interconnection fees between operators are not regulated by law but commercially negotiated. The fixed line operators do not provide cross subsidies to their mobile units and fixed services are subject to price caps. Mobile handsets are imported and subject to 10 per cent tax while there is a 30 percent levy on mobile phone usage.
Each service provider has a range of products and customer options, including fixed-call costs within specific zones and charges per second. There are peak, off-peak and discount calls. The 2008 national average per minute cost of intra-network and inter-network calls was UGX 309.89 (US$ 0.15) and UGX 379.8 (US$ 0.19) respectively.
In 2009 MTN announced that the successful launch of Mobile Money Transfer (MMT) in Uganda marks the beginning of a series of planned launches across its operations in Africa and Middle East. The product, called MTN MobileMoney, is a convenient, secure and affordable way for MTN subscribers to send money, buy airtime and pay bills using their cellphone. MTN has been piloting MMT services through MTN Uganda and at the Group's West and Central Africa (WECA) region operations (Cameroon, Ghana, Cote d'Ivoire and Nigeria) since October 2008.
MTN Uganda's capital expenditure nearly tripled during 2008, enabling it to construct 104 base transceiver stations, bringing the total in place to 573.