Barrick Gold Corporation
Company Profile and History
Barrick Gold Corporation is the largest pure gold mining company in the world, with its headquarters in Toronto, Ontario, Canada. Barrick is currently undertaking mining and exploration projects in Papua New Guinea, the United States, Canada, Dominican Republic, Australia, Peru, Chile, Russia, South Africa, Pakistan, Colombia, Argentina and Tanzania. The Company has the gold industry's only 'A' rated balance sheet and the gold industry's largest production, reserves and market capitalization. Barrick shares are traded on the Toronto and New York stock exchanges
Barrick Gold has its origins in Barrick Petroleum Corporation which was founded in 1980. Following two name changes it was eventually named Barrick Gold Corporation in 1995. Barrick was founded by Hungarian-born Peter Munk (whose family fled from the Nazis to Switzerland and came to Canada in 1948), his long-time partner David Gilmour and several Arab investors; they turned to prospecting in 1983 and became the quintessential success story. Barrick began by acquiring established mines and bringing them to new levels of productivity and profit. The new company drew little notice until Munk and Gilmour bought Viking Petroleum and began working with the legendary D.O. 'Swede' Nelson to find oil. Much to their dismay, the partners never found any gushers and the industry bottomed out. Munk then decided to go into precious metals, selecting gold as his venue. The new Barrick went public on the Toronto Stock Exchange in May 1983 with 1.3 million shares.
The company's strategy was simple: dominate the gold industry by becoming North America's largest producer; acquire established properties with sound futures; be fiscally conservative; and protect the bottom line through an aggressive hedging program. Barrick's second business tenet, to acquire working mines with potential, came into play just months after the company went public. The company bought a 23 percent stake in gold deposits in Alaska's Valdez Creek region, then joined up with Alaska Power & Light and the city of Juneau to explore over two dozen sites.
In 1999, following Placer Dome's lead, Barrick went to Africa and soon acquired Sutton Resources. Sutton had been exploring the Bulyanhulu property, situated in north-western Tanzania, extolled as East Africa's largest gold deposit with reserves of 8.8 million ounces of exceptionally high-grade gold.
Barrick's Africa region consists of four operating mines and two projects: the North Mara, Bulyanhulu, Tulawaka and Buzwagi mines; the Kabanga nickel joint-venture project with Xstrata plc in Tanzania; and the Sedibelo platinum project in South Africa. The region hosts 18.4 million ounces of proven and probable gold reserves and produced 545,000 ounces of gold in 2008 at total cash costs of US$560 per ounce. Other properties acquired in Tanzania are as follows: Barrick acquired the North Mara Mine in 2006 as a result of its acquisition of Placer Dome; the Tulawaka Mine is a joint venture project between Pangea Goldfields Inc. a wholly-owned subsidiary of Barrick Gold Corporation and Northern Mining Explorations. The mine began operations in the first quarter of 2005; and Buzwagi the second largest mining operation in Tanzania and the largest single open pit in the country.
Head Office: Plot 1736, Kahama Road/Hamza Aziz Road, Msasani Peninsula, Dar es Salaam, Tanzania;
Telephone: +255 22 2600 604/5/6/7/8;
Fax: +255 22 2600 210
The Bulyanhulu mine is located in northwest Tanzania, approximately 55 kilometres south of Lake Victoria and approximately 150 kilometres from the city of Mwanza; Buzwagi is located approximately 6 kilometres east of Kahama town and 120 kilometres south of Mwanza; the North Mara gold mine is located in the north-western part of Tanzania in Tarime District of Mara Region, approximately 100 kilometres east of Lake Victoria and 20 kilometres south of the Kenyan border; and Tulawaka is located approximately 1,000 kilometres from Dar es Salaam and 120 kilometres west of Barrick's Bulyanhulu mine.
In 2008, Barrick produced 7.66 million ounces of gold at cash costs of US$443 per ounce (net cash costs of US$337 per ounce). In addition, the Company produced 370 million pounds of copper at a total cash cost of US$1.19 per pound. Barrick generated US$2.2 billion of operating cash flow in 2008; had US$1.4 billion in cash; revenue of US$ 7, 913 million; and a US$1.5 billion undrawn line of credit as at December 31, 2008. The Company also has 6.4 billion pounds of copper reserves and 1.09 billion ounces of contained silver within gold reserves as at December 31, 2008.
Q2, 2009 production from the African business unit of 0.16 million ounces at total cash costs of US$539 per ounce included production from the new Buzwagi mine which poured its first gold in May.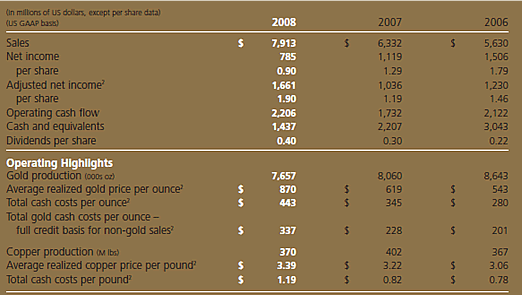 Tanzania's measured and indicated gold reserves are 65.0 million ounces . At December 31, 2008, Bulyanhulu had 12.0 million ounces of proven and probable gold reserves; proven and probable mineral reserves at North Mara as of December 31, 2008 are estimated at 3.0 million ounces of gold; proven and probable reserves at Buzwagi are 3.3 million ounces of gold; and the Company's share of proven and probable gold reserves at Tulawaka mine as of December 31, 2008 is estimated at 80,000 ounces of gold.
In 2008 Tanzania's gold production stood at 1, 300,000 million ounces . In 2008, Bulyanhulu produced 200,000 ounces of gold; in 2008, gold production at North Mara totalled approximately 197,000 ounces ; in 2009, Buzwagi is expected to produce approximately 200,000 ounces of gold; and in 2008, Barrick's share of production at the Tulawaka mine was 148,000 ounces of gold. Barricks market share was about 41% in 2008
"To be the world's best gold company by finding, acquiring, developing and producing quality reserves in a safe, profitable and socially responsible manner"
"Governed by our five core values; behave like an owner, act with a sense of urgency, be a team player, continually improve, and deliver results, we have become the world's pre-eminent gold mining company. To increase total returns for our shareholders, we aim to increase earnings and operating cash flow and to provide leverage to gold prices through annual gold production and growing our reserve/resource base through a combination of organic growth, driven by new mineral reserve discoveries and the development of new projects, and also through acquisitions. Our profitability is largely dependent upon the volume of gold and copper production, realized prices of gold and copper and production costs. As gold prices have risen in recent years, we have been able to realize higher cash margins per ounce through containment of production costs. Although gold production has seen a declining trend in the past three years, we intend to increase production levels through the development of new mines and also through acquisitions.
Building new mines is key to our long term goal of increasing profitability and building shareholder value. It can take a number of years for a project to move from the exploration stage through to mine construction and production. Our business strategy reflects this long lead time by ensuring that we have an inventory of projects combined with effective management of current operating mines
Acquisitions have always been an integral part of our growth strategy. In 2006, we acquired Placer Dome Inc., one of the world's largest gold mining companies. In 2007, we continued to expand our projects through the acquisition of a 51percent interest in the Cerro Casale copper-gold deposit in Chile, and a package of exploration licenses in Papua New Guinea from Highlands Pacific. We also increased our interest in the Porgera mine from 75percent to 95percent. In 2008, we increased our ownership in the Cortez mine and Cortez Hills project from 60percent to 100percent.
In 2008, our strategic targets focused on share price performance, creating a high performance organization, responsible mining, advancing our inventory of projects and meeting our financial and operating targets with a focus on core areas such as production, cost control, and increasing reserves. Our successes in each of these areas have laid the foundation for our 2009 key areas of focus: share price performance, growth, financial strength and flexibility, operational excellence, respect for our people, ensuring our license to operate and continuing to build and maintain a high performance organization.
We manage our business using a regional business unit ("RBU") structure. We have four RBUs, each of which is led by its own Regional President: North America, South America, Australia Pacific, and Africa. Each RBU operates as a standalone business unit with a range of functional groups. Since their inception, the RBUs have added value to our business by realizing operational efficiencies in the region, allocating resources more effectively and understanding and better managing the local business environment, including labor, consumable costs and supply and government and community relations.
Our inventory of advanced exploration targets and development projects represents an important component of our long-term strategy of growing our reserves and resources. Our exploration is focused on prospective land positions and we prioritize exploration targets to optimize the investment in our exploration programs. An economic discovery is no longer a guarantee of a new mine, as considerable opposition to new mining projects can develop from institutional NGOs or unstable political climates. The development of a new mine requires successful permitting and government relations, community dialogue and engagement, and significant financial and human capital.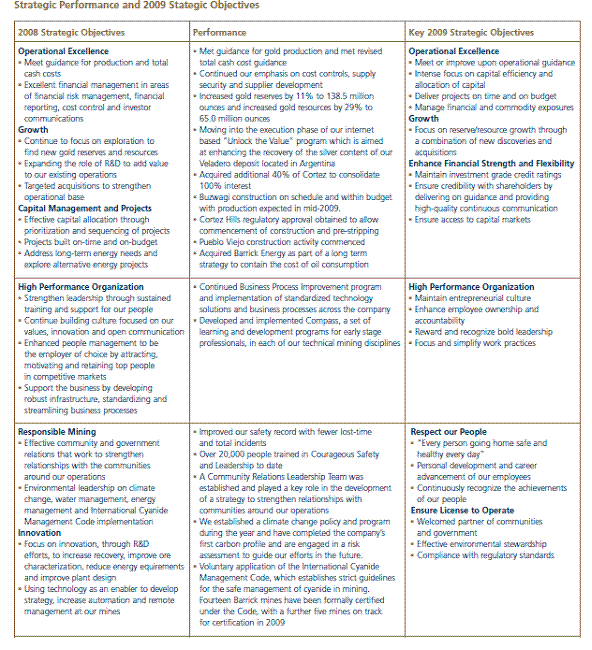 North Mara, Bulyanhulu and Buzwagi mines (100 percent owned by Barrick); Tulawaka mine is a 70/30 joint venture between Barrick and Northern Mining Explorations Ltd respectively.
Benefits Offered and Relations with Government
In Tanzania Barrick has been at the receiving end of significant crisis from NGOs, mine workers and certain individuals in government circles. There are differences between government departments, with the Ministry of Energy and Minerals being supportive of the companies while some others want to see more reform. It is alleged amongst others that the company pays taxes and royalties equivalent to only 13 percent of its export sales and that it is not treating its workers well.
Despite increasing dissatisfactions with Barrick, the government in 2007 concluded a 'development agreement' with the company for a new mine at Buzwagi. The Buzwagi contract, like previous mining agreements with the company, is secret. The Commissioner for Minerals, Peter Kafumu, at the time even said that possession of the document, which bears a confidential stamp, is 'illegal'. The agreement was signed by the government in the middle of the supposed review of mining contracts and after the President had said that no new mining agreements would be signed until the review had been completed. According to the contract which was leaked to the media, the agreement commits the government to maintaining the current tax levels in Tanzania 'throughout the life of the project' (25 years).
Meanwhile the North Mara Gold Mine has been invaded several times by dissatisfied locals. In 2008, for instance 4,000 intruders stole gold ore and destroyed property worth US$15 million. In 2009 Members of Parliament pressed for the closure of the North Mara Gold Mine Barrick gold mine for poisoning a vital river, the Tigithe River. The MPs also criticised the government for not revoking tax exemptions on mining companies following the revocation of a 2005 Government Notice that allowed the benefit. The ruling Chama Cha Mapinduzi (CCM) chairman for Kibasuka Ward in the district, Kelman Nyakiha, said they have been disappointed with government's silence on the matter. "We have come here to prove to you that people are dying and others are being affected by using the water which has been mixed with acid from the mine," Nyakiha said. "If the government is there to stand for its people, it should close down all the mining activities" he said.
The Buzwagi project poured first gold in second quarter 2009, contributing about 200 thousand ounces in 2009 at total cash costs of about US$320 to US$3357 per ounce. The Buzwagi project is the first of a new generation of low cost mines.