Tanzanite One
Company Profile and History
TanzaniteOne is a Bermudian registered holding company of a group of companies involved in the mining and marketing of the rare gemstone tanzanite via its subsidiary companies. Through its subsidiary, TanzaniteOne Mining Limited, the Group holds the mining licence over a property containing a significant portion of the world's only known tanzanite resource, as well as extensive prospecting licences over potential tanzanite producing properties adjoining its mining licence area.
The actual discovery of tanzanite remains something of a mystery-the most widely accredited narrative suggests that in July of 1967, Ali Juuyawatu, a local Maasai tribesman, found a piece of translucent crystal near Mount Kilimanjaro. Fascinated by its blue-violet hue, he shared his find with Manuel D'Souza, a tailor by profession and prospector by passion, who was looking for rubies in the region. Believing the find to be vibrant sapphire, D'Souza had no idea he had stumbled on an entirely new specimen. Gemological tests revealed that the crystal had a composition more complex than sapphire, and that its colour was more exotic than any other gemstone.
As word of the discovery of the exquisite new gemstone became public, prospectors and tribesmen began to lay claim to the mining areas. Between 1967 and 1972, an estimated two million carats of gem quality tanzanite was produced from open-cast mining operations.
In 1971, the tanzanite mines were nationalised and mining was taken over by the State Mining Corporation, STAMICO. During the next ten years, production decreased. There was also an increase in informal, artisanal mining. By 1989, an estimated 30,000 artisanal miners were working in the area.
In 1990, the Tanzanian Government curbed artisanal mining and demarcated the area into Blocks A, B, C and D. Block A was awarded to Kilimanjaro Mines Limited, Blocks B and D to small-scale miners and Block C to Graphtan Limited, a graphite mining company. Graphtan ceased mining activities in 1996 and Afgem acquired the mining licence for Block C. In 2000, Afgem completed a feasibility study for the commercial mining of tanzanite and mine development commenced in 2001. In 2004, the TanzaniteOne Group acquired Afgem's tanzanite business and assets.
Tanzanite's only known source in the world is a 5km strip of land near Mount Kilimanjaro, northern Tanzania.
Block C, Merelani Simanjiro District, Arusha, Tanzania;
tel: +255 754 600 991;
fax: +255 754 793 097
Tanzanite One Limited mines, distributes and sells tanzanite. The Company is also involved with the exploration for other colored gemstones. The Company also conducts outside buying, operates beneficiation facilities, manages tanzanite grading and certification, and markets both rough and polished tanzanite.

Production for the first half of 2009 totalled 867,381 carats of tanzanite, from 18,087 tonnes processed at an average recovery of 48 carats per tonne.
TanzaniteOne is the largest miner and supplier of rough tanzanite.
"To be world's leading premium coloured gemstone mining company"
"Tanzanite Strategy: Continued exploration, expansion and improvement of the available skills, resource base and market positioning of this magnificent product; and as the technical and scientific leader in coloured gemstone mining and with solid stakeholder relations TanzaniteOne's business model is uniquely suited to explore and capitalise on the numerous available opportunities for growth and the realization of shareholder value.
The strategic move in to new premium coloured gemstones has commenced with the move into tsavorite, a brilliant green gemstone also found in Tanzania with a remarkably similar geology to tanzanite, yet enjoying a current price per carat of approximately three times that of tanzanite
During 2009 the marketing strategy was to develop new markets in the Middle and Far East whilst concentrating on the distribution and realisation of higher prices for smaller, lighter material, which represents approximately 70 percent of production. This strategy has been aided by the opening of the new marketing office in Dubai. We continue selling our high quality rough through the sightholder system, but it became clear to us during the economic slowdown that a review of the system to remove the company from being totally reliant on sight-holders is required. We will continue to maintain the current sales system but are increasingly looking at securing alternative markets around the world. We are also looking at positioning tanzanite within internationally recognised brands in an effort to increase the desirability of the stone to include lighter coloured material-73 percent of the mines production is the lighter coloured and included material that is not sold at sights. By creating a demand for this perceived lower quality material, we believe that the demand for tanzanite will be enhanced.
Notwithstanding the current uncertainty in the diamond and gemstone mining sector, the company's long term growth strategy that is geared to conduct business cost effectively and competitively; to commence and expand production of tsavorite and tanzanite respectively, and; to diversify and develop the markets significantly, remain very firm and sound. In this regard, management will continue to monitor production parameters against global sectoral and market developments and will institute revised production levels when appropriate.
In September 2009 the company announced its new Marketing and Sales strategy to complement its current sight holder system (initial eight sight holder are: AG Color Inc , Colorjewels ,Intercolor ,Paul Wild ,KL Tambi ,Rare Multicolor Gems ,STS Jewels Inc. ,Tanzanite International ). This include the following: establishment of TanzaniteOne CuttingEdge JV; Memorandum of Understanding (MoU) signed with GRAFGEM S.A.; and MoU signed with Alankara SKR (Pvt) Ltd.
Joint Venture (JV): JV with the principals behind Australian based Charles Edward International. The JV partner is headed by Gavin Pearce and Edward Eramanis and the new Company is called TanzaniteOne CuttingEdge. The JV Company is 51percent owned by TanzaniteOne Ltd and 49percent by its JV partners. The JV Company will focus on precision cutting and visual optimisation of predominantly lighter coloured tanzanites. TanzaniteOne CuttingEdge will cut calibrated stones on order, thereby eliminating the risk of having large quantities of unsold stock.
GRAFGEM S.A.: TanzaniteOne CuttingEdge entered into a MoU with GRAFGEM S.A. of Geneva, Switzerland. Under the terms of the MoU TanzaniteOne CuttingEdge and GRAFGEM will aim to develop an exclusive marketing and sales agreement for uncompromised precision cuts of the highest quality for use in the watch and jewellery industry.
Alankara SKR (Pvt.) Ltd (ASKR Jewellery): TanzaniteOne CuttingEdge entered into a Memorandum of Understanding ("MoU") with ASKR Jewellery of Colombo, Sri Lanka. Under the terms of the MoU TanzaniteOne CuttingEdge and ASKR Jewellery will develop a high-tolerance cutting and polishing cooperation. TanzaniteOne CuttingEdge is also developing a jewellery design and manufacturing collaboration that will be marketed by both parties. The collaboration between the JV Company and ASKR Jewellery will be based on a vertical integrated, mine-to-wholesale pre-order system."
Directors of the holding company and their close family members control 10percent of the voting shares of TanzaniteOne Limited.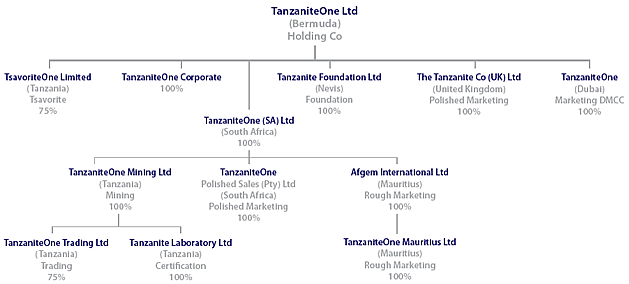 Benefits Offered and Relations with Government
In 2009 the Tanzanian government announced that its new mining law will allow it to take a stake in companies mining minerals that it considers to be strategic. So far, information on the proposed new law has been scant, making it difficult to know whether it will also affect existing mines or deal with new ones only.
The Government plans to send to parliament in October 2009 a bill for a new mining law to provide for 10-15 per cent stake in future mining operations. The minister for Energy and Minerals, William Ngeleja said that the proposed law would address some of the current shortcomings in the sector and make Tanzania to benefit more from its natural resources. The proposed legislation has been prepared specifically to answer critics that the country could benefit more from the lucrative sector. It also corresponds to other legal and fiscal regimes applicable to mining in other African countries.
Apart from ownership rules, the Government also will set out new rates for royalties, which currently stand at three per cent for gold and other minerals and five per cent for gemstones, particularly diamonds. The law will also compel mining firms to buy goods and services locally when they are available. However, the law would still protect investor interests, Ngeleja said.
The government also in 2008 announced a 268percent increase in minimum wages for the mining sector which came into effect on 1st January 2008. Following successful negotiations between the company and the union representatives and government, non-core employees are paid sector rates as opposed to mining sector rates.
In July 2009 Simanjiro's MP Christopher ole Sendeka claimed in parliament in Dodoma that workers of TanzaniteOne in Mererani, Simanjiro District are being treated inhumanly. The MP said by subjecting local workers to undue harassment and demeaning work conditions, the mine's managers were in fact practicing racism. "The Tanzanian workers in question at the Mererani mining plant are the victims of untold treatment and discrimination by their foreign bosses," he added. According to the MP, the local workers were routinely forced to go through the de-humanising process of stripping half-naked as part of security measures seeking to prevent the smuggling of gemstones from the premises. The government has meanwhile directed TanzaniteOne to stop inspecting its employees with a scanner allegedly releasing rays that put their lives at serious risk.
TanzaniteOne dismissed the allegations as being "malicious and a smear campaign being waged by the theft syndicates who find the x-ray body scanners as a major hindrance to their illegal activities."
In 2009 mining operations were significantly enhanced and 867,381 carats of tanzanite was recovered during the period; and 18,087 tonnes mineralised material processed. The acquisition of the Lemshuku-Shamberai Tsavorite Project through its 75percent owned Tanzanian subsidiary, TsavoriteOne Mining Limited was completed in March 2009. The project comprises 12 prospecting licenses covering 100 square kilometres. The Company has allocated approximately US$1 million over the next 12 months to the bulk sampling and scoping of the project.
TanzaniteOne has also been actively investigating and evaluating various coloured gemstone projects during 2008 as part of its diversification strategy. The company investigated coloured gemstones including, tsavorite, emerald, sapphire, ruby, spinel and tourmaline.