BP Namibia (PTY) Limited
Company Profile and History
BP's presence in the Southern Africa region goes back 80 years. BP Southern Africa (Pty) Limited is the largest of the BP companies active in the region, with some 780 service stations and some 1,300 permanent staff.

BP Namibia has been operating in Namibia since 1975. In the 1950s it operated as a joint venture with Shell. BP is one of the leading brands in the country and has performed the role of Company Secretary to the Oil industry since then. BP Namibia's network includes 50 service stations-nine with Express Shops-and five depots. Eleven of the stations are in Windhoek, with the rest covering the country's main entry and exit points.

Air BP supplies aviation fuels to all airlines flying into Namibia, as well as private aviation customers who visit the country. NAMOX is its sole agent for LPG. Cymot is a local company that sells its lubricants, and Agra, a farmers' co-op, also acts as a lubricants agent.

Commercial customers range from farming, marine, breweries to dairies. On the West Coast in Walvis Bay, where BP has an installation, the main customer is the fishing industry. Air BP operates jointly with Shell and Engen at Windhoek's Hosea Kutako airport, and individually at Eros airport, just outside Windhoek. Other depots include Etosha, Ondangwa and the Caprivi Strip. Most imports, both fuel and lubricants, come through Walvis Bay while liquid petroleum gas (LPG) and white spirits are railed from Durban and Cape Town.

Close proximity to Botswana makes exports from Buitebos Depot or Gobabis viable as it cuts out the long distribution line from the Witwatersrand. There are four BP-operated depots in Namibia, including the Walvis Bay installation, one in the north at Otjiwarongo, one in the east at Gobabis and one in the south at Keetmanshoop. There are also four agency-operated depots, including two LPG filling depots, one in Okahandja and one in Keetmanshoop. The other two agency depots are situated in Buitepos and Mariental.

BP Namibia (Pty) Limited, Ashirward Building 2nd Floor, Cnr.Lossen and Jan Jonker Streets, Windhoek, Namibia;
Telephone: +264 61 280 8111
Telefax: +264 61 224 141

Its activities are principally the sale and marketing of fuel and lubricants to domestic, commercial and industrial customers. Marketing comprises of three business areas: Retail, Lubricants and Business to Business Marketing. Products include gasoline, gasoil, marine and aviation fuels, heating fuels, LPG, lubricants and bitumen, paraffin, gas and diesel. BP service stations are also served by Master Express Carwash, ATMs and BP Express shops/restaurants.

59 people, mainly in Windhoek, Walvis Bay and Keetmanshoop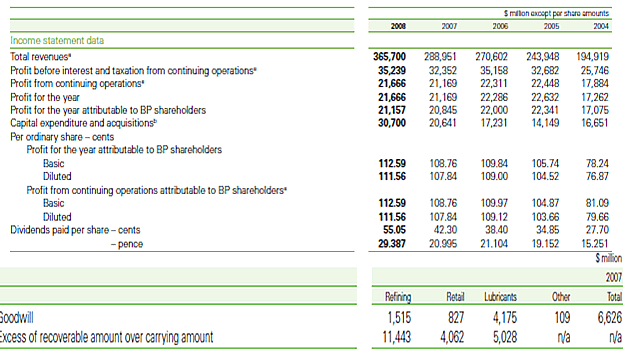 With a market share of just under 22%, BP competes with Shell, Engen, Caltex, Total and Mobil for business. Namibia has approximately 222 service stations of which BP has 50. Of all the fuel imported to Namibia, up to 45 percent is handled by BP's storage facility at Walvis Bay.

In all its business dealings, BP is committed to creating wealth and aims to reward the stakeholders in BP - its franchisees and dealers, shareholders and employees – "fairly" and "to the best "of its ability.

BP's strategy has three priorities-safety, people and performance. The approach and actions to transform strategy into value is as follows:

Closing the competitive gap: strong commitment to continuous improvement; and delivery against its forward agenda, which was outlined in 2007, resulted in BP making significant progress towards closing the competitive performance gap with its peer group. Actions taken since the end of 2007 to restore revenues and reduce complexity and costs have created operational momentum through 2008.

Sustaining momentum and growth: Exploration and Production is the core vehicle for growth; re-invest competitively in Exploration and Production to secure and grow high-quality oil and gas resources; targeted acquisition and a renewed focus on increasing recovery from fields in which it already operate; more investment in availability and integrity in Refining and Marketing; focused investment in low-carbon energy businesses; intend to drive further operational performance and productivity by investing in the upgrade of manufacturing capabilities within its integrated fuels value chains; invest selectively in international businesses, including lubricants and petrochemicals; investment in wind, solar, bio fuels and CCS as sources of energy and resource diversification and to create and grow value for BP; invest in technology to support the delivery of competitive business performance and new business development.

In addition extensive market research carried out by BP and international research consultants shows conclusively that the most potentially profitable market trends within the service station business relate to 'added-value business' such as convenience shops and car-wash facilities. BP's retail strategy in Namibia is to build one new site every year.

BP Namibia is a 100% subsidiary of BP group. BP p.l.c. is the parent company of the BP group. The BP Africa business unit supplies and markets fuels and lubricants in: Botswana, Lesotho, Malawi, Mozambique, Namibia, South Africa, Swaziland, Tanzania, Zambia, and Zimbabwe.

Benefits Offered and Relations with Government
BP engages with the government primarily on black economic empowerment and regulatory matters. Government intervention in the market used to be prevalent: Fuel pricing was regulated and new fuel specifications phasing out leaded petrol have been introduced. BP's affirmative action plan has been approved by the State.

Movement towards deregulating the Namibian petroleum industry has taken place with agreement being reached to adopt the South African 80/20 spot/in-bound landed cost weighted pricing formula. Although Government and trade unions still appear concerned about the effect of a free market system on unemployment, a new Petroleum Product Regulation controls petroleum products as well as the wholesalers and re-sellers of these products. The new act replaces, among others, the service Station Rationalisation Plan which has been seen as unconstitutional. One immediate benefit of the recent change is that fuel price changes, which used to be influenced by political considerations, will now be adjusted quarterly.

One of the objectives stated in the Ministry of Mines and Energy's White Paper on Energy Policy is to ensure the security of energy supply to support the growing demand for energy services.

Essentially, there is one fuel price country-wide, which is the Walvis Bay price. Added to it is first the cost of delivering the product by rail to the eleven inland depot towns (Windhoek, Okahandja, Tsumeb, Keetmanshoop, Mariental, Grootfontein, Otjiwarongo, Karasburg, Otavi, Gobabis, Outjo). Then the cost of road delivery from the depot towns to the respective destinations is added which may vary considerably from about 5 cents per kilometre to 16 cents per kilometre as it is a function of distance, quantity and type of contractor.

In September 2009 BP Namibia launched a N$52 million expansion project for its Walvis Bay fuel storage facility. The 18-month project will include the addition of a five-million-litre fuel storage container, the refurbishing of the existing five containers and the construction of a rail gantry on the premises. This would increase the facility's storage capacity to over 60 million litres - 32 days' fuel supply for the country instead of 23 days'.
The gantry will make it possible for 20 rail tankers to be filled on site at a time, hence accelerating the transport of fuel within Namibia and to landlocked countries in the Southern African Development Community (SADC).

President Hifikepunye Pohamba, who officiated at the launch, said the development was in line with Government's objectives in ensuring a reliable local energy supply, which would be more responsive to the needs of local industries. "The secure and consistent supply of energy is crucial to economic growth," he said, adding that without it, the economy could be crippled. He commended BP for boosting Walvis Bay's local economy, especially with regard to the labour and services needed during the construction.