Universal Leaf Tobacco Company, Inc.
Company Profile and History
Universal Corporation headquartered in Richmond, Virginia, was founded in 1918. Universal through its subsidiaries and affiliates, is the world's leading leaf tobacco merchant and processor. Most of the Company's revenues are derived from sales of processed tobacco and from fees and commissions for specific services. Universal conducts its business in more than 30 countries and employees over 24 000 permanent and seasonal workers.

In the wake of World War I, the landscape of the tobacco business was changing rapidly. The break-up in 1911 of the American Tobacco Company under the terms of the Sherman Antitrust Act of 1890 created a number of smaller tobacco companies. In addition, the popularity of cigarettes among the armed forces and the growth of cigarette smoking among women fuelled demand for tobacco.

Against the background of the evolving post-war marketplace, Jacquelin P. Taylor, founder of the J.P. Taylor Company of Virginia, set out to build the largest leaf tobacco dealer organization in the world. In 1918, he orchestrated the combination of six leaf dealers into one company. Universal Leaf Tobacco Company was born. When Gordon L. Crenshaw became President of Universal in 1966, he made diversification a priority. Several smaller acquisitions were made between 1966 and 1980, but Universal's first attempts at diversification did not produce the return on investment that was expected.

Several major changes took place at Universal in 1987. Henry H. Harrell was appointed President, and the holding company, Universal Corporation, was created. Harrell, who became Universal's Chairman and Chief Executive Officer, refocused the company on its core businesses. He emphasized strong local management in Universal's operations throughout the world. All regional tobacco managing directors became active participants in the development and implementation of Universal's global strategy.

Mozambique Leaf tobacco (MLT), which has more than 120,000 outgrowers, was started by Universal's regional headquarters (Universal Leaf Africa) as an agronomy-based company in 1996, assisting Mozambican nationals in the growing of burley tobacco. Concessions for land were easily available through both national and provincial agricultural directorates, which enabled the company to set up its base in the Province of Tete.

The company identifies and assists prospective and regular growers with agricultural inputs and technical backup in the form of field and leaf technicians. MLT has a long-standing partnership with a local Mozambican/Portuguese company, Joao Ferreria Dos Santos, which has been an established agricultural entity for well over a hundred years within the northern provinces of the country. The partnership was originally set up in the early nineties and has grown into a meaningful tobacco producing operation that is key to achieving the volumes that are required.

In 2003, MLT initiated the construction of a processing facility in Tete City. The facility has an installed capacity of 50,000 tons per year (6-8 months of operation). President Armando Guebuza inaugurated the processing plant, the first in the country's history in 2005.

Estrada Nacional 103, Tete, Mozambique;
Telephone: +252 27 000

The largest portion of the company's business involves the procurement, processing, packing, and supply of flue-cured and burley tobacco to manufacturers of consumer tobacco products. In Mozambique a Universal facility processes burley tobacco.

MLT has 4,000 employees in Mozambique

Universal Leaf Statistics
Years ended March 31
In thousands, except per share data
2009
2008
Operations
Sales and other operating revenues
$2,554,656
$2,145,822
Operating income
209,932
191,513
Income from continuing operations
131,739
119,301
Net income
131,739
119,156
Per Common Share
Basic net income
$4.32
$3.71
Net income on a diluted basis
4.32
3.70
Dividends declared
1.82
1.78
Indicated annual dividend rate
1.84
1.80
Market price at year end
29.92
65.53
At Year End
Working capital
$954,044
$1.014,734
Shareholders' equity
1,029,473
1,115,631
MLT Statistics
In September 2009 MTL announced that it would export 43,000 tonnes of tobacco by the end of 2009 compared with 39,000 tonnes in 2008. In 2008 MLT produced US$154 million worth of tobacco for export.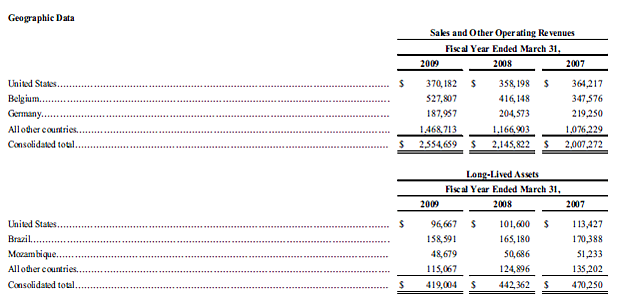 MTL is the largest producer, buyer and exporter of tobacco in Mozambique. In 2008 the province of Tete earned revenues of US$ 227.7 million from the export of 14 products. Tobacco exported by MLT accounted for revenues of around US$ 90 million.

"To being the premier leaf tobacco merchant in the world"

The Company follows several key operating principles:

Universal fosters strategic alliances with its major customers to the benefit of all parties. These alliances with major manufacturers are, in its opinion, especially appropriate to the leaf tobacco industry where volume at an appropriate price is a key factor in long-term profitability. Universal works to secure adequate factory volumes in all markets where it operates, but the Company balances that objective with the cost of sourcing incremental volumes in markets where it provides financing to farmers. Alliances permit the optimization of inventory levels to reduce risk of loss during market downturns by enabling the Company to target its tobacco purchases against customer purchase indications.
Universal operates with strong local management in major leaf tobacco markets. The Company believes that by having strong local management it can better identify and adjust to changes in market conditions to ensure that the Company continues to deliver the high quality, competitively priced products its customers expect.
Universal strives to maintain diversified sources of leaf tobacco to minimize reliance on any one growing or sourcing area so long as customers are willing to support such diversity. Although proportions vary with relative crop sizes, historically, South America has provided between 25 and 35 percent of the aggregate volume of flue-cured and burley tobacco that Universal handles, and North America and Africa each have provided between 20 and 30 percent of that aggregate volume.
Low-cost quality producer:
Universal's goal is to be the low-cost producer of quality products and services for its customers. The Company focuses on producing a quality product in a cost-effective manner. Universal sponsors programs in good agricultural practices, reduction of non-tobacco related materials, and social responsibility, among other programs.
Universal believes that its financial strength is important, because it enables the Company to fund its business efficiently, make investments in its business when an appropriate opportunity is identified, and affords the Company financial flexibility in meeting the needs of its customers. The Company continually works to improve its credit worthiness."
MLT is a wholly owned subsidiary of Universal leaf

Benefits Offered and Relations with Government
The government's decision to promote domestic tobacco-processing by stipulating that growers' use of the most favourable land would be subject to the condition that they constructed processing plants led tobacco giant AllianceOne International to close down its operations and withdraw from the country. MLT was awarded Alliance One International's concession, and opened the first Greenleaf processing plant in the country in May 2005.

Alliance One was formed out of a merger between the US-based companies Dimon and Stancom, both of whom held concessions in the Mozambican provinces of Niassa, Tete and Manica. Although some analysts at the time described the government decision to switch the concession from Dimon to MLT "strange", others pointed out that it made sense that the government wanted tobacco processing to take place in Mozambique. Only MLT responded to the government's request to build a processing plant-its reward was Dimon's Chifunde concession which the government unilaterally withdrew from AllianceOne.

The organization of the tobacco subsector is similar to that of cotton (since 2002), insofar as tobacco companies obtain closed concessions for up to ten years and conclude "out-growing" contracts with farmers and/or their associations located in the area concerned. Until the establishment of MLT's processing unit in 2005, all domestic production was exported in the form of raw tobacco leaf to Malawi and Zimbabwe for processing and export. Tobacco manufacturing is subject to the maximum level of tariff protection of 20 percent, well above the overall average of 10,1 percent. The Ministry of Agriculture set minimum purchasing prices for growers of tobacco.

MLT has exploited other growing areas in the province of Manica in order to expand into other burley types and flue-cured production, which is at an early stage of development, and intentions are to expand these areas into viable projects.