Indian Oil Corporation LTD. (IOCL)
Company Profile and History
Indian Oil Corporation Ltd. (IOCL), India's largest commercial ISO-9002 certified enterprise, is the highest ranked Indian company in the prestigious Fortune 'Global 500' listing. IOCL is the 20th largest petroleum company in the world.
Established in 1959 as Indian Oil Company Ltd., Indian Oil Corporation Ltd was formed in 1964 with the merger of Indian Refineries Ltd. (Estd. 1958). It was originally incorporated as IOCL in 1964. IndianOil and its subsidiaries account for 48.84% industry market share, 47% petroleum products market share, 40.4% refining capacity and 67% downstream sector pipelines capacity in India.
The IndianOil Group of companies owns and operates 10 of India's 20 refineries with a combined refining capacity of 60.2 million metric tonnes per annum. In 2008-09, the IndianOil group sold 62.6 million tonnes of petroleum products, including 1.7 million tonnes of natural gas, and exported 3.64 million tonnes of petroleum products.
IndianOil (Mauritius) Ltd (IOML), a wholly subsidiary company of Indian Oil Corporation Ltd, was registered in Mauritius in 2001. After creating an infrastructure and terminal in Port Louis area IOML started its marketing operations in January 2004. IOML has set up a modern State-of-the-Art storage facility of 24,000 Metric Ton (MT) capacity at Mer Rouge in Port Louis by means of 8 tanks of various capacities for different products. The terminal has some of the most modern facilities for handling and delivery of the petroleum products including loading bays and tank gauging systems, which are all micro-processor controlled. It is also the first of its kind in Mauritius.
IOML enjoys a retail presence through 25 retail outlets. IOML provides petroleum products in bulk to various local business sectors such as the transport industry, building and construction contractors, manufacturing sector (textile, steel, bakery) & hotels among others. A comprehensive petroleum laboratory for testing all fuels and lubricants was also set up. The laboratory is the first full-fledge petroleum products' testing laboratory in Mauritius and has already gained international accreditations such as ISO 9001-2000.
Mer Rouge, Port Louis, Mauritius; Tel: (230) 217 2710, (230) 217 2714; Fax: (230) 2175500
The petroleum products distributed by IndianOil (Mauritius) Ltd are: Motor Gasoline; Gas Oil; Dual Product Kerosene (JetA1); Fuel Oil 180 CST (heavy oil); and Xtra Premium petrol, Xtra Mile diesel, Servo lubricants and Indane LPG.
34,158 employees in total; approximately 1000 in Mauritius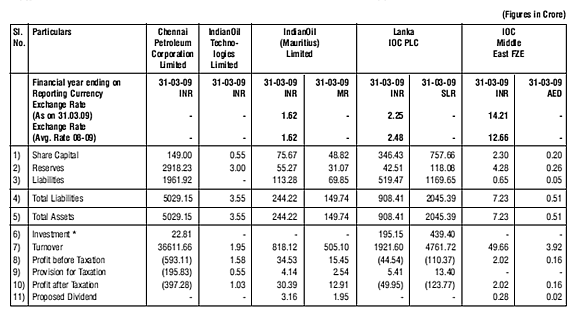 IndianOil (Mauritius) Ltd. has an overall market share of nearly 22 percent and commands a 35 percent market share in the aviation fuelling business.
"To emerge as 'an integrated, diversified, transnational energy major and aspiring to be a globally admired company"
"In keeping with the dynamic business environment, IndianOil's business development initiatives continue to be driven by the emerging opportunities and guided by its corporate vision of becoming a diversified, transnational, integrated energy company. Its business strategy focuses primarily on expansion across the hydrocarbon value chain, both within and outside the country, while simultaneously revisiting its strategic plans and undertaking mid-course corrections, wherever necessary.
The company's strategy is based on the following: to achieve higher growth through mergers, acquisitions, integration and diversification by harnessing new business opportunities in oil exploration production, petrochemicals, natural gas and downstream opportunities overseas; to develop operational synergies with subsidiaries and joint ventures and continuously engage across the hydrocarbon value chain for the benefit of society at large; to ensure adequate return on the capital employed and maintain a reasonable annual dividend on equity capital; to manage and operate all facilities in an efficient manner so as to generate adequate internal resources to meet revenue cost and requirements for project investment, without budgetary support; to develop long-term corporate plans to provide for adequate growth of the Corporation's business; and to reduce the cost of production of petroleum products by means of systematic cost control measures and thereby sustain market leadership through cost competitiveness.
The presence in Mauritius is a gateway for IndianOil's strategy to penetrate and explore the marketing opportunity in the African countries and nearby islands."
IOML is a wholly owned subsidiary of Indian Oil Corporation Ltd.
Benefits Offered and Relations with Government
Mauritius has no oil, natural gas or coal deposits and 82% of primary energy requirements are imported (petroleum products and coal). The State Trading Corporation (STC) is the only authorized importer of petroleum products. These products are sold to and stocked either individually or jointly by the local oil companies. The products are then being marketed and distributed to the retailers and end users.
IOML plans to construct a pipeline for jet fuel between Port Louis and the airport and is also interested in the purchase of a tanker to transport petroleum products to Mauritius in joint venture with the Mauritius Shipping Corporation.