Air Mauritius Ltd. (AM)
Company Profile and History
Air Mauritius Limited is the national airline of Mauritius, based in Port Louis, the island's capital. It operates regional and international services to over 30 destinations with 80 flights per week. Its main base is Sir Seewoosagur Ramgoolam (SSR) International Airport.
Air Mauritius was established on 14 June 1967 by Amédée Maingard initially as a handling agent. It modestly started airline operations in August 1972 with a six seater Piper PA-31 Navajo aircraft leased from Air Madagascar.
During the 1970s and 1980s, the airline operated Boeing 707s and Boeing 747s, in their SP configuration (Special Performance), on longer routes. All the 747s have been decommissioned since and have been replaced by the Airbus A340s as from 1994, with Boeing 767s introduced in 1988, ATR 42s introduced in 1987, an ATR 72 introduced in 2002 for inter-island routes and Airbus A319s for regional flights on the African continent. Air Mauritius has a large presence in the European, African and Indian Ocean country airports. The company also performs a range of services in Mauritius for international airlines.
Then Communications minister Harry Tirvengadum joined the airline in 1972 and became managing director in 1978, a position he held for nearly two decades. AM got a new managing director, Vijay Poonoosamy, in October 2000, but he resigned six months later, returning to his former post as AM's legal director. Following the ouster of Poonoosamy, who was the brother of a high-ranking official in the Mouvement Militant Mauricien (MMM) party, allegations of embezzlement surfaced regarding the previous administrations' dealings with Rogers & Co., its general sales agent for certain destinations.
AM launched a major corporate restructuring program in March 2002. The airline also moved its Asian hub from Singapore to Malaysia during the year, attracted by modern facilities and breaks on fees at Kuala Lumpur International Airport (KLIA). The airline added a second weekly flight to KLIA and opened a new office in Kuala Lumpur.
AM launched a scheduled cargo service to Johannesburg, South Africa, in October 2002. In South Africa, the Group operates through a 100percent owned subsidiary, Air Mauritius (S.A) (Pty) Limited which acts as agent for Air Mauritius Limited. It operates on a cost re-imbursement basis with its expenses being directly accounted for in books of the parent company. Service to India was expanded in the spring of 2003 with a new weekly flight to the country's "Silicon Valley," Bangalore.
Air Mauritius Centre, 5 President John Kennedy Street, Port Louis, Mauritius; Telephone: (230) 207-7070; Fax: (230) 208-8331
The main activities of the Group are the operation of international and domestic scheduled air services for the carriage of passengers, freight and mail and the provision of ancillary services for aviation. The Group operates a worldwide air cargo business, solely in conjunction with its scheduled passenger services, using the belly hold capacity for cargo transshipment.
The aircraft fleet of Air Mauritius comprised of 8 wide bodied, 2 narrow bodied and 2 turbo prop aircraft at the end of the financial year 2008/09 as follows:
Air Mauritius made a net loss of 13.19 million euros for the first quarter ending June 30, mainly due to the global economic crisis, a high fuel bill and swine flu. The unrealised losses on unexpired fuel hedge contracts stood at 32.6 million euro as at June 30 2009 compared to 72.2 million euro at March 31 2009. Falling passenger numbers compounded the company's woes. Between April and June 2009 the airline carried 225,342 passengers-with a passenger load factor of 74.9 percent-compared with 271,275 during the corresponding period in 2008. Revenue for the quarter fell 19.53 percent to 74.52 million euros against last year.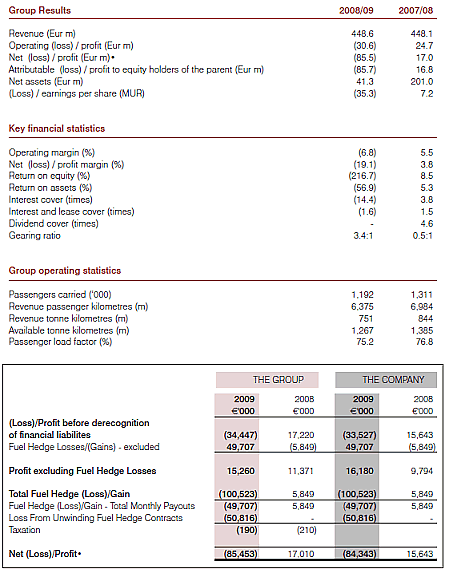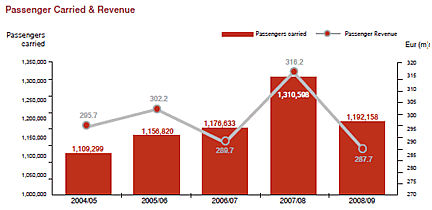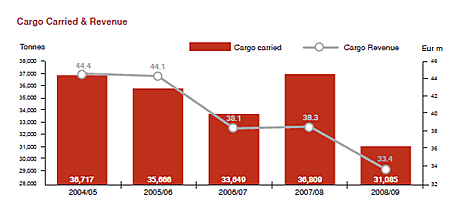 Air Mauritius, remains the largest carrier for passengers and airfreight into and out of Mauritius. It carries more than 55 percent of passengers. Air Mauritius Cargo is by far the largest cargo carrier in Mauritius with a market share of 46percent, followed by Emirates SkyCargo (13percent), and British Airways WorldCargo (9percent).
Air Mauritius holds a de facto monopoly over the Port-Louis-Rodrigues route. Air Mauritius was also the only provider of ground handling services until 2003, when Servisair began operations at Sir Seewoosagur Ramgoolam (SSR) International Airport; its operation was taken over in 2006 by Equity Aviation Indian Ocean Ltd (EA). Nevertheless, Air Mauritius is still the major service provider, taking care of the cargo handling for ten foreign airlines; and the EA takes care of that of eight airlines.
"The Group aims to build a sustainable business with margins covering its cost of capital on a long term basis. It is working in partnership with all its key stakeholders to foster growth and harness business opportunities and also to effectively manage the risks associated with the business. For its shareholders, the Group's key responsibility is to generate a sustainable return on the capital employed in its business and to ensure it can invest for future growth."
"Competition is getting tougher and our role as the national carrier constitutes an increasingly challenging responsibility. When we embarked on our 3 year Transformation Programme late 2006 the financial targets set were to say the least a substantial challenge. This challenge became daunting during the first half of 2008 when the Company had to promptly respond to soaring fuel prices. We adjusted capacity in order to optimise load factors on several routes. Narrow bodied operations were streamlined around one A319-100 aircraft as from 15th September 2008. The Fuel Efficiency Gap Analysis (FEGA) conducted by IATA consultants concluded that we had already made considerable progress on our fuel efficiency initiatives of the Transformation Programme. These measures were intensified and complemented with additional FEGA initiatives.
In a bid to rationalise our network, we ceased operations to Sydney in September 2008 and our operations to Switzerland were concentrated on Geneva as from 24 January 2009. In addition we initiated various cost management programmes and reviewed our processes. The Transformation Programme has helped to achieve the targeted savings of Euro 50 million committed to and has contributed substantially to the resilience of Air Mauritius.
Faced with the extreme volatility of fuel prices and as most airlines did we took the decision to hedge our fuel consumption. We gradually increased our hedging activities to cover 80 percent of our expected fuel consumption at an average price of US$ 104 a barrel over a period of 2 years. At that time, market forecasts indicated that fuel prices would have gone well above the USD 150 a barrel. Subsequent events defied all predictions and fuel prices fell from US$ 147 a barrel in July 2008 to US$ 33 a barrel in December 2008.
These financial pressures were exacerbated by the global economic crisis catching up on our main markets especially in the second semester and even more in the last quarter. We therefore had to take a further set of measures in the light of these new challenges. Accordingly, in addition to our Transformation Programme we introduced our Restructuring Programme designed to give focus to the then current priorities and 'chop a slice of the problem' at a time. The first part of the programme aimed at improving and securing the cash flow, which was the primary cause for concern at the time. We took measures that would allow us honour our financial obligations and ensure the sustainability of the business.
A further set of measures have been scheduled over the medium term containing more than 20 projects aimed at ensuring strict control over all our costs including our employee costs, revisiting business processes, renegotiating all supplier contracts, and improving the efficiency of crew operations and deployment.
Air Mauritius did not only take corrective measures but embarked on various sales promotion campaigns initiated in collaboration with the Mauritius Tourist Promotion Authority and the travel and tourism industry partners in order to boost demand. Furthermore, we consolidated our network by reinforcing all our alliance partnerships. Future growth will be primarily based on consolidating Mauritius as a logistic hub for the region and adding new markets. We will continue to cooperate with partner carriers to serve destinations where we do not operate directly."
Air Mauritius Limited is a subsidiary of Air Mauritius Holding Limited

Benefits Offered and Relations with Government
The Department of Civil Aviation, under the Ministry of Tourism, Leisure and External Communications, is the regulatory body; it administers the Civil Aviation Act and its regulations and oversees aviation operations including air traffic control, licensing of aircrafts, meteorology, and communication. In January 2001, an Air Access Advisory Council (AAAC) was established, under the Chairmanship of the Prime Minister's Office, to provide a platform for consultations with stakeholders on air transport issues. However, the AAAC never became operational, and it was decided in 2005 to replace it by an Air Access Policy Unit. A state owned company, Airports of Mauritius Ltd (AML) is responsible for the operation, development, and management of the SSR International Airport. All airports in Mauritius are owned by the State.
In line with the guidelines for 2005-10, the air access policy has been revised to enable a more pragmatic approach with the trend towards multiple designation, no restrictions on capacity or frequency, exchange of fifth freedom traffic rights, and liberalized fares. Actions have been focusing so far on increasing seat capacity and competition in markets with high growth potential (such as France, South Africa, and India) by, inter alia, reviewing some bilateral agreements and negotiating new ones; facilitating special flights (charters), on an ad hoc basis, whenever demand exceeds supply by scheduled carriers; and allowing special flights in markets not serviced by scheduled carriers (such as Sweden).
Due to the crisis at the airline mainly as a result of the hedging debacle, Prime Minister, Dr. Navin Ramgoolam, appointed Vice Prime Minister and Minister of Tourism, Leisure and External Communications, Xavier-Luc Duval, to restructure Air Mauritius. Duval maintained that Air Mauritius would have been profitable without the hedging exercise. The National Economic and Social Council (NESC) was however more critical. The NESC found that "Air Mauritius has failed to satisfy its stakeholders in key areas of management, namely Accountability, Good Governance, Transparency and Public Interest." It noted that "the problems facing the company are not limited to its financial liabilities and its industrial relations. They include the following major issues: (a) absence of a firm leadership at the helm (b) structural incoherence and ill-defined lines of authority (c) poor stewardship of shareholders' interest (d) serious conflicts of interest at Board level (e) lack of transparency in recruitment and promotion, remuneration and reward systems and in procurement practices (f) incongruous fare structures, especially on monopoly routes (g) poor quality of service and customer relations (h) poor employee relations. "
In late January 2009, Air Mauritius secured a EUR40 million commercial loan with a government guarantee, to pay bills and meet day to day running costs. This fell short of the EUR50 million sought by the airline. The government stressed that the cash was not a gift, but a "bridging loan", and the airline will have to make reimbursement in full. Airline officials have indicated that in order for the company to settle all its debts, it may have to recapitalise the company by issuing new shares. The government of Mauritius had previously extended cash support to the airline totalling EUR90 million.
Air Mauritius took delivery of a second A330-200 aircraft in October 2009. The Company is not renewing its lease agreement for one A340-300 aircraft expiring in October 2009 due to the anticipated decline in demand as a result of the economic recession
Bangalore was added to the network in April 2008. New consolidated cooperation agreements were concluded with Air France, Malaysia Airlines and Air Madagascar during 2008/09. A new code share agreement effective November 2008 has been signed between Air Mauritius and Malaysia Airlines which involves free flow code share on the Mauritius/Kuala Lumpur route on flights operated by Air Mauritius and on destinations beyond Kuala Lumpur served by Malaysia Airlines. Air Mauritius and Air Madagascar resumed t cooperation by putting in place a new agreement effective November 2008 offering daily flights between Mauritius and Madagascar.

The whole of the A340-300 fleet was retrofitted from a three class into two class configuration during the year with the following layout: The A340-300 Classic with a total of 298 seats with 34 Business Class seats at 60 inch pitch and 264 Economy Class seats at 31 inch pitch and the A340-300 Enhanced with a total of 300 seats with 34 Business Class seats at 60 inch pitch and 266 Economy Class seats at 31 inch pitch.