Tullow Oil Plc
Company Profile and History
Tullow Oil plc is one of the largest independent oil and gas exploration companies in Europe. The Group has 86 licences in 22 countries, with operations in Africa, Europe, South Asia and South America. Current production is 60 000 barrels of oil per day (bpd). In 2008 the Group drilled 99 exploration, appraisal and development wells, which included multi-well campaigns in Ghana and Uganda. The group achieved a 77percent exploration success rate with 17 out of 22 successful wells in 2008
In January 2007, Tullow completed the £595 million acquisition of Hardman Resources Limited, which materially enhances the Group's operations in Mauritania and Uganda and added high-impact exploration licences in South America.
Tullow Oil plc (is listed on the Irish and London Stock Exchanges and is a constituent of the FTSE 100 Index.
The Company was founded by Aidan Heavey in 1985 in Ireland as a gas exploration business operating in Senegal. In 2000 it bought BP's North Sea Gas Fields and then in 2004 it acquired Energy Africa for US$570 million. It has expanded rapidly in recent years notably through the acquisition of Hardman Resources in January 2007.
The Chinguetti field in Mauritania was successfully brought on-stream in 2006 by Hardman Resources.
In Mauritania Tullow holds interests in eight blocks offshore Mauritania, which cover nearly 47 000 sq km. Since 2000, over 30 exploration, appraisal and development wells have been drilled. Of the exploration wells, Chinguetti, Tiof, Tevet, Aigrette and Banda all resulted in significant oil and gas discoveries, while the Faucon and Pelican wells discovered gas.
No information available.
540 employees worldwide; 223 in Africa; 12 in Mauritania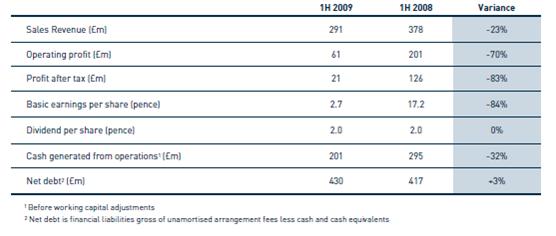 Mauritania began to produce oil in February 2006 from the Chinguetti oilfield. Oil production in 2006 was 30,620 barrels per day (bpd) of which 19,320 bpd was consumed domestically and 11,300 bpd exported. Production at the Chinguetti quickly climbed to 75,000 bpd by late 2006. However, in 2007, output declined dramatically because of "geological complexities" and by 2008, production was just 17,000 bpd . Gross production from the Chinguetti field averaged 12,600 bopd in the first half of 2009.
Tullow's working interest production on Chinguetti in 2008 was 2,200 bpd .
"The group's strategic objective is to deliver top quintile total shareholder returns versus our industry peer group"
Tullow pursues a consistent and repeatable strategy which seeks to deliver sustainable long-term growth with a balance between funding, exploration and production spend and major activities in core areas. We will achieve this by: delivering major projects, with a significant focus on increasing bankable reserves; executing selective, high-impact exploration programmes funded by surplus cash flow or equity; managing our assets to high-grade the portfolio, replenish upside and assist funding needs; ensuring safe people, procedures and operations, and minimising environmental impacts; building long-term relationships with local governments, communities and key stakeholders; and continuing to develop a strong team with excellent commercial, technical and financial skills.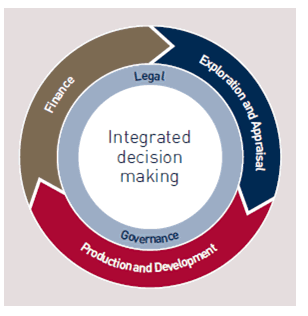 Exploration and Appraisal (E&A) has responsibility for identifying core plays, prioritizing prospective exploration options and executing exploration and appraisal programmes within material follow-on campaigns.
Tullow's exploration strategy is based on identifying transformational, high-value growth opportunities and appropriately mitigating risks by concentrating exploration in core plays and in areas of focus for the Group. This is delivered by successful execution of material commercial exploration campaigns with high success rates achieved through developing technical excellence. The Group's exploration strategy has been recalibrated to adjust to the global economic downturn so that investment is focused on operational and financial delivery in Ghana and Uganda, targeting short-term production and commercial reserves, whilst nurturing long-term growth options and replenishing portfolio upside
Production and Development (P&D) has responsibility for field appraisal, development of commercial discoveries and the management of the Group's production and reserves, which are fundamental to revenue generation.
Tullow's P&D strategy is focused on creating value from the Group's portfolio of assets. This is achieved through new or incremental developments, improving operating efficiency and strategic divestments or acquisitions. Fundamental to this is conducting all business in a manner that enhances the Group's reputation and reinforces Tullow's long-standing commitment to operate in a safe and environmentally sensitive way. In 2009, the Group has been particularly disciplined in allocating capital and human resources to fast-track and monetise the Jubilee field in Ghana and major discoveries in Uganda. Tullow continues to invest strongly in people including building a world-class deepwater operating capability in Accra, Ghana and enhancing the Kampala organisation in preparation for development activity in Uganda.
Finance has responsibility for the management of equity, debt and cash to maintain a strong balance sheet and the ability to fund E&A and P&D activities with prudent, focused capital investment.
Tullow's financial strategy is centred on ensuring the Group has a strong and well-funded balance sheet and is managed in a way that is consistent with the current external reality and the Group's longer-term strategic goals for growth. For Tullow, this means having the capacity to fund its activity set, particularly the significant investment in Ghana and Uganda developments; the ability to manage market volatility and uncertainty; the flexibility to selectively acquire or divest; and an overall balance between focused short-term activity and longer-term investment required for continued growth. Deliver sustainable long-term growth with a balance between funding, exploration and production spend and major activities in core areas of the business.

Legal has responsibility for all governance and legal issues including regulatory compliance and delivering commercial legal solutions for Tullow's business needs. Collective responsibility is held for portfolio management including disposals, investments and mergers and acquisitions. At the core of Tullow's business model is the Group's vision and strategy and strong discipline in planning and execution
Principal subsidiary undertakings:
At 31 December 2008 the Company's principal subsidiary undertakin


Benefits Offered and Relations with Government
With upstream activities, exploration and development of hydrocarbons fall under Order 88-151 of 13 November 1988, which establishes the legal and fiscal regime applicable to hydrocarbon research and development. The regulations provide that any national or foreign person or company may conduct petroleum operations (research, development, transportation, storage and sale of hydrocarbons).
Licenses are as follows: Reconnaissance: 12 months maximum. Includes all reconnaissance operations except higher bore hole at 300 m; Exploration: 9 years maximum-divided into 3 phases set by the Exploration-Production Contract (CEP)-25 percent reduction of the area at each phase. The whole area should be covered at the 9 years; Exploitation: 25 years (Oil) and 30 years (Gas) Divided into 3 phases set by CPP. Limited cost oil (60percent of the annual production for oil and 65percent for gas); and contractor's Obligations : Must submit (i) Program and annual Budget for research activities; (ii) Evaluation Program and Budget in case of discovery; (iii) mobilization of technical, financial and equipment resources for CEP
In 2004 a new fiscal regime came into operation which simplified the tax system for foreign companies. It stipulates amongst others: Taxes on industrial and commercial revenue (CGI in Mauritania): fixed rate for the contract duration. Other taxes: Value added tax (TVA) and ITS (at the most 35percent for expatriate staff); exemption of all other tax: IMF, on real estate capital revenue, on turnover capital, apprenticeship tax, patent, registration and fiscal dues, or any other tax, due, obligation or contribution as long it is related to oil operations; and simplified the fiscal regime (RFS) for foreign companies subcontracting services for contractors.
Two appraisal wells were drilled on the Banda discovery in Mauritania in 2008. In April the Banda North West well encountered both oil and gas pay and pressure testing and sampling indicated that the well is in communication with the original Banda discovery well 2 km away. The Banda East appraisal well was then drilled 5 km up-dip from Banda North West in October and encountered the same oil and gas contacts seen in the other wells. The seismic and well data are now being incorporated into the geological model to determine the commercial potential of the field. In February 2008, Tullow drilled the Khop-1 exploration well in Block 6 in Mauritania. Only minor oil shows were encountered and the well was abandoned.