Safaricom Limited
Company Profile and History
Safaricom, which started as a department of Kenya Posts & Telecommunications Corporation, the former monopoly operator, launched operations in 1993 based on an analogue ETACS network and was upgraded to GSM in 1996 (license awarded in 1999). Safaricom was incorporated on April 1997 as a private limited liability company. It was converted into a public company with limited liability on 16 May, 2002.
In accordance with the Government of Kenya's policy of divesting its ownership in public enterprises, the Government of Kenya through the Treasury Department, on 28 March 2008 made available to the public 10,000,000,000 of the existing ordinary shares of par value Ksh 0.05 each, of the Company. This represents 25% of the total issued share capital of Safaricom from the Government of Kenya's shareholding in Safaricom Limited.
As at 31st March 2009 the company has 6.175 million registered users, a customer base of 13.36 million, 8,650 retail outlets countrywide, 51 Paybill partners, 301 3G enabled base stations in Nairobi, Mombassa, Naivasha & Eldoret.
In 2009 it won awards for Best Mobile Money Service; in the GSMA Global Mobile Awards it was the winner in the Best Broadcast Commercial Category for its entry of the M-PESA 'Send Money Home' TVC; in the UN World Business and Development Award it was among the 10 private companies recognized globally for their contribution to the achievement of millennium goals through M-PESA; in the Kenyan Banking Awards it was the winner in the product innovation category (M-PESA); and in the Stockholm Challenge, the winner in the Economic development category ( M-PESA).
Safaricom House, Waiyaki Way, Westlands, Nairobi; Telephone: +254 20 427 3272
Safaricom offers mobile telecommunication services through five product segments - Simu ya jamii, M-PESA, Prepaid, Postpaid, Business and Enterprise, International Roaming and Data and Messaging.
M-PESA is a Safaricom product that allows users to transfer money using a mobile phone. Kenya is the first country in the world to use this service, which is offered in partnership between Safaricom and Vodafone. M-PESA is available to all members of the public, even if they do not have a bank account or a bankcard.
Safaricom offers mobile voice services using GSM-900 and GSM-1800 technologies. It launched GPRS services in July 2004 and Enhanced Data Rates for GSM Evolution ("EDGE") services in June 2006. In 2007 it was formally granted Kenya's first license to operate a 3G network.
It has 2,387 employees (March 31, 2009).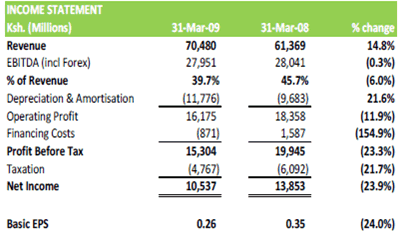 Revenue Market Share: 83.0%
Subscriber Market Share: 79.0%

"Our key initiatives are targeted at sustaining customer focus and positioning us for future success and maintain the #1 Market Position"
Safaricom's business model focuses on prepaid customers (pay-in-advance) without long-term contract commitments. Safaricom requires most of its customers to pay for services in advance, thus limiting its customer-related credit risk. It focuses on low-income clients to boost its customer base; expansion of its GSM coverage footprint in rural areas and capacity levels in key urban areas; improve the performance and reliability of its services; and introducing new and innovative products.
Safaricom furthe: offers all prepaid and post-paid users a variety of value priced service plan options and products; Safaricom has aligned itself with other business partners including distributors, suppliers and technology partners. These arrangements help Safaricom maintain a low cost structure while ensuring high quality customer products and services; the company is bundling its products and services with products of globally established companies with the goal if deploying reliable, high-quality cellular products and services to the mass market and competing effectively with other mobile providers.
In this regard Safaricom has a working relationship with Vodafone Group Plc, an established leader in global mobile telecommunications industry. The amount of investment Vodafone has made is among the largest ever made by any foreign company in Kenya. Vodafone also provides Safaricom with the opportunity to be a member of its global procurement group and to benefit from Vodafone's experience in other countries; strong marketing efforts and rapid product deployment; and maintain and grow strong brand recognition.
The company has focused on enhancing its image by involving itself in the community and focusing on local themes, which may resonate with the targeted customer base.
During 2008, Safaricom continued an aggressive growth campaign both to increase its subscriber base-by launching a series of promotions and investing heavily in subscriber acquisition-and to increase the core network capacity and coverage in rural areas.
By virtue of the 60% shareholding held by the Government of Kenya (GoK), Safaricom was a state corporation within the meaning of the State Corporations Act (Chapter 446) Laws of Kenya, which defines a state corporation to include a company incorporated under the Companies Act which is owned or controlled by the Government or a state corporation. Until 20 December 2007, the GoK shares were held by Telkom Kenya Limited ("TKL"), which was a state corporation under the Act.
Following the offer and sale of 25% of the issued shares in Safaricom held by the GoK to the public in March 2008, the GoK ceased to have a controlling interest in Safaricom under the State Corporations Act and therefore the provisions of the State Corporations Act no longer apply to it.
Benefits Offered and Relations with Government
The company is directed by the Kenya Communications (Amendment) Act 2008.
Taxation on Mobile Airtime:
VAT (16%), Excise levy (10%), annual CCK operating fees and the soon to be introduced Universal; Service Fund Levy (0.5% - 1%) continue to make the Kenyan telecommunications market one of the most heavily taxed markets.

To attract new investments into the ICT sector, the regulation capping foreign ownership of telecoms companies at 80 percent is being relaxed to allow foreigners to launch operations without a local partner.

The introduction of new players and a changing regulatory landscape will bring new challenges to Safaricom and the industry as a whole. A more competitive industry landscape will place downward pressure on Safaricom's market share of gross additions in the medium term.

Retail tariffs are likely to experience downward pressure, which will lower ARPU for both prepay and post pay subscribers for the industry as a whole.

Enhanced competition will also create the need for the company to maintain higher levels of selling and limit its general and administrative expense levels. This is due to the potential requirement for higher advertising costs to protect the subscriber base and increased payroll costs to retain key managerial talent.
In 2009 Safaricom launched Kenya's first mobile internet portal (www.safaricom.com) to provide free content for its over 1.6 million subscribers who access the Internet using their phones. Www.safaricom.com will allow the firm's subscribers to access both local and international content direct from their mobile phones.
Safaricom recently launched Africa's first fully solar-powered phone, branded Simu ya Solar. The new solar-powered mobile phone went on sale in Kenya in August 2009. Kenyans can buy the phone for a little under US$ 40. The solar-powered phone launched by Safaricom is produced by the Chinese ZTE Corporation.
Safaricom announced in August 2009 that it has bought 100 percent of a second local WiMAX operator, Packetstream Data Networks; inked an agreement with Nokia and DMTV to introduce mobile TV service; removed VAT on mobile handsets
In mid-May 2009 Safaricom also joined the race to capture the data market in the telecoms industry and launched the caller ring back tune service. The service branded Skiza, enables subscribers to choose a preferred song and set it as their ring back tune.
It launched the following products during 2008: tXt-ten for ten (group SMS), a mobile chat service that enables subscribers to quickly send the same message to several members of a group; Advantage Contracts-offers subscribers an opportunity to control their call costs; Advantage Plus-enables corporate customers to give their staff a limit on their monthly expenditure; Safaricom Mail-email service in conjunction with Google; Toll Free Services-called party pays for calls to a toll-free number; Corporate Direct Connectivity-direct connection between the customer's PABX and Safaricom's network facilitates voice communication; Winback SMS for Roaming-allows Safaricom to Win-Back visitors lost to a competitor's network; Automatic Device Configuration-subscribers can request for data and network settings automatically via USSD and SMS and have these delivered directly to their handsets over the air; OTA SIM Swap-allows Safaricom Prepaid subscribers who have lost their SIM Cards to do a SIM Swap on their handsets; Express Autobar-quick one-stop service for all individual customers and guarantees active post-paid lines; and Kama Kawaida with Rwanda-Safaricom has teamed with MTN Rwanda to offer subscribers seamless service availability at their home tariffs when travelling across the two countries.