Anglogold Ashanti
Company Profile and History
AngloGold Ashanti, as it conducts business today, was formed on April 26, 2004 following the business combination of AngloGold Limited (AngloGold) with Ashanti Goldfields Company Limited (Ashanti). AngloGold, formerly Vaal Reefs Exploration and Mining Company Limited, was incorporated in South Africa in 1944.
AngloGold Ashanti, headquartered in Johannesburg, South Africa, is a global gold company with a portfolio of long-life, relatively low-cost assets and differing orebody types in key gold producing regions. The company's 21 operations comprising open-pit and underground mines and surface metallurgical plants are located in ten countries (Argentina, Australia, Brazil, Ghana, Guinea, Mali, Namibia, South Africa, Tanzania and the United States of America), and are supported by extensive exploration activities.
AngloGold Ashanti is listed on the following securities exchanges: Johannesburg; New York (AU) in the form of American Depositary Shares (ADSs); Australia (AGG) in the form of Clearing House Electronic Subregister System Depositary Interests (CDIs); London (ANG); Paris (VA); Brussels (ANG); and in Ghana in the form of Ghanaian Depositary Shares (GhDSs) .
AngloGold was formed in June 1998 through the consolidation of the gold interests of Anglo American Corporation of South Africa Limited (AAC) and its associated companies into a single, focused, independent, global gold company. Vaal Reefs Exploration and Mining Company Limited (Vaal Reefs), the vehicle for the consolidation, changed its name to AngloGold Limited and increased its authorized share capital, effective March 30, 1998.
AngloGold then acquired, in share-for-share exchanges in terms of South African schemes of arrangement and following shareholder approval, all of the issued share capital of the following participating companies: East Rand Gold and Uranium Company Limited (Ergo); Eastvaal Gold Holdings Limited (Eastvaal); Southvaal Holdings Limited (Southvaal); Free State Consolidated Gold Mines Limited (Freegold); Elandsrand Gold Mining Company Limited (Elandsrand); H.J. Joel Gold Mining Company Limited (HJ Joel); and Western Deep Levels Limited (Western Deep Levels).
In addition, AngloGold acquired in private transactions with AAC and minority shareholders certain share interests in gold mining companies, including: approximately 17 percent of Driefontein Consolidated Limited (Driefontein); 100 percent of Anmercosa Mining (West Africa) Limited (Anmin West Africa); approximately 89 percent of Western Ultra Deep Levels Limited (Western Ultra Deep); approximately 52 percent of Eastern Gold Holdings Limited (Eastern Gold); 70 percent of Erongo Mining and Exploration Company Limited (Erongo); and other sundry share interests .
Ashanti Goldfields Corporation was formed in 1897 and started operations at Obuasi, in Ghana (formerly known as the Gold Coast). It was the birth of an enterprise which, over 100 years produced US$10 billion dollars' worth of gold if it were all valued at today's price.
The business combination between AngloGold and Ashanti Goldfields Company Limited which was originally announced on May 16, 2003 was completed with effect from Monday, April 26, 2004, following the confirmation by the High Court in Ghana.
The Siguiri mine is AngloGold Ashanti's only operation in the Republic of Guinea. Formerly an asset of Ghanaian based Ashanti Goldfields, it became part of AngloGold Ashanti in April 2004 when the business combination of Ashanti and South African-based AngloGold came into effect.
In 2008, AngloGold Ashanti produced 4.98 million ounces of gold from its operations-an estimated 7% of global production-making it the third largest producer in the world. The bulk of its production came from deep-level underground operations (40%) and surface operations (2%) in South Africa. Contributions from other countries were Ghana (11%), Mali (8%), Australia (9%), Brazil (8%), Tanzania (6%), USA (5%), Guinea (7%), Argentina (3%) and Namibia (1%).
The Siguiri mine is a conventional open-pit operation situated in the Siguiri district in the north-east of Guinea, about 850 kilometres from the capital, Conakry. The nearest major town is Siguiri on the banks of the Niger River.
Exploration, exploitation and production of gold
AngloGold Ashanti had Mineral Resources of 241.0 million ounces and Ore Reserves of 74.9 million ounces at 31 December 2008. Of these, Guinea accounted for Mineral Resources of 5.94 million ounces and Ore Reserves of 3.25 million ounces.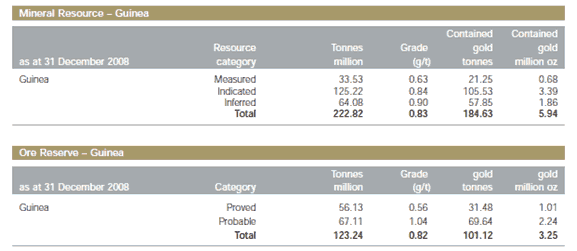 2,933 employees in Guinea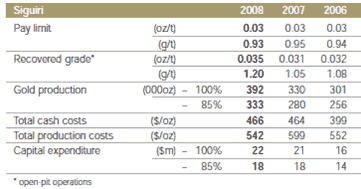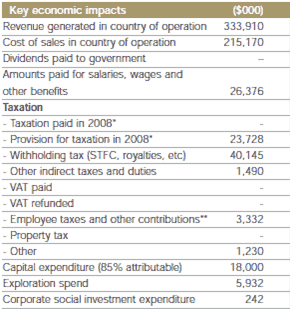 *Includes capital gain tax
** Includes remmitance made to government but borne by employees as individual taxation, eg PAYE, UIF.
Anglogold Ashanti operates Guinea's biggest gold mine at Siguiri in the northeast, where it produced 332,000 ounces of gold in 2008; Crew Gold produced 189,520 ounces in 2008; and Semafo produced 51,700 ounces in 2008.
"The company is focused on generating competitive financial returns and on rewarding shareholders with semi-annual dividends after providing for future growth"
Towards the end of 2008, CEO Mark Cutifani announced the launch of the Business Improvement Project (BIP), a company-wide change management process to secure the future of the organisation as a global gold producer.
The BIP is a response to declining production levels, and increasing costs of production-and it signals the need for a change in the current strategy in order for AngloGold Ashanti to grow and thrive. It will be implemented over the next three to five years, starting with pilot sites and then across the company's global operations, with the aim of improving productivity.

Cutifani emphasises that the BIP is not a once-off activity: it's an ongoing journey to ensure the continuing global improvement of AngloGold Ashanti's systems and processes. It is intrinsically linked to AngloGold Ashanti's mission, vision and values which shape everything that the company does. The Business Improvement Project focuses on five key deliverables: a 70% reduction in safety incidents; a 30% improvement in productivity; a 60% reduction in reportable environmental incidents; a 25% reduction in operating costs; and a 15% return on investment to shareholders.
The BIP process has been branded as AngloGold Ashanti "One"emphasising the unity of purpose and sense of belonging the BIP aims to achieve.
AngloGold Ashanti has an interest of 85% in Siguiri and the Government of Guinea 15%.
Benefits Offered and Relations with Government
In April 2009 the leader of the junta, Moussa Camara, threatened to close gold mines owned by AngloGold Ashanti Ltd. and Crew Gold Mines Ltd. unless they agree to new regulations including the depositing of the metal with the central bank before it is exported. Camara subsequently softened his stance.
Apart from dividends paid to government, Siguiri pays the Republic of Guinea a 3% royalty on revenue and a 5% royalty when the spot gold price exceeds a price of $475/oz, adjusted according to the United States Consumer Price Index from the base year of 1994. An additional 0.4% of revenue is paid as a community development levy and this funding is controlled by a community development committee, chaired by the Prefecture Committee for Development which works in collaboration with the mine. The rise in the spot gold price, coupled with the impressive increase in ounces produced, resulted in a higher development tax as well as increased dividends and royalty contributions to the region and state. If all contributions to the state are taken into account (including employees' taxes), the operations of the Siguiri Gold Mine contributed $69.8 million to government in 2008.
The Siguiri Gold Mine lease remains a very prospective area with good prospects for growth seen near the village of Kintinian to the north of the mine and at the new Sintroko pit near the village of Korouda to the south of the mine. Regarding the CIP plant, the designs of a second gravity concentrator and de-gritting facilities are being finalised and these will be installed during 2009; they are expected to improve plant recovery and increase throughput. Studies are under way to increase plant throughput from 10 to 11.5 million tonnes a year within the next few years. Grades are expected to return to normal levels at the mine and attributable gold production for 2009 is projected to return to approximately 300,000 ounces with total cash costs rising to between $495/oz and $515/oz. Capital expenditure of $27 million is scheduled for 2009, to be spent on brownfields exploration ($7 million), stay-in-business capital ($15 million) and projects ($5 million).