Zain Gabon
Company Profile and History
Zain is an telecoms player operating in 24 countries in the Middle East and Africa, serving over 69.5 million active customers. The company is the leading mobile telecom operator in 14 of its markets, while in second position in five countries. It is the 4th largest mobile network in the world in terms of geographic.

Zain (formerly MTC) was established in 1983 in Kuwait as the region's first mobile operator. On September 8, 2007 MTC Group announced it had re-branded to Zain which became the Group's corporate master brand.

In 2008 Zain re-branded its entire African operations from Celtel to Zain. The move coincides with the linking of the world's first borderless mobile service 'One Network' across two continents. Zain has won a number of awards. Most recently, Zain was awarded the CBC African Business Award 2008 for the "Best Telecoms' Company in Africa". In September 2007, the Group won three prestigious industry awards including Overall Operator of the Year at the second annual CommsMEA telecom awards for the Middle East and Africa. It also won New Telecoms Service of the Year for One Network while Group CEO Dr. Saad Al Barrak received a Lifetime Achievement award for his pioneering efforts in the industry.

During the past few months, there has been speculation that Zain was looking for a buyer for its African operations.

Zain in Gabon is a subsidiary of the Zain group and started business in 2000.

Siège Social: Zain, 124 avenue Bouët, Montagne Sainte B.P, 9259 Libreville;
Telephone: +241 74 00 00 / 07 28 01 11 / 07 74 00 00

Agence de Franceville: Quartier POTOS, Franceville;
Telephone: +241 07 85 03 03 / 07 74 00 00

Agence d'Oyem: Gare Routière, B.P: 1216 Oyem,
Telephone: +241 98 62 62

Agence de Mouila: Quartier Point 9, B.P: 70 Mouila;
Telephone: +241 86 22 81
Telefax: +241 86 22 82

Zain Gabon services include: Mobile phone services; Prepaid plans; International roaming; Local and international text messages; 24-hour customer care centre; Internet connections; voicemail and Email services.

Revenues: US$ 4,014 million; EBITDA: US$ 1,769 million; Net Income: US$ 534 million in H1-2009. Consolidated financial results for the year ended 31 December 2008: Consolidated Revenues: US$ 7.44 billion; EBITDA: US$ 2.78 billion; Net Income: US$ 1.2 billion
Gabon Financial Performance ($ m)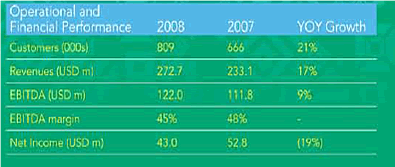 Zain has the number 1 position in the telecoms market in Gabon with 61 percent of the customer market and 72 percent value share.

"Become one of the top 10 mobile telecommunications companies in the world; US$ 6 billion in EBITDA; Reach a customer base of 150 million; Become a truly multinational organization and management team"

"The corporate strategy of Zain is ACE. It was developed to guide our organization towards becoming a global mobile telecommunications company. At the beginning of 2003, Zain started its ambitious expansion journey, labelled the "3x3x3" journey. Through this 9-year journey, Zain would expand, in 3-year intervals, from being a local mobile operator, to becoming a regional then international then global force in its industry.

''This ambitious growth vision is the driving force behind Zain's expansion from a local operator serving the Kuwaiti market at the beginning of 2003 to a company with a commercial presence in 24 countries by May 31st, 2009.

''ACE is an acronym that stands for Accelerate, Consolidate, and Expand. These are the three pillars of Zain's growth. Through ACE's strategic initiatives Zain will: accelerate the growth of its family; expanding its reach organically and inorganically; consolidate its strengths; achieving ultimate efficiency in value creation; expand its relationships with its customers; satisfying more of its customers' needs and enhancing their lifestyle.

"In 2009, Zain announced a strategic program on its ACE agenda, named 'Drive11', which will enable it to adopt the best-suited business models to sustain its expansion, particularly in the many high-growth markets that it serves. As a result, Zain will put increased focus on customer-facing functions and will enhance its control on other functions by centralizing them or by outsourcing them to strategic partners.

"This program comes at a vital stage of the company's expansion vision. It will maximize economies of scale and realize significant efficiencies, providing the company with the necessary thrust to capture the large growth potential in the markets in which it operates."
Zain Gabon is 100 percent owned by Zain International

Benefits Offered and Relations with Government
The government pushed through a law imposing a 10 percent tax on mobile phone operator turnover to finance health insurance (called the Roam-Redevance obligatoire à l'assurance maladie) from 1 January 2008, which amounts to more than 30 percent of their profits. Zain Gabon increased its rates to compensate.

General telecommunications rates have not been directly increased, but Zain-to-Zain calls have gone up from XAF 190 to 200 a minute between 08:00 and 21:59. The main change is the abolition of the 18:00-22:00 cheap rate that allows people to call for XAF 120 a minute within the network. Now they must wait until 22:00 to make calls for XAF 100 a minute valid until 07:59. This may cause Zain to lose business.

The telecommunications regulation body Artel began restructuring the sector in December 2008. All interested parties attended a meeting of Artel's consultation committee at its headquarters in January 2009 to discuss restructuring plans for maximum development in line with market potential, including setting up infrastructure and rates committees, identifying suitable markets, designating major operators and setting up a committee to manage the country's universal service fund. The meeting was presented with new specifications by non-GSM (Global System for Mobile Communications) operators and discussed monitoring frequency management and preparations for CAN 2012.

A committee deals with rates matters, including interconnection tariffs and rate offers for renting transmission lines. It identifies sector markets, those operators who have significant influence and assesses how competitive the market is. A centre to monitor markets and gather information and data has been set up with the aim of identifying and regulating all the major telecommunications operators.

In September 2009, USAN Gabon, Gabon's fourth mobile licensee signed an interconnection agreement with Zain Gabon covering voice and SMS services.