Banque Gabonaise et Francaise Internationale (BGFI)
Company Profile and History
BGFI Bank was established as a 100 percent African Bank in April 1971. It was born out of a partnership between Banque nationale de Paris (BNP-Parisbas), the Netherlands and the Gabonese government - 10 years on the bank was renamed Banque Paribas Gabon. The change in strategy adopted by Paribas in 1996 saw the state become the majority shareholder and the bank renamed once more, this time as Banque Gabonaise et Française Internationale (BGFI).

In 2000 the first branch outside Gabon was opened in Brazzaville. This was followed by another in Malabo in Equatorial Guinea, and, in 2001, the Pointe Noire branch in Congo. In 2001 BGFI signed a partnership agreement with Western Union International and created a BGFI/Western Union network in Gabon. BGFI/Western Union in Gabon has a network of 16 branches including 12 in Libreville, 2 in Port-Gentil, 1 in Moanda and 1 in Franceville.

Registered Office/Libreville; 1295 Boulevard de l'Indépendance;
Telephone: + (241) 76 01 37
Telefax: +(241) 74 08 94

Port Gentil Branch; Avenue Pierre Savorgnan de Brazza;
Telephone: + (241) 55 38 35 - 55 38 36
Telefax: + (241) 55 38 19

The bank offers personal, commercial, corporate and merchant banking products and has relationships with all major international and regional financial institutions.

BGFIBOURSE was created in December 2005, and provides the following services: securities brokerage (stocks, bonds); advice and introduction of limited stock; conduct bond syndication; UCITS management (mutual funds, FPC); and financial services (maintaining the register of shareholders, payment coupons, convening of General Assemblies, power management, etc.). BGFI Real Estate was established in March 2006. This company specializes in the promotion, management and finance of real estate.

At 31 December 2008, the BGFI Banque Privee's portfolio consisted of 1,300 customers managed by the ETOILE branch in Libreville, offering high-quality commercial and operational services. This group manages customers with significant financial assets who want to find a different management solution, more tailored to their needs, combining traditional banking services and multi-disciplinary services. This service focuses on: private management through tailor-made products and services; enhancing the value of financial assets by pointing the customer in the direction of investment opportunities; consultancy or assessment of assets for possible diversification of assets; and insurance.

BGFI/Western Union specialises in money transfers. It offers its customers a choice of two products: Will Call - the transfer of money from one individual to another; and Quick Pay - the transfer of money from individuals to a company.

BGFI is the first African financial player to have signed the United Nations Global Compact for promoting sustainable development through the defence of human rights, preserving the environment and fighting corruption.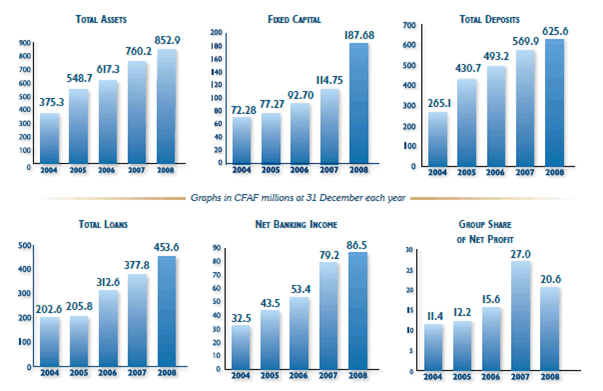 BGFI holds almost half the national banking market. BGFI's market share in Gabon has risen by almost 14 points over the last five years. It has increased its share of loans from 30 percent to 43 percent and to 41 percent of deposits. BGFI/Western Union has a 52 percent market share in Gabon.

BGFI has the following objectives: to focus exclusively on its core business; to continue to strengthen its national positions; and to remain the leader in the Gabonese banking sector. "Through its strategy of intelligent networking and tailored products and technologies, BGFIBANK intends to be the preferred bank for private individuals and high-achieving SMEs, and their local bank in terms of location and relationship."

"The company has undergone a number of changes during 2008. These include a new organizational structure, new challenges with regard to our Total Quality initiative, and enhancement of our supervisory and risk Assessment. During 2008 we consolidated our acquisitions and optimised our key success factors to prepare the Group for the challenges facing us.

''The 'Ambitions 2010' Corporate Plan is the key document in this respect; it enables every employee to understand his position, role and his responsibilities in dealing with the issues faced by the Group.

''The Group is organised on a collaborative basis. Every employee is a separate link in a single chain serving the customer and consequently every role is an important part of the entire process. Our constantly improving results are the fruit of this teamwork and the proof that all members of staff are involved in the perpetual quest for Excellence, which has been our primary concern for several years.

''This dynamic approach to development and growth, which is the basis of all our customer service activities, has enabled us to achieve the results and strategic objectives stated in the "Ambition 2010" corporate plan: in less than 5 years, we have increased our market share in Gabon significantly, consolidating our position as market leader; in other countries, we have confirmed that we are the market leader in the Republic of Congo and have consolidated our presence and increased our capability for further business in Equatorial Guinea; all the Group's financial objectives have been achieved, in terms of growth in net banking income, in consolidated net profit and in management ratios.

''Our attention is now focused on the next stages of our development: to consolidate our position as leader in our domestic market in Gabon and in the Republic of the Congo and in our target segments, which are upmarket private individuals, major corporations and SMEs with high potential; to retain the confidence of our shareholders who are mainly international private investors and who ensure our independence; to continue to develop a range of services in different countries by further diversifying our Special Financial Services and extending our international presence in Africa and in other areas with strong growth potential; to improve our efficiency through increased performance and better cost management; to provide the best possible Human Resources management; to continue to reform and modernise the Governance of the Group and at the same time improve the professionalism of our internal control and risk management mechanisms; and to improve the image of the Group by reaffirming our values and business culture.

''BGFI/Western Union BANK has benefited from an effective ethnic marketing campaign, which continues to bear fruit. Its links with the various diasporas make Western Union BGFIBANK the main strategic partner of these communities and also of customers from the tertiary sector.

''We will continue to advance during 2009, by establishing a new identity and a new, more customer oriented service called BGFI CASH. The objectives are: winning new markets: to address the problem of micro finance, as well as money transfer; acquiring new services: to make the BGFI CASH network the main tool for distributing BGFIBANK electronic banking and consumer credit services; and acquiring new skills: to tailor the training programme to the problem of matching posts with profiles. This winning approach will be based on three key principles: managing risk, a growth in operations and customer satisfaction."

Principal Shareholders: Compagnie du Komo (25.01 percent); Banque Gabonaise de Developpement (15.00 percent); Delta Synergie (13.36 percent); State of Gabon (8.00 percent); BGFI Participations (8.18 percent)

Benefits Offered and Relations with Government
The Bank of the Central African States (BEAC), headquartered in Cameroon, regulates the banking system in the region, including Gabon. Within the BEAC is the Banking Commission of Central African States (COBAC), which ensures the legality of the operations carried out by financial institutions. BEAC issues the currency and controls liquidity within the zone. The interest rate structure is common to all member countries of the zone. Within the CEMAC zone, the CFA franc circulates freely and may be freely converted to other currencies through the banking system.

The bank's directors had a particular close relationship with the late president Omar Bongo and investigations into Bongo's corrupt activities have implicated the bank. Bongo, along with President Denis Sassou Nguesso of the Republic of the Congo, Blaise Compaoré of Burkina Faso, Theodor Obiang of Equatorial Guinea and Dos Santos from Angola are investigated by French magistrates for alleged corruption. Bongo was accused of using millions of pounds of embezzled public funds to acquire lavish properties in France.

It is alleged that Gabon's wealth was siphoned off through BGFI and that the main purpose of opening branches in Equatorial Guinea and Congo-Brazzaville was to assist in money laundering. BGFI directors include Jean Ping (once married to Bongo's daughter) and one of Bongo's sons, Christian Bongo. Jean Ping is one of the most powerful members of Bongo's "clan."

In 2008, BGFIBANK was the most dynamic bank on the market in Gabon in terms of creating new products. Five products were launched: Homme Clé, Contrat Padouk, Contrat Moabi, la Carte Salaire and Mobiline. Homme Cle is a life insurance policy intended primarily for sole proprietorships and self-employed professionals; Contrat Padouk and Contrat Moabi are life assurance products intended for "upmarket" customers and "standard" private individual customers respectively; La Carte Salaire is an ATM card which enables employees without a bank account to withdraw their salary through BGFI's ATMs and electronic payment terminal network ; and Mobiline enables customers to receive information about their bank account through their mobile phone.