Centamin
Company Profile and History
Centamin Egypt Limited is a mineral exploration and development company that has been actively exploring for gold in Egypt since 1995. Centamin is listed on the Australian Stock Exchange, the AIM Market of the London Stock Exchange (and the Toronto Stock Exchange. The principal asset of Centamin is its interest in the Sukari Gold Project, located in the Eastern Desert of Egypt. The Sukari Gold Project is at an advanced stage of development, with construction having commenced in the second quarter of 2007 and first gold bar having been poured on 26 June 2009.
Centamin was incorporated on 24 March 1970 in South Australia and listed on the Australian Stock Exchange on 8 October 1970. The Company had various gold, base metal and diamond projects in Australia and currently retains a royalty agreement over the Nelson\'s Fleet gold project at Kambalda.
The Sukari Mining Licence covers an area of 160 km2 and is for a period of 30 years, with an option for a further 30 years. The Sukari Gold Project has been scheduled for open pit mining over an initial 15-year period. During that time 78 Mt ore @1.5 g/t Au is expected to be mined, producing 3.7Moz gold. Process water will be drawn from a bore field located adjacent to the Red Sea and power will be generated on site by a 28 MW primary power station, operated on heavy fuel oil.
361 El-Horreya Road, Sedi Gaber, Alexandria, Egypt; Telephone: (203) 54 11259
The project is located in the Eastern Desert of Egypt about 23 km southwest of the Red Sea coastal town of Marsa Alam and 750 km by highway from Cairo.
The operations of the Company include the acquisition, financing, exploration, development and operation of mining properties. The principal activities are the exploration for precious and base metals, and ongoing development at the Sukari project.
+1000 personnel currently on site
A definitive feasibility study ("DFS") for the development to commercial production of the Sukari Gold Project was completed in February 2007. A summary of the findings of the DFS were: the DFS concluded that a 4mpta plant producing on average 200,000 ounces per annum, over 15 years of mining, is economically robust; and total Capital Construction costs are estimated at US216m with average cash operating costs of US$290/oz (inclusive of 3% royalty) over the 15 year mining period. As at 30 June 2008, the Company is of the opinion that due to increased commodities prices, project delays and currency movements since finalisation of the DFS that the capital estimate is at risk by 20%.
Average cash operating costs have also been revalidated as at 30 June 2008 due the higher cost of consumables, and are forecast to be US$365/oz.
In 2009 resource definition drilling continues to be successful in both conversion of Inferred resources to Measured and Indicated and in global growth. Measured and Indicated resources grew by 520,000 or approximately 6% to 9.91Moz, with 3.3Moz of Inferred category at a 0.5g/t Au cut off grade.

Consolidated statement of cash flows: Quarter ended June 2009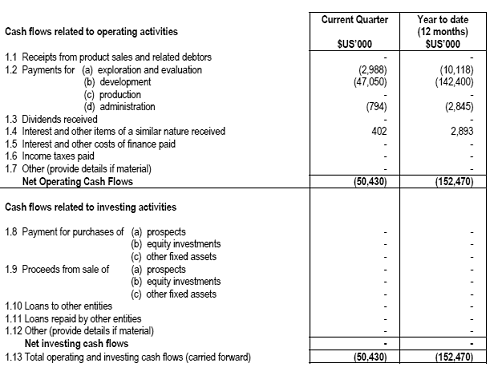 The table below sets out summary information about the consolidated entity's earnings and movements in shareholder wealth for the five years to 30 June 2008:

The Sukari Gold Project will be the first large-scale modern gold mine to be developed in Egypt. Sukari is one of the largest gold mines to come into production in 2009. It is the only +10Moz deposit going into production and not held by a major. Gold production starts end June 2009, ramping up to +500,000oz production p.a. by 2012. Sukari contains about 12.89 million ounces of gold which includes a proven and probable reserve of 6.4 million ounces, with the figure anticipated to grow when a new resource estimate is released in the third quarter. Centamin expects to reach a milestone 15 million ounce resource this year. Egypt's gold reserves are estimated at 70 million ounces. Centamin marketshare in 2009 will be 21.4%.
Egypt has estimated gold reserves of 70 million ounces.
"Delivering the Next Major Gold Mine"
Centamin Egypt pursues a "prospect generator" business model far different from traditional junior mining company-the company first did all the groundwork (mapping, fundamental geology, field sampling) which does not cost a lot of money. The company will then go to junior miners or to the majors and the partner company's role is to pay cash or shares to own half of the project, and then they have to fund the exploration work for the next couple of years.
Centamin now operates solely in Egypt, apart from its 10% interest in the Nicholls diamond project joint venture in the Kimberley Region of Western Australia and a royalty interest in the Nelson Fleet gold project at St. Ives in Western Australia through its subsidiary, Viking Resources Limited. The intention of the Directors is to continue to focus on Egypt with the objective of becoming a large producer of gold in the Eastern Desert region and establishing the Company as a major North African mining house. The Company is concentrating on its project at Sukari and on further exploration in the other Concession Areas in the Eastern Desert.
In addition the Board's decision to fully fund the development of the Sukari Project by way of new equity capital rather than the traditional mix of project debt and equity capital has permitted the Company to retain total control over the project's future cash flow and as a consequence future production is currently unhedged. The Company is in a sound financial position, it has assets which are adding value and is positioned to capitalise on potential gold price increases and deliver value to shareholders. The Sukari Gold Project is 100% fully funded through to gold production. As a result the Company no longer needs to pursue debt financing, has no debt, no hedging and at 30 June 2008, a cash balance of US$182M.
Pharaoh Gold Mines NL, Centamin's wholly-owned subsidiary, and the Egyptian Minerals and Resource Authority established an operating company, Sukari Gold Mining Company, 50% owned by each party.
The consolidated entity has material interests in the following incorporated ventures:-

Paulson & Co 11.16%; Directors 8.50%; Barings Asset Mgt 7.85%; Fidelity Investments 7%; Acuity 4.5%; AEGON UK 4.05%; Blakeney Asset Mgt 3.5%; JP Morgan Asset Mgt 3.3%; Henderson Global 2.84%
Benefits Offered and Relations with Government
In 1995, Pharaoh Gold Mines NL (PGM) an unlisted Australian public company entered into an agreement with the Egyptian Geological Survey and Mining Authority, and the Arab Republic of Egypt (The Eastern Desert Concession Agreement) to explore for gold and base metals in the Eastern Desert of Egypt. This agreement was declared into Egyptian Law 222 for 1994 and came into effect on 29 January 1995.
The concession agreement is, in effect, a profit sharing contract. Under the agreement Centamin's wholly owned subsidiary, Pharaoh Gold Mines will recover all of the historic and ongoing exploration and development costs. After these are recovered, the profits will be shared 50:50 with the Egyptian Mineral Resource Authority (EMRA).
Recovery of capital costs shall include interest on a maximum of 50% of investment borrowed from financial institutions not affiliated with PGM provided that PGM shall use best efforts to obtain the most favourable rate of interest, not to exceed LIBOR + 1%. After deduction of the royalty payments and recoverable expenses by PGM, the remainder of the sales revenue from the Sukari Project will be shared equally by PGM and EMRA except that for the first and second years in which there are net proceeds for the entire year, an additional 10% of such proceeds will be paid to PGM as an incentive (i.e. 60% to PGM and 40% to EMRA), and for each of the next two years in which there are net proceeds for the entire year, an additional 5% of such proceeds will be paid to PGM (i.e. 55% to PGM and 45% to EMRA).
In addition, under the Concession Agreement, certain tax exemptions have been granted, including the following: commencing on the date of commercial production, PGM will be entitled to a 15 year exemption from any taxes imposed by the Egyptian government; PGM, EMRA and the Operating Company are exempt from custom taxes and duties with respect to the importation of machinery, equipment and consumable items required for the purpose of exploration and mining activities at the Sukari Project; PGM, EMRA, the Operating Company and their respective buyers will be exempt from any duties or taxes on the export of gold and associated minerals produced from the Sukari Project; and PGM will at all times be free to transfer in US dollars or other freely convertible foreign currency any cash of PGM representing its share of net proceeds and recovery of costs, without any Egyptian government limitation, tax or duty.
While Centamin experienced a two-year delay on the project, related to permit issues with the Egyptian government, this was resolved and the government is now seen as supportive.
Centamin's operating experience in Egypt gives it a significant first-mover advantage in acquiring and developing other gold projects in the prospective Arabian-Nubian Shield.
The fact that Centamin is chaired by an Egyptian and that its CEO is his son also makes doing business with the locals that much easier.
As well as the start of output, Centamin is expected to benefit from a move up to the London Stock Exchange's main market and an increase in estimated resources at its deposit. The company is planning to move from the Alternative Investment Market, London's junior market, to the main market around the end of this year in a move that would lift the share price.
It is the objective of the Company, to continue to drill at the Sukari project, so as to increase the overall size of the geological resource, whilst at the same time, complete construction of the processing plant and ancillary infrastructure. At full production, three production fleets, each comprising a single excavator and sharing a maximum of 21 trucks, will be required. The proposed process route entails: crushing; stockpiling crushed ore; grinding; flotation of a (bulk sulphide) concentrate containing the precious metals; thickening of the concentrate; fine milling of the concentrate; leaching the precious metals from the concentrate in a dilute cyanide solution; and absorbing the precious metals onto activated carbon.
Underground mining is projected to commence in 2011 to produce an annualised total of 300,000 ounces of gold. The underground workings will target high grade ore of between 5g/t and 10g/t gold. Construction of the decline is set to commence during the first 12 months of open pit production and full scale underground capacity will follow 18 months later. Planned expansion in 2012 is targeting 500,000 ounces of gold annualised.