Shell Egypt N.V.
Company Profile and History
Shell's operations in the country started in 1911 with the exploitation of two concessions in Gemsa on the Mediterranean Sea and Hurghada on the Red Sea. Shell Company of Egypt was the largest marketing and distribution company in the country. In the upstream areas, the Anglo Egyptian Oil Fields Company (AEO) (50% Shell and 50% British Petroleum) was the major oil producer. Currently, Shell Egypt is carrying out an offshore drilling operation, in which the deepest ever deepwater wells, in both the Middle East and the Mediterranean, are being explored.
In the 1960s AEO and the Shell Company of Egypt were fully nationalized, and their areas of activities were taken over by three national companies: El Nasr Petroleum Company, Misr Petroleum Company and the General Petroleum Company (GPC). In 1974, Shell returned to Egypt's EP industry through a partnership with Deminix and BP. In 1979, Shell Egypt, (then called Shell Winning), returned to the Egyptian EP sphere acquiring two concessions (Badr El Din and Sitra), and resumed their exploration activities. Drilling started in the early eighties and led to the discovery of the Badr El Din and Sitra oil fields and to the establishment of the Badr El Din Petroleum Company (Bapetco). In early 2001, Shell entered the Egyptian gas distribution market, investing in two new local gas distribution companies (LDCs).
Currently Shell participates in three onshore and two offshore exploration concessions in
North East Mediterranean (NEMED) and the north-west Damietta region and have interests in four development leases in the Western Desert. New oil fields were discovered in 2008 in the eastern part of the NEAG lease and were quickly brought on-stream. Other discoveries were made at the Badr El Din lease. In 2008 it sold 10% interest in the North West Demiatta Extension concession.

6 Hassan El Sheriey St., Off El Nozha St. Heliopolis, Cairo; Tel: 02-22904111; Fax: 02-22901121
Shell Egypt's business spans upstream oil and gas exploration and downstream marketing services.
In the downstream, Shell Marketing Egypt (SME) delivers service and products through retail sites, commercial lubricants and bunkering operations. In 1999 the company embarked on a new gas distribution business taking shares in Natgas and forming Fayum gas, two companies transporting gas direct to industrial and domestic customers.
102,000 employees in more than 100 countries and territories. No details available on Egypt specifically.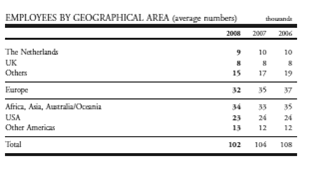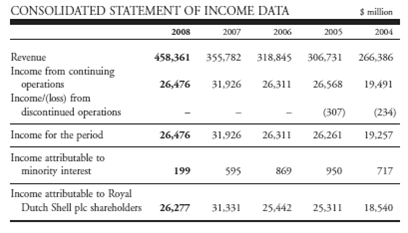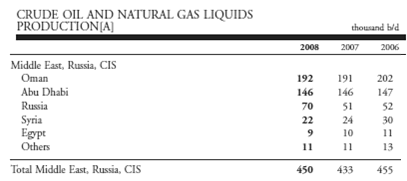 The petroleum sector is a key factor in the growth of Egypt's economy; accounting for 15% of GDP in 2007/2008. Oil and gas cover 94% of Egypt's primary energy requirements. In June 2008, Egypt's proven oil reserves were 4.2 billion barrels, representing 3.5% of Africa's oil proven reserves. Egyptian oil production in 2007 was 710 thousand barrels per day (tbpd).
Shell produces 100,000 barrels per day of oil equivalent in Egypt, all from its onshore concessions in the Western Desert. Shells market share is 14%.
"The objectives of the Shell group are to engage safely, responsibly, efficiently and profitably in oil, gas, oil products, chemicals and other selected businesses and to participate in the search for and development of other sources of energy to meet evolving customer needs and the world's growing demand for energy. We seek a high standard of performance, maintaining a strong long-term and growing position in the competitive environments in which we choose to operate."
The company's key strategy is "More Upstream, Profitable Downstream". The strategy seeks to reinforce its position as an industry leader, strengthens its existing assets and pursues growth via long-term investments, supported by strong capital discipline.
In its upstream businesses, the company focuses on developing major new projects where technology and know-how adds value to the resource holders. In its downstream businesses, the emphasis remains on sustained cash generation from existing assets and a continued shift in its portfolio to the faster-growing emerging markets in Asia.
Technology and innovation also continues to be at the core of its strategy and the company believes its technical expertise will be a deciding factor in the growth of business.
Due to the global recession, Shell has deferred some of projects, notably in unconventional oil. However, longer term the strategy remains: sustaining heartlands, i.e. core countries that have the available infrastructure, expertise and remaining growth potential for Shell to sustain strong operational performance and support continued investment; focusing on new oil and gas projects where technology, the ability to integrate along the value chains and scale are differentiators; building integrated gas opportunities; and continuing to unlock unconventional oil and gas resources.
For all of these themes, the company seeks portfolio opportunities that offer more potential through either increased oil price exposure, and/or through securing additional scope for recovery from appraisal or the application of new technology.
The company also continues to pursue an aggressive exploration programme and is adding more acreage in support of the strategy themes. The emphasis remains on drilling large exploration prospects, in selected basins, and targeting under-explored areas with significant potential. Shell also invest in organic growth, open up new positions and make selective acquisitions, divestments and asset swaps as a means to expand and further improve the quality of its asset portfolio.
Shell further looks to extend its leadership position in LNG, leveraging its presence across the natural gas value chain from exploration to production and markets, to maximise the value from integrated gas projects. Leveraging technology is central to its strategy and it continues to increase its investment in research and development (R&D) and the piloting of new technology, with an emphasis on the subsurface and unconventionals.
Shell Companies in Egypt (SENV and Shell Egypt Deepwater B.V) are wholly owned by the Royal Dutch/ Shell Group of Companies.
Egypt Shell holds an 18% interest in Natgas, a local gas distribution company in Egypt.
Concessions
Asset Name:North East Mediteranian Deep
Ownership:Shell Egypt NV (SENV)-82%、Petronas 18% (Previously SENV 75%、Exxon Mobil 25%
Operator:SENV
Asset Name: Matruh on/offshore Concession
Ownership: SENV 80%; Energy Africa 20%
Operator: SENV

Asset Name: North East Abu Gharadig
Ownership: SENV 52%; Apache 48%
Operator: Bapetco (JV of Shell)

Asset Name: Rosetta Development lease
Ownership: BG 40%; EDISON 20%; SENV 20.4%; SAAG 19.6%
Size: 113 km2
Operator: Rashpetco

Asset Name: Badr El Din
Ownership: 67% SAENV; 33% SAAG
Operator: Badr Petroleum Company (Bapetco)

Asset Name: Obaiyed
Ownership: 51% SENV; 49% Shell Austria A.G.
Operator: Bapetco

Asset Name: Northwest DEMIATTA
Ownership: SENV 61%; E.ON Ruhrgas 29%; GdF Suez 10%
Operator: SENV

Asset Name: SITRA DEVELOPMENT LEASE
Ownership: SENV 67%; SAAG 33%
Operator: Bapetco

Benefits Offered and Relations with Government
Egypt started reforms in 2000 to facilitate foreign investment in the oil sector. These include amongst others, 100% ownership of projects, the right to remit income earned in Egypt, to repatriate capital, a reduction in price controls and the opening of the distribution sector to private investment. Also, a new industrial energy policy was introduced in August 2007 for the gradual removal of energy subsidies over a 3-year period and the government agreed last year to pay more for gas supplied by foreign companies to the domestic market to attract investments in deep water areas. In January 2009, in order to promote investments in the sector, the Egyptian government decided to exclude oil refineries from the decision ending the tax exemption for the energy intensive industries working under the Free Zones law.
Oil and gas concessions are approved based on agreements set between the government of Egypt and the Egyptian General Petroleum Corporation (EGPC), and a foreign oil company. The Concession Agreement provides for the right of the Egyptian Government to requisition all or part of the production in cases of national emergencies, and the applicable procedures and rules in such cases, as well as in cases of breach of the Concession Agreement.
The EGPC was established by the Egyptian government in 1962 and has full responsibility for all sectors of the Egyptian petroleum industry and holds the sole right to import and export crude oil and other petroleum products. As a controller of the industry, any foreign investments in Egypt are maintained through a joint venture with the EGPC and are supervised by the government.
The Egyptian Natural Gas Holding Company (EGAS) manages foreign investment in exploration and the use of LNG (Liquefied Natural Gas) tankers, production and infrastructure. EGAS's chairman, Mahmoud Latif, was previously chairman of Shell Egypt (Badr El-Din).
Shell Egypt N.V. has a 50% interest in Bapetco with the EPGC. The company sells all its oil and gas output from Egypt to two state-owned companies, the Egyptian Natural Gas Holding Company and the Egyptian General Petroleum Corporation.
In 1988, Shell and EGPC signed the first Gas clause in Egypt, in 1996, EGPC and Shell signed a Gas Sales Agreement (GSA) for the Obaiyed fields and Shell signed a Concession Agreement with EGPC allowing the Fayum Gas Company, a Shell Gas B.V. subsidiary, to deliver natural gas to the Fayum Governorate in Egypt, on behalf of EGPC.
Shell Gas B.V. took an 18% stake in the National Gas Company, NATGAS, in January 2001. NATGAS, an Egyptian Joint Stock company, has been awarded a 20-year concession to study, finance, design, build, operate and manage natural gas transportation and distribution network.
In May 2009 Shell Egypt said it would start a drilling campaign in its offshore Northwest Damietta concession in the last quarter of the year and in June 2009 Shell announced that it wants to become an exporter of liquefied natural gas from Egypt using gas from offshore discoveries. Shell is considering, among other options, a floating liquefaction terminal for production of its LNG in Egypt. Shell will also invest $337 million (Dh1.2 billion) in Egypt's West Desert field in 2009-10.