Egypt Air
Company Profile and History
EgyptAir is Egypt's national airline. EgyptAir was founded as a private company in May 1932, becoming the seventh airline in the world. In 1933, EgyptAir's first flight departed from Cairo's Almaza Airport to Alexandria. The Egyptian Government took over the company during the Second World War and changed its name to MisrAirlines, however, it was soon returned to its status as an independent company.
In the 1960s, the company was merged with Syrian Airlines, forming a new company called United Arab Airlines. Although this merger lasted for only one year, the company kept the name until 1971, when it was renamed EgyptAir. In July 2002, EgyptAir was restructured into a holding company with seven subsidiaries. The subsidiaries are: EgyptAir Maintenance & Engineering Company, EgyptAir Ground Services Company, EgyptAir Cargo Company, EgyptAir In-flight Services Company, EgyptAir Tourism & Duty Free Shops Company, and EgyptAir Medical Services Company. Two more subsidiary companies were added at a later date - EgyptAir Supplementary Industries Company (launched in 2006) and EgyptAir Express (launched in June 2007).
EgyptAir is Africa's largest airline, and joined the Star Alliance on 11 July 2008. In 2004, EgyptAir became the first IOSA certified airline in Africa. In 2006, Skytrax, the UK-based airline consultancy service, rated EgyptAir as a "3 Star Quality Certified Airline".
On October 16, 2007 the Chief Executive Board of Star Alliance voted to accept EgyptAir as a future member. The airline had already forged commercial and cooperative agreements with several members of the Star Alliance by then, including Lufthansa, Singapore Airlines, Austrian Airlines, Thai Airways International, Swiss International Airlines, South African Airways, Turkish Airlines and bmi. Nine months after being invited as a future member (a record time by any airline joining an alliance), EgyptAir became the 21st member of Star Alliance.
As of September 2009, the EgyptAir Holding Company fleet (which includes EgyptAir Airlines, EgyptAir Express and EgyptAir Cargo) stood at 59 (+ 27 orders and 3 options). The EgyptAir fleet has an average age of 5.6 years and consists of the following aircraft (at September 2009): Airbus A320-200 (13); Airbus A321-200 (4); Boeing 737-500 (4); Boeing 737-800 (7); Boeing 777-200ER (9). EgyptAir Express: Embraer E-170 (12). EgyptAir Cargo Fleet: Airbus A300B4-203F (2); Airbus A300-600RF (2). Furthermore, EgyptAir wet leases additional aircraft to meet peak season passenger demand such as during the summer, during Ramadan and for special Hajj and Umrah operations.
EgyptAir has code-share agreements with the following airlines: Asiana (Star Alliance partner); Austrian Airlines (Star Alliance partner); bmi (Star Alliance partner); Gulf Air; Korean Air (ends 24 October 2009); Lufthansa (Star Alliance partner); Olympic Airlines; Royal Air Maroc; Saudi Arabian Airlines; Singapore Airlines (Star Alliance partner); South African Airways (Star Alliance partner); Swiss International Airlines (Star Alliance partner); TAP Portugal (Star Alliance partner); Thai Airways International (Star Alliance partner); Tunis Air; Turkish Airlines (Star Alliance partner); United Airlines (Star Alliance partner); Yemenia.
Cairo International Airport, Airport Road, Cairo, Egypt: Phone: +20-2-267-4700; Fax: +20-2-267-4555
The airline is based at Cairo International Airport, its main hub, operating scheduled passenger and freight services to more than 70 destinations in the Middle East, Europe, Africa, Asia, and the Americas. An extensive network of domestic services is also focused on Cairo, Egypt's capital. . A new department has been established for customer relations. EgyptAir Cargo provides specialized handling and transport of cargo worldwide. Almost all of these services are airport-to-airport and aimed at forwarders, brokers on other freight transport companies. It also supplies technical support to eight international airlines.
EgyptAir Holding Company had 20,734 employees of which 7,600 work in EgyptAir Airlines
The EgyptAir Holding Company has recorded substantial profits in past years, reaching US$170 million during the 2007/2008 financial year. It has assets of more than US$3.8 billion. For the fiscal year ending 31 July 2007, EgyptAir achieved a record total revenue of US$1,143 billion. Total group revenue grew by 14%, as compared with the previous year.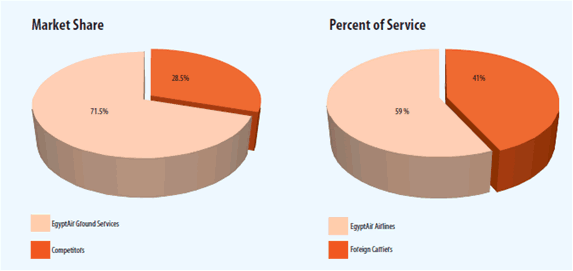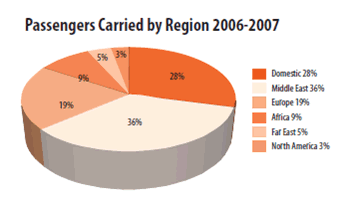 "Deliver competitive customer service with true Egyptian spirit and create value for our customers, employees, owners and stakeholders"
Since restructuring in 2002, the company has pursued a three-pronged strategy based on safety, customer orientation and effective competition. To realize this strategy the company focuses on building an integrated human, information and physical infrastructure to form a platform for future profitable growth. In addition assets and facilities are undergoing step-change expansion and improvement.
It has invested heavily in its information infrastructure and implemented the Amadeus reservation system, e-ticketing as well as many other automated systems in maintenance, cargo and other applications. Amadeus is the system integrator for EgyptAir's IT Modernisation Project, and through Altéa CMS, provides the airline with state-of-the-art solutions for inventory management, multi-channel sales and reservation, full electronic ticket management plus distribution and departure control services. Amadeus thus took an active role in the reengineering of the airline's business processes, as well as support other systems within the airline such as revenue accounting, frequent flier and revenue management.
To improve its competitive stance in its markets, one of its major strategic moves has been to actively pursue a variety of long-term alliances, including the relationship with Star Alliance and various code-sharing agreements as well as alliances with Lufthansa in the fields of cargo, maintenance and in-flight services. Star Alliance is the world's first and largest airline alliance. Codeshare flights between these airlines are, for the most part, seamless. The alliance developed the "regional" concept in 2004, which helps Star Alliance penetrate individual markets with the regional participation of smaller carriers. The alliance's market share is 28% of the global market based on revenue passenger kilometres (RPK).
Another strategic move has been the establishment of a new subsidiary to strengthen its position in short-haul domestic and regional markets. EgyptAir Express was launched in mid 2007 to provide competitive services to all domestic airports as well as selected regional destinations. The combined and integrated schedules of EgyptAir Airlines and Express aims to enhance customer service, improve Group revenues and increase overall efficiency.
In the next five years the company will focus on developing balanced trade flows; opening new markets; enhancing the competitive strength of EgyptAir Cargo; developing the network as an orchestrated combination of passenger belly and freighter operation through a hub; developing the profit and loss mentality regarding freighter network and market driven pricing; and developing revenue management and appropriate IT Systems.
EgyptAir is a wholly state-owned company with special legislation permitting the management to operate as if the company were privately owned without any interference from the government. The company is self-financing without any financial backing by the Egyptian government.
EgyptAir wholly owns EgyptAir Express and Air Sinai. The airline also has stakes in Air Cairo (60%) and Smart Aviation Company (20%).
Benefits Offered and Relations with Government
EgyptAir is presently under the control of a state-owned company, which operates independent of the state interference, by the virtue of a special legislation. In 2007 the government cancelled plans to sell 20 percent of EgyptAir following the airline's formal decision to join Star Alliance.
Mohamed Fahim Rayan, EgyptAir's former long-serving boss, in the late 1990's successfully managed to gather considerable parliamentary support for his policies aimed at keeping the company out of the privatisation programme. Rayan, who was severely criticised by business-connected deputies in the Shura Council for his anti-privatisation policies, emphasised that EgyptAir does not exercise a monopoly of the air travel market in Egypt.
Parliamentary committee's members argued that EgyptAir "should be the last state-run bastion" to be slated for privatisation. However, it was emphasised that EgyptAir should be injected with a new management team. As a result the company was restructured in 2002 to make it more profitable and efficient.
In 2007, EgyptAir entered into a partnership with the Egyptian Ministry of Civil Aviation and Egyptian Holding Company for Airports & Air Navigation, to launch a corporate airline 'Smart Aviation Company', with its base at Cairo Airport.
In 2009, EgyptAir's operations at its Cairo hub were overhauled due to the inauguration of the new Terminal 3 in April 2009. The airline transferred all its operations (international and domestic) to the new terminal that has more than doubled the airport's capacity. Under the Star Alliance "Move Under One Roof" concept at Cairo Airport, all Star Alliance member carriers serving Cairo, are in the process of moving to the new Terminal 3 (Singapore Airlines and Turkish Airlines are pending).
During the 2009 Paris Airshow, the airline announced a new venture with US lessor Aviation Capital Group (ACG) and other Egyptian private and public shareholders to establish a leasing joint venture focusing on the Middle East and Northern Africa region. The new joint venture- named Civil Aviation Finance and Operating Leases (CIAF-Leasing) will initially focus on narrow body aircraft. From late October 2009, the current Cairo - Mumbai - Kuala Lumpur flight will be delinked and each destination will receive dedicated flights.