HSBC Bank Egypt
Company Profile and History
With assets of US$2,547 billion at 30 June 2008, HSBC is one of the world's largest banking and financial services organisations. With listings on the London, Hong Kong, New York, Paris and Bermuda stock exchanges, shares in HSBC Holdings plc are held by over 210,000 shareholders in 120 countries and territories.
HSBC Holdings plc, the parent company of the HSBC Group, is headquartered in London. The Group serves customers worldwide from more than 9,500 offices in 85 countries and territories in Europe, the Asia-Pacific region, the Americas, the Middle East and Africa.
HSBC Bank Egypt was established in 1982 as Hong Kong Egyptian Bank. In January 1994, the Bank was renamed Egyptian British Bank under the same shareholding structure. The Bank was re-branded HSBC Bank Egypt in April 2001, following an increase in the HSBC Group's shareholding from 40% to over 90% of its issued share capital.
HSBC Bank Egypt is one of the largest multinational banks operating in Egypt providing a comprehensive range of banking and related financial services through a network of 70 Branches, 13 Units and 229 ATMs in Cairo, Helwan, 6th of October City, Giza, Alexandria, Sharm El Sheikh, Hurghada, Luxor, Marsa Matrouh, El Mansoura, Abo Redees, Port Said, Ismailia, Damietta, Tanta and Damnhour.
Euromoney magazine, in their prestigious Awards for Excellence 2004, voted HSBC 'Best Bank' in the Middle East as well as 'Best Debt House' in the Middle East for the second consecutive year. HSBC was also named 'Best at Risk Management' in the Middle East.
HSBC plans to make Egypt a regional banking hub.
Head office: Maadi Corniche Branch, 306 Corniche, El Nil, Maadi; Tel: +2 02 2529 4751; Fax: +2 02 2529 8080
HSBC provides a comprehensive range of financial services to more than 100 million customers through four customer groups and global businesses: Personal Financial Services (including consumer finance); Commercial Banking; Global Banking and Markets; and Private Banking.
HSBC Egypt offers a broad range of banking and financial services to meet a wide spectrum of needs, from those of multinational corporations to local businesses and individual Egyptians, including personal financial services, corporate, commercial banking, investment banking, treasury capital markets and project finance.
As part of the HSBC Financial Services (Middle East) regional investment-banking arm, HSBC Bank Egypt offers corporate finance advisory services to its clients through its Investment Banking division since December 2002. HSBC was one of the first banks to introduce custody and clearing services in Egypt in 1993 and is now the largest provider in the market. The HSBC Group's Treasury and Capital Markets business is also the largest in the Middle East and ranks among the largest in the world.
In 2008, total revenue of HSBC Group grew by 3.4 percent to US$81.7 billion. HSBC reported a pre-tax profit for 2008 of US$19.9 billion, a decline of 18 percent. On a reported basis, pre-tax profit was US$9.3 billion, down 62 percent.
Profit/ (loss) before tax by country within customer groups and global businesses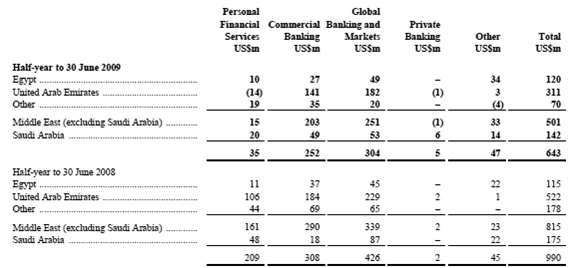 Loans and advances to customers (net) by country

Gross loans and advances to customers by country within Rest of Asia-Pacific, Middle East and Latin America

Middle East region key indicators 1H08 vs. 1H07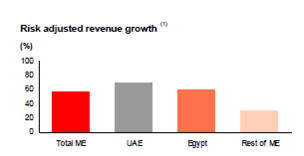 Egyptian banks hold a 71% market share while Arab banks account for 11% and foreign banks 18%. HSBC is the largest and most successful international bank in the region. The country's banking network is relatively dense and currently counts 53 banks: 27 commercial banks (of which three are State owned) with 1375 branches, 23 investment banks (including 12 foreign branch banks) and 3 specialised banks. The banking system (excluding the CBE) is dominated by the three state-owned commercial banks, the Misr Bank, the National Bank of Egypt (NBE), the Bank of Cairo, plus the recently privatised Bank of Alexandria.
Egypt is in the top 20 in the HBSC Group in terms of geographic profit contribution.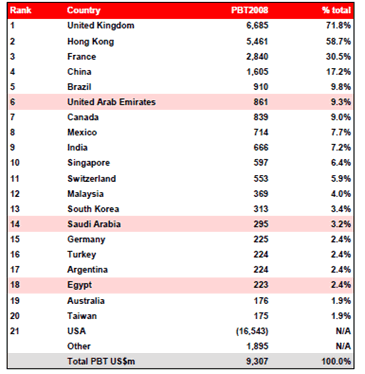 "Our strategy is aligned with global trends: growth in emerging markets and longevity"
HSBC describes its business model as follows:
"The Group's strategy is aligned with key trends which are shaping the global economy. In particular, HSBC recognises that, over the long term, developing markets are growing faster than the mature economies, world trade is expanding at a greater rate than gross domestic product and life expectancy is lengthening virtually everywhere. Against this backdrop, HSBC's strategy is focused on delivering superior growth and earnings over time by building on the Group's heritage and skills.
The combination of local knowledge and international breadth is supported by a substantial financial capability founded on balance sheet strength, largely attributable to the scale of the Group's retail deposit bases. HSBC is, therefore, continuing to invest primarily in the faster growing markets and, in the more developed markets, by focusing on businesses which have international connectivity. Central to these reshaping activities is a policy of maintaining HSBC's capital strength and strong liquidity position.
The Group has identified three main business models for its customer groups and global businesses that embody HSBC's areas of natural advantage: businesses with international customers for whom developing markets connectivity is crucial-Global Banking and Markets, Private Banking, the large business segment of Commercial Banking and the mass affluent segment of Personal Financial Services; businesses with local customers where efficiency can be enhanced through global scale-the small business segment of Commercial Banking and the mass market segment of Personal Financial Services; and products where global scale is possible through building efficiency, expertise and brand-global product platforms such as global transaction banking.
The means of executing the strategy, and further utilising the linkages within the Group, are clear: the HSBC brand and global networks will be leveraged to reach new customers and offer further services to existing clients; efficiency will be enhanced by taking full advantage of local, regional and global economies of scale, in particular by adopting a common systems architecture wherever possible; and objectives and incentives will be aligned to motivate and reward staff for being fully engaged in delivering the strategy."
Regarding Egypt HSBC stated:
"We are reshaping our business models to focus on the 'right to win'. The Strategy focuses on organic growth within an expanding demographic currently under-banked and building on connectivity and scale in our businesses which are tailored to each country in the region.
HSBC will continue to apply its growth and expansion strategies on the regional and domestic fronts despite the recent challenges facing global economies. Consequently, HSBC will continue to develop its branches and range of services in Egypt and the region. HSBC Group's current strategy focuses on organic growth, rather than acquisitions. On the business level, HSBC Egypt will expand its services to small and medium-sized enterprises (SMEs), which are an important segment to HSBC in general and a new segment to HSBC Egypt.
HSBC is very committed to emerging markets and we are expanding our presence in emerging markets across the globe. Egypt is offering tremendous opportunity as it has a young, fast-expanding population, government policy is freeing up with a direction to private industry, product development and foreign investment."
Principal subsidiaries of HSBC Holdings

Benefits Offered and Relations with Government
In June 1998, major amendments to the Banking Law which permitted private ownership in public banks were ratified by the Parliament. A new banking law (law n°88-2003 of 15 June 2003) has unified all Egyptian banking regulations. It was enacted in accordance with the international prudential standards of the Basle II agreements and contributes to strengthening the Egyptian banking structure by improving prudential ratios and governance rules. The new law y catalysed mergers and acquisitions given that it forced banks to meet new minimum capital requirements by July 2005. Moreover, the new law abolished the distinction between commercial, business, and specialised banks. Initial capital is now EGP 500 million minimum for a bank and the capital adequacy ratio is at least 10 percent. For foreign bank branches, the minimum capital requirement is US$ 50 million or equivalent in a convertible currency.
The Central Bank of Egypt (CBE) is responsible for supervision, control, and regulation of the banking sector and for issuing licences. Foreign banks can open representational offices in Egypt, with activity limited to market analysis and identification of investment possibilities.
HSBC France and HSBC Egypt closed a US$100mn reserve-based lending (RBL) financing facility for PICO Amal Petroleum Corporation in Egypt in 2008. HSBC has underwritten the total amount of the facility. The deal is the first RBL facility to be provided to an independent oil company in Egypt, and will fund PICO Petroleum's exploration and production operations in its Amal oil and gas concession in the Gulf of Suez. The facility provides a borrowing base model which means that the borrower is entitled to draw down funds for financing the project, subject to the satisfaction of borrowing base model cover ratios.
IN 2009, Visa, the world's leading payment brand, awarded a Certificate for Operational Excellence to HSBC Bank Egypt for achieving the highest approval rate in Egypt for transactions processed through VisaNet in 2008.