Banro Corporation (Banro)
Company Profile and History
Banro is a Canadian-based gold exploration and development company with four wholly-owned properties, each with mining licenses, along a major gold belt of the DRC. The Company is beginning construction of a "phase one" gold plant, capable of processing 1.3 million tonnes of ore per year, at its flagship Twangiza project. Twangiza which will be the first world-class, commercial gold mining operation ever in the history of the DRC will be completed in 2011. Banro's landholding in the DRC is 5,251 km2, of which less than 5% has been explored.

Banro's properties are covered by a total of 13 exploitation permits and are found along the 210 kilometres-long Twangiza-Namoya gold belt. The Company also holds 14 exploration permits covering an aggregate of 2,710.91 square kilometers-10 of the permits are located in the Company's Twangiza property and four are located in the Company's Namoya property.

Banro was founded in 1996 and purchased its interests in the DRC through a 72% interest in SOMINKI (with the Government of Zaire at the time owning the remaining 28% stake). A US$9m exploration programme was subsequently conducted in 1997. The Company's assets were temporarily expropriated by the Government during the civil war in 1998. In 2002 an official settlement agreement was reached with the DRC Government and Banro resumed operations.

The Company's Exploitation Permits cover all the major, historical producing areas of Twangiza, Lugushwa, Namoya and Kamituga where approximately 2.4 million ounces of gold were reportedly produced in the past from alluvial and hard rock sources.

The Twangiza gold deposit was discovered by Miniere des Grande Lac (MGL) in the 1950s. In the mid-1970s, Charter Consolidated undertook detailed exploration, including the excavation of numerous close-spaced adits into the mineralized zone. In 1996, Banro acquired control of the Twangiza Property. The Company's exploration and development goal in 2009 is to continue expansion of the oxide and transitional resources.

Gold was first reported in the Kamituga region during the early 1920s with the discovery of alluvial gold in the Luliaba, Mobale, Kahushimira, Kamakundu and Idoka rivers. Commercial alluvial mining commenced in 1924. Exploration during the 1930s also led to the discovery of numerous high grade quartz veins with hard rock mining commencing in 1937 at the Mobale underground operation. During the period of active mining at Kamituga, 29 gold nuggets weighing over 1 kg each were found in alluvial gravels. At the closure of the Kamituga operations in 1996, approximately 1.5 million ounces of gold had been produced from alluvial and hard rock mining. "Desktop" analysis of the project's mineral potential is currently underway with initial exploration planned for 2009/10.

Alluvial gold was first discovered at Lugushwa in the 1920s, although mining of these deposits does not appear to have begun until 1958. Limited exploration for primary gold deposits began in 1963 and led to the discovery of several deposits, including the Mapale G7, Simali, and 'Filon de Luxe,' deposits and the D18-19 and G20-21 Lugushwa deposits, plus some smaller zones. No significant open pit mining for primary gold mineralization has ever been conducted at Lugushwa. Between 1958 and 1996, at least 457,000 ounces of gold were produced from alluvial sources, with a further 10,000 ounces of gold being produced from primary sources. Banro continued its program of infill drilling in 2008, as well as surface exploration to identify new targets for exploration. This high-potential project is targeted for accelerated exploration in 2009-2010.

Alluvial deposits of gold were first discovered at Namoya in 1930 and mined between 1931 and 1947. Primary gold was also discovered during this period and underground mining commenced on the Filon 'B' deposit in 1947. Further discoveries of primary gold mineralization were made at Mwendamboko, Kakula and Muviringu, where selective mining was carried out. Mining ceased in 1961.Total historical production at Namoya has been estimated at 278,000 ounces of gold. The Namoya heap leach project is advancing toward the development stage with a Preliminary Assessment having been completed in July 2007 and a Pre-Feasibility Study scheduled for completion in 2009.

Banro is well-financed, with a market capitalization of US$159 Million (as of July 7, 2009) and ready to begin construction of Twangiza, having completed a Cdn$100 million financing in June 2009.
33 Boulevard du 30 Juin Suite 602/603, Kinshasa, Gombe, DRC;
Telephone: +243 812 686 096
Telefax: +243 812 616 096

Villa Kakoma, No. 26 Avenue Kahuzi Beiga, Bukavu, Sud Kivu, DRC;
Telephone: +243 810 393 534

Kamituga is located 100 kilometres southwest of Bukavu and consists of three PEs covering an area of 649 square kilometres. It is the most mature of Banro's four properties, having previously been the site of major alluvial and underground mining operations.
The three Lugushwa PEs, covering an area of 641 square kilometres, are located approximately 150 kilometres southwest of the town of Bukavu.
The Namoya property lies at the southern end of the Twangiza-Namoya gold belt in Maniema province, approximately 225 kilometres southwest of Bukavu and consists of one PE covering an area of 174 square kilometres.
The property is located 45 kilometres south-southwest of Bukavu in South Kivu Province and consists of six Exploitation Permits covering 1,164 square kilometres.
The Company has not generated revenues from operations The Company has to date identified 6.72 million ounces of Measured and Indicated Resources, plus Inferred Resources of 4.46 million ounces and total gold resources of more than 11 million ounces and growing.

The Twangiza feasibility study, completed in January 2009 and updated in June 2009, indicates average production of 312,979 ounces of gold per annum for the first 3 years of operation at average total operating cash costs of US$261 per ounce; and total gold production of 3,533,488 ounces over 20.86 years life of mine, based on current resources, at average total operating cash costs of US$459 per ounce.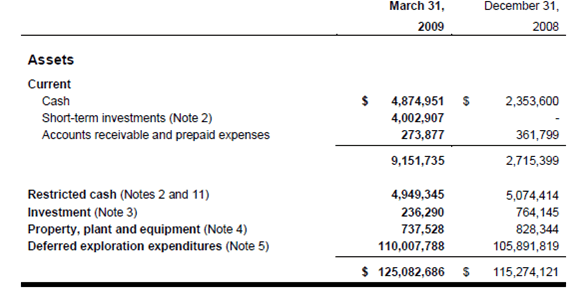 Property
Measured
Indicated
Inferred
Tons
Aug/t
Oz gold
Tons
Au g/t
Oz gold
Tons
Au g/t
Oz gold
Twangiza
17,200,000
2.40
1,320,000
93,300,000
1.50
4,280,000
8,200,000
1.70
400,000
Kamituga
 
 
7,260,000
3.9
915,000
Lugushwa
 
 
37,000,000
2.3
2,735,000
Namoya
4,680,000
2.5
376,100
12,769,000
1.8
748,300
8,462,000
1.5
407,700
TOTAL
1,696,100
5,028,300
4,457,700
At 1g/t Au cutoff for Kamituga and Lugushwa; 0.5 g/t Au grade for Twangiza; 0.4 g/t Au for Namoya
| Company | Concession size |
| --- | --- |
| Banro | 5,251 km² |
| Moto | 1,841 km² |
| Mwana Africa | 3,000 km² |
| AngloGold Ashanti | 10,000 km² |
| Goldfields | 18,220 km² |
"To unlock shareholder value by increasing and developing the Company's significant gold assets in a socially and environmentally responsible manner"

Banro has developed a new near term strategy. Given current market conditions the Company is focused on positioning itself for the development of Twangiza, ahead of Namoya and Lugushwa. To do this Banro is seeking a Strategic Partner to participate in funding of the Twangiza Project development.

Meanwhile the company continues with resource development and adding additional oxide ounces for further growth at Twangiza, to further strengthen and bolster the economics of the Feasibility Study.

According to banro there is potential for a staged transaction, with ongoing funding on a percentage earn in basis, rather than the full upfront capital injection for the additional exploration expenditure at Twangiza and for the Twangiza Project development. A similar formula could be followed for additional exploration expenditure, on the other projects as well as for the regional exploration funding, on a percentage earn in basis (monthly, quarterly or per year)

The rationale is growth through partnership. A Strategic Partner will help facilitate delivery of an "Optimized/Improved" Feasibility Study with a larger ounce profile for Twangiza and will convert Banro into producer status, allowing for a higher market rating.

The company owns 100% of its projects with no parastatal participation

Benefits Offered and Relations with Government
In August 2009 Banro announced that the government has ratified, with minor modification, the Fiscal Agreement reached between the government and the Company in February 2009. The Company has agreed to enhance its existing commitment to the DRC and the local communities of South Kivu and the Maniema provinces through: an advance payment of US$2 million to the DRC government to be made when the Company completes the equity and debt financing process for construction of the Twangiza project. These funds will also be used to support social infrastructure development in the Twangiza and Luhwindja communities and will be credited against future taxes; a pledge of US$200,000 to settle legacy issues with SOMINKI SARL and the transfer to the central government of certain real estate assets redundant to the Company's operations; 4% of future net profits, after return of capital, allocated through the central government to the communities of South Kivu and Maniema provinces for the building of infrastructure projects, including roads and bridges, schools and health care facilities; a 10 year tax holiday from the start of production; return 35 tin concessions and related mining operations, including substantial infrastructure; and a royalty of 1% on gold revenues.

Banro has established a registered charity known as the Banro Foundation. Projects undertaken in 2008 included the construction of two new high schools, a water delivery system serving 18,000 villagers and a health clinic, as well as the rehabilitation of over 100 km of roads. In addition, the Foundation has provided support for HIV/AIDS testing and organised the shipment of medical equipment from Canada to seven regional hospitals.
In August 2009 Banro entered into an agreement to purchase a refurbished gold processing plant capable of achieving a throughput capacity of 1.3 million tonnes per annum. This acquisition supports the Company's strategy of advancing production through a staged approach which will focus initially on the processing of oxide material at Twangiza. The refurbished plant comprises a crushing plant, two ball mills, carbon-in-pulp (CIP) section, gold room and a laboratory. The Company's consultants, SENET Engineering, estimate the total cost of purchasing and delivering the plant to Twangiza to be less than US$15 million, which represents significant savings in time and cost to Banro. SENET Engineering has been selected as the overall project manager and will also manage the erection and commissioning of the plant.

In June 2009 Banro closed the issuance and sale of 43,479,000 common shares of the Company at a price of CAD2.30 per share for aggregate gross proceeds of CAD100, 001,700 (USD86.6 million). The Offering was conducted through a syndicate of underwriters co-led by GMP Securities L.P. and CIBC World Markets Inc. Under the terms of the underwriting agreement, the Company has granted the Underwriters an over-allotment option to purchase up to an additional 6,521,000 common shares of the Company at a price of CDN$2.30 per share up to 30 days from the closing of the Offering. This means the company is now able to begin construction of its Twangiza project.