Banco EspÍRito Santo Angola (BESA)
Company Profile and History
Espírito Santo Financial Group (ESFG) is a fully integrated financial services holding company. It has a leading position in the banking and insurance markets in Portugal and, through its principal banking subsidiary Banco Espírito Santo Group ("BES Group") as well as other banking operations in Switzerland, France and the UAE, has a broad geographic reach. ESFG's international presence aims to support Portuguese firms and individuals abroad by covering the countries with cultural affinities with Portugal.
The components of BES Group are principally Banco Espírito Santo ("BES"), the second largest publically quoted commercial bank in Portugal, and the largest publically quoted Portuguese bank by market capitalisation. It and its subsidiaries, namely BES Investment, a major Iberian investment bank, operate in Portugal, Spain, Angola and Brazil and ESAF-Espírito Santo Activos Financeiros, a major fund management company. In aggregate BES Group is estimated to have held an average market share of 20.7% in Portugal in December 2008.
Internationally BES Group is present in Angola, Brazil, Cape Verde Islands, China, Spain and the USA through small operational subsidiaries.
ESFG was established in Luxembourg in 1984, though its predecessor company was established in 1975. However the history of the Espírito Santo Financial Group begins in 1884, when a bank, which later was to become Banco Espírito Santo ("BES"), was established in Lisbon by José Maria Espírito Santo. In 1935, an insurance company, which was later to become Companhia de Seguros Tranquilidade ("Tranquilidade"), was added to the group.
By 1975 BES, Tranquilidade, as well as all other Portuguese banks and insurance companies were nationalized, an event which forced the Espírito Santo Group to seek and develop business outside of Portugal, using the purposely established ESFG as a platform. Such initial businesses were located in Brazil, France, Switzerland and the United States.
BESA opened for business on January 24th, 2002, in the city of Luanda. It is the most recent private bank in Angola, offering an attractive range of innovating products and services which from the start deserved the interest of a considerable number of customers, among them some of the largest companies in the country.
Rua do Primeiro Congresso do MPLA, 27, CP 6459, Luanda; T. 244 222 693 600 | F. 244 222 693 689
BESA launched the first private banking specialized service in Angola. In offers: specialised customer service; financial advisory services; cash management services for companies (public and private sector); structuring and management of financial products; savings products; cross-border services through ESFG; and real time monitoring of international financial and capital markets.
BES Angola Financial Performance: Balance Sheet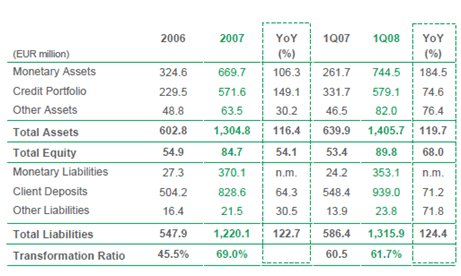 BES Angola Financial Performance: P&L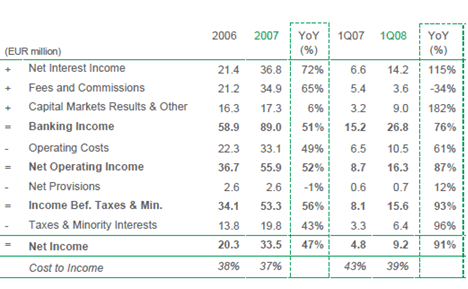 BESA is the third largest Angolan private bank.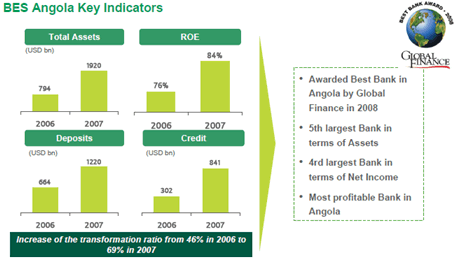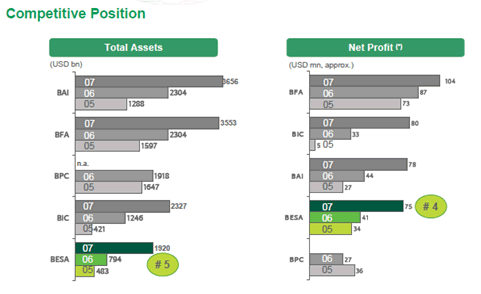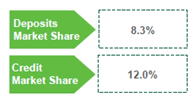 "Maintain the leadership in profitability in the Angolan banking system, leveraging on the expected evolution of the Angolan Economy and financial system to become a multi-specialist financial Group and expand the branch network to the entire national territory."
Strategic steps towards sustained growth in Angola
Organisational Commercial Innovation; expansion of the branch network-26 branches currently to 50 branches in 2010; implementation of a new information system (FlexCube), which allows the Bank to face strong growth and a more competitive market; development of a new global risk division; dedicated corporate centres; Training-qualified human resources are scarce, and the demand for high skills in the market is growing; launch of the first Asset Management company in Angola-BESACTIF; network improvement: new offices for corporate and private clients; new services, such as internet banking; Fully dedicated team to Private Banking segment; and further investment banking business opportunities, namely brokerage and Investment Banking.
BESA's activity relies on the provision of a global, efficient and high quality service to its individual and corporate Clients aimed at achieving mutual added value. In retail banking, BESA already operates through a network of 25 branches and sub-branches distributed through 6 provinces, while mainly focusing its activity on private and affluent banking. The corporate banking business mainly acts in this market by (i) enhancing commercial partnerships with medium sized companies operating in Angola, namely financing their investment projects, supporting their cash needs, or providing them technical and legal support, and (ii) supporting Portuguese companies and entrepreneurs that are expanding their activity to Angola. At the same time, BESA also has an important role in supporting exports to Angola, for which it is backed up by a specialised team.
BESA's area of investment banking has also been expanding in Luanda, tracking business opportunities and participating in the execution of project and corporate finance operations. In particular, the Bank co-led the structuring, arrangement and placement of the largest public debt issue carried out in Angola.
BESA has been able to finance its geographical expansion exclusively through its own financial resources.
Banco Espírito Santo – 99.96%
BESA – 0.04%
Individual shareholders
BESA holds an equity interest in Empresa Interbancária de Serviços (EMIS), the company that has implemented the automatic payment and ATM system in Angola. The Central Bank has a majority stake (51%) in EMIS the remaining shares being distributed among the banks operating in Angola.
Benefits Offered and Relations with Government
The Angolan financial system is regulated by the Ministry of Finance, but is supervised by the state-owned central bank (Banco Nacional de Angola (BNA), whose objective it is to ensure stability of the financial sector. In this respect, BNA has been continuing its efforts to introduce new prudential regulations following from Basel I and II. The Angolan financial system has evolved rapidly from when BNA handled all commercial transactions, effectively working as the nation's commercial bank. There are now almost 20 banks providing the full range of banking services.
All banking institutions maintain deposits in the central bank, in the form of reserve requirements. Reserve requirements are extended to demand deposits in local and foreign currency in the banking institutions operating in Angola's financial system. The current requirement is 15 percent of the weekly average balance of demand deposits in local and foreign currency collected in domestic currency. Banks may maintain up to 7.5 percent of reserve requirements in Central Bank Bills or Treasury Bills with maturity up to 63 days.
In 2007 the Angolan authorities, through the Central Bank of Angola (BNA), tried to sterilise the circulation of the national currency, absorbing liquidity in Kwanza (AOA). To this end, the NBA (i) changed twice the regime of minimum obligatory reserves, (ii) increased the return on central bank securities (TBCs), and (iii) in May 2007 raised the value of the AOA by 6% against the USD, thus interrupting the cycle of great stability between the two currencies that had lasted for about one year and a half. The year-on-year monthly inflation rate is thus thought to have slightly declined in 2007. The changes introduced to the regime of minimum obligatory reserves had a strongly negative impact on the treasuries of commercial banks and consequently on their rentability.
In January 2008 BESA obtained an authorisation to set up one of the first investment firms in the country.
World Finance magazine has awarded "Best Bank in Angola - 2009" to BESA. According to the magazine, BESA was chosen due to its activity in the Angolan market, marked by the quality of the products and solutions provided to its clients, and by the constant innovation of its financial structure, thus enabling the institution to offer high quality services. The magazine, based in London, United Kingdom, is one of the most highly-respected magazines in the financial world.
BESA was also once again recognized for the quality of its services with the Best Foreign Exchange Bank in Angola 2009, by Global Finance magazine. The selection criteria were placed on the volume of transactions, market share, customer service, competitive prices and new technologies. Global Finance is the most prestigious publishing world specializing in economics and finance.
BESA is also Planet Earth Bank for 2009, an accolade awarded by the Development of Planet Earth International Committee, at the United Nations Educational, Scientific and Cultural Organization (UNESCO).