Unitel Sa
Company Profile and History
UNITEL SA was created by public deed on 30 December 1998. The company launched its GSM services in April 2001 and now covers all 18 provinces of the country and more than 100 municipalities. Since 2001, when it began operations, UNITEL has extended its range of services, and it now includes 3G with GPRS, EDGE, UMTS and GSM.
Rua Marechal Broz Tito 77/79, Ingombotas, Luanda, Angola
Phone: 244 923 199100
Fax: 244 222 371739

Providing mobile voice and data telecommunication services in Angola
Unitel's revenues and EBITDA, in 1H09, increased by 38.3% and 51.8% y.o.y, to US$ 744 million and US$ 488 million, respectively, underpinned by strong and steady customer growth in Luanda as well as in other main districts of the country. In 1H09, Unitel's MOU increased by 1.4% y.o.y to102 minutes and ARPU totalled US$ 24.7, an increase of 2.8% over the same period of last year.
Unitel's revenues and EBITDA, in 2008, increased by 42.5% and 43.6% y.o.y, to US$ 1,269 million and US$ 770 million, respectively. In 2008, Unitel's MOU decreased by 8.8% y.o.y to 108 minutes and ARPU totalled US$ 26.5, a decrease of 3.9% over the same period of last year, as a result of the strong growth in the customer base.
Statistics from Portugal Telecom Annual report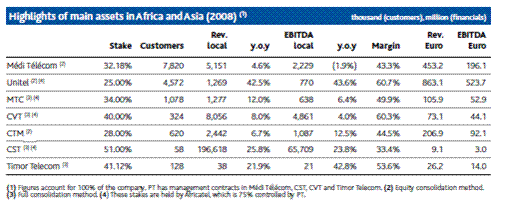 A summarized financial data of the main associated companies as at 31 December 2008 and for the year then ended is presented below:

Unitel, with over 60 percent of the market, increased its number of subscribers to 5 million in May 2009 from 4, 5 million last year.
Unitel intends to expand its mobile service to 150 districts in 2009, taking the total coverage to 90%. Its mobile network now covers 138 of Angola's 168 municipalities and it expects to reach all of them by 2012.
To maintain its position as market leader and to improve the quality and increase the capacity of the existing network
Providing innovative products and services, ensure quality in service delivery, attract and retain customers. The company designed a network evolution program to further improve its network quality and extend national radio coverage in the country.
The company is owned by Portugal Telecom, Angolan state-owned oil company Sonangol and local firms Geni and Vidatel, each hold 25 percent of Unitel.
Benefits Offered and Relations with Government
In 2009 the government approved Unitel's increased capital spending of around US$1.7 billion over the next four years, upgrading its infrastructure and expanding the mobile network. President José Eduardo dos Santos' daughter, Isabel dos Santos has a stake in Unitel through Geni.
The Angolan Institute of Communications (INACOM) the national regulator was established in 1999 as an independent institution under the Ministry of Telecommunications. In addition to regulating and monitoring telecommunications, it is responsible for the allocation, management and taxation of bandwidth. Inacom offers 15-year renewable licences, with the government deciding on the number of licences available. A concessionary licence was granted to Unitel, whereas sealed bids were used for fixed-line operators. Taxes on telecommunications include a 5 per cent tax on communications revenues and a 20- 25 per cent sales tax on handsets
In 2009 Ericsson and Unitel signed a contract for network performance consulting and continued expansion of Unitel's GSM/WCDMA network over the coming three years. The contract includes a comprehensive network performance partnership agreement, to strengthen Unitel's network quality. Under the agreement, Ericsson consultants will perform network improvement and optimization services for the core, radio and transmission networks.
Also in 2009 Comverse announced that Unitel SA has launched its Voice HUB, a single platform for all voice applications that introduces services and new revenue opportunities. The Comverse Voice HUB makes the most of voice traffic with a single-platform approach that views each call in totality, with revenue opportunities at three key points: the pre-call, call, and post-call periods.
In December 2008, Unitel initiated the Multimedia Messaging Service (MMS), allowing its customers to send and receive messages with images, photographs, sounds, videos and longer texts.
In 2008 Alcatel-Lucent was selected by Unitel to expand and enhance its wireless network with GSM/EDGE radio equipment. Under the agreement, Alcatel-Lucent supplied its field ATCA-based Base Station Controllers (BSC) Evolution. Additionally, Alcatel-Lucent supplied its Twin TRX radio transceiver, which doubles base station capacity to support the requirements of urban environments and enables wider coverage in rural environments.