BNP Paribas
Company Profile and History
BNP Paribas is a European leader in banking and financial services and one of the six strongest banks in the world according to Standard & Poor's. The Group has one of the largest international banking networks and a presence in over 85 countries. It is the largest French company, 5th in the banking industry worldwide, 1st in the Euro Zone ('Global 2000 Forbes' 2008), Global Bank of the Year 2008 (The Banker magazine), 7th most valuable international banking brand (Brand Finance February 2009) and ranks 8th among the world's safest banks (Global Finance - February 2009).

BNP Paribas was created on 23 May 2000 through the merger of Banque Nationale de Paris (BNP) and Paribas. Originally the Compagnie Financière de Paris et des Pays-Bas (Finance Corporation of Paris and the Netherlands) and the Compagnie Financière de Paribas became simply Paribas in 1998 after acquiring the Compagnie Bancaire.

The Banque Nationale pour le Commerce et l'Industrie (BNCI-created in 1932) and Comptoir National d'Escompte de la Ville de Paris (CNEP-created in 1948) were merged in 1966 to form BNP. BNP was privatised in 1993.

In the early 1820s Louis-Raphaël Bischoffsheim founded a private banking establishment in Amsterdam, while his brother Jonathan Raphaël created a branch in Antwerp in 1827 before settling in Brussels in 1836. Having married the daughter of Frankfurt banker Hayum-Salomon Goldschmidt, Louis-Raphaël Bischoffsheim established the Bischoffsheim-Goldschmidt bank in Paris in 1846, then in London in 1860. In 1863 he merged it with the Banque de Crédit et de Dépôt des Pays-Bas, which he had founded in Amsterdam alongside other European financiers. At the same time, in 1869 a group of bankers and investors including Adrien Delahante, Edmond Joubert and Henri Cernuschi founded the Banque de Paris, with its headquarters near the Opera at 3 rue d'Antin.

The Banque de Paris et des Pays-Bas was created in 1872 as part of the consolidation trend in the banking industry which began in the middle of the 19th century. The new financial institution was formed through the merger of Banque de Paris and Banque de Crédit et de Dépôt des Pays-Bas.

In 1982, France passed a legislation that called for the nationalization of five large industrial companies, thirty-nine registered banks, and two financial companies: Suez and Paribas. At the same time the bank adopted the new name of Compagnie Financière de Paribas, Banque Paribas. The bank was owned by the state during the four years that followed. In 1987, Michel François-Poncet, named Chairman and Chief Executive in 1986, was successful in achieving the privatization of the bank through legislation passed on July 2, 1986.

A new group, with the shortened name of Paribas, was formally created on May 12, 1998 when the Annual Shareholders' Meeting approved the merger of Compagnie Financière de Paribas with Banque Paribas and Compagnie Bancaire, as well as with Compagnie de Navigation Mixte.

In 2009, 77.65 percent of shares voted in favour of BNP's purchase of a 75 percent stake in Fortis Bank, the Belgian banking business now in state hands. This confirms the deal for BNP Paribas to take a majority stake in Fortis Bank to make it the eurozone's largest deposit holder through its positions in Belgium and Luxembourg.

It opened its subsidiary, Algeria BNP Paribas El Djazair, in 2002.

8 Rue de Cirta, Bir Mourad Rais, 16405 Hydra, Algiers 16035
Telephone: +213 (0) 21 60 39 42
Telefax: +213 (0) 21 60 39 29
BNP Paribas has built up three major complementary areas of activity: Retail Banking; Corporate &Investment Banking (CIB); and Asset Management & Services (AMS).

BNP Paribas Retail Banking includes all the Group's retail banks (6,000 branches, including 4,000 outside France) and the core businesses specialised in loans to individual customers and equipment financing for companies. CIB is one of the Group's growth drivers and operates in advisory and capital markets (Corporate Finance, Equities and Fixed Income) as well as in financing businesses (Specialised and Structured Finance). It focuses on three particular sectors: Derivatives; Equity Capital Markets and Debt Capital Markets and acquisition, export, project, infrastructure and commodity finance.

Investment Solutions comprises 6 complementary businesses (Private banking, Asset management, online savings & trading, Securities services, Real estate services and Insurance). With a presence in nearly 60 countries, Investment Solutions businesses have made international development a cornerstone of future growth and client services.

El Djazaïr offers banking, consumer credit and insurance services and personal loans.



The company employed 173,188 people as from the end of 2008. In Algeria it has 300 employees.
In Q2 2009 the company generated a net profit (group share) of 1,604 million euros, up 6.6% compared to the second quarter 2008 and up 3.0% compared to the first quarter 2009.

The consolidated Group posted revenues of 9,993 million euros, up 32.9% compared to the second quarter 2008. The rise in operating expenses, limited to 19.9%, yielded gross operating income of 4,175 million euros, up 56.7% compared to the second quarter 2008. Despite the significant rise in the cost of risk, the decline in operating income was limited to 8.6% and pre-tax income, which totalled 2,170 million euros, was up 4.6% compared to the second quarter 2008.

In the first half of 2009, the Group's revenues were 19,470 million euros (up 30.6% compared to the first half of 2008), and the net income group share came to 3,162 million euros (down 9.3% compared to the first half of 2008), or a half year net earnings per ordinary share of 2.9 euros. The annualised return on equity was 11.8% compared to 15.8% in the first half of 2008.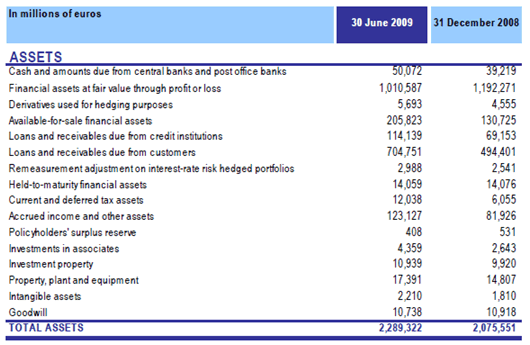 Source: African Competitiveness Report 2009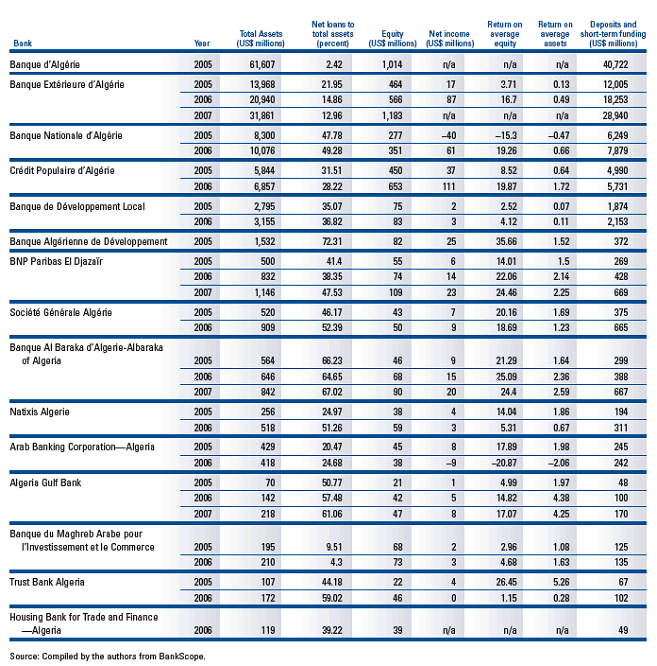 Source: Compiled bu the authours from BankScope.
El Djazaïr has a network of 49 branches spread over 14 wilayas (provinces). The goal is to have 100 branches by 2010-2011.
To be at the leading edge of innovation and to consolidate on the leading position forged by BNP Paribas.
BNP Paribas has a diversified customer-driven business model and its main strength lies in its customer franchises. The model is strongly weighted to retail banking. In all its businesses, customer service, risk control, capital and liquidity management and cost discipline remain key priorities.

Retail banking will in 2009 continue to roll out its plan to create an umbrella organisation for all the retail banking businesses in order to speed up their development, adapt its organisation to the new environment, tailor its product offering to new client needs, reduce its exposure to risk and rationalise its operations. Investment Solutions (the new name for AMS) will pursue its integrated strategy with a focus on providing integrated solutions for its clients and seeking productivity gains

The company's cost management discipline for 2009 is based on the following: adapt the cost base to the 2009 environment; adapt the US platform and operations in emerging countries; reduce the cost base (excluding variable compensation) by 5% on a full year basis; very selective acquisitions; substantial reduction of exposure to volatility and dividends; substantial decrease in corporate bond portfolio and therefore exposure to basis risk; and reducing risk-weighted assets.
BNP Paribas El Djazaïr is a company limited by shares, with registered capital of 2,000,000,000 dinars. 100% of the shares are owned by the BNP Paribas Group.
Benefits Offered and Relations with Government
In 2006 the Credit and Monetary Council (CMC) of the Bank of Algeria announced new conditions for establishing financial institutions and banks, as well as subsidiaries of foreign banks and financial institutions in Algeria. "The move aims at enabling the emergence of a banking system to meet the needs of the Algerian economy", the bank's statement said.

Banks and financial institutions, established as a joint stock company under Algerian law, must have, upon establishment, capital paid up in full and in cash at least equal to: ten billion dinars (DA 10.000.000.000) for banks; and three billion five hundred million dinars (3,500,000,000 DA) for financial institutions.

Banks and financial institutions whose headquarters are abroad are required to assign to their branches, authorized by the CMC to carry out banking operations in Algeria, an allocation of not less than the minimum capital required for the establishment of banks and financial institutions under Algerian law in the same category, for which the branch was authorized.

This allocation must be released under the same conditions as those provided for the establishment of banks and financial institutions under Algerian law. Banks and financial institutions in operation have a period of twelve (12) months from the date of promulgation of the Regulation, to comply with the requirements. The law also prohibits banks from financing their subsidiaries.

The Council also authorised Popular Credit of Algeria (CPA) and BNP Paribas Al Djazaïr to raise their capitals to 29.3 billion dinars and 3.5 billion dinars, respectively. According to the statement, raising of capital "testifies to the continuous improvement of the situation of the banks" in the country. BNP Paribas El Djazaïr increased its capital with a further one billion dinars in 2008, fully underwritten by BNP Paribas SA.

In another development legal action has been taken against BNP Paribas El Djazair for administrative errors in processing international trade financing applications in which the Algerian authorities did not incur any damages. BNP Paribas El Djazair has been accused of non-compliance with foreign exchange regulations in seven cases before Algerian courts. BNP Paribas El Djazair was ordered by a lower court to pay fines of approximately EUR 200 million. Three of these cases were subsequently overturned on appeal, including the case involving the most significant amount (EUR 150 million). Two other appeals rulings have upheld fines totalling EUR 50 million.
In 2008 BNP Paribas El Djazair introduced a supplementary health coverage plan. All employees can subscribe to a mutual insurance plan that offers good benefits and competitive rates. A pioneer in this respect in Algeria, the bank pays 75% of the premiums, with the remaining 25% shared between the social welfare scheme and the employee in proportion to the employee's income. This plan also covers employees' spouses and children.

In 2008 BNP Paribas opened 13 branches and 22 ATMs for BNP Paribas El Djazaïr in Algeria. In 2008 BNP Paribas also announced the launch of Ace Manager, the first banking adventure game based on real-life scenarios in 26 countries including Algeria. This initiative, aimed at business school and university students, is part of the group's strategy for boosting brand awareness of BNP Paribas as one of the leading employers of students all over the world, and increasing the group's appeal towards the young.

In 2006 El Djazaïr "merged" its activities with another BNP Paribas subsidiary, Cetelem, which provides consumer credit to maximize the turnover of the bank in Algeria.