Anadarko Petroleum Corporation
Company Profile and History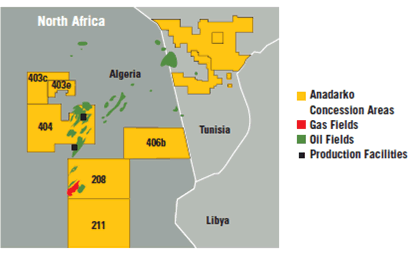 Anadarko Petroleum Corporation (NYSE: APC) is one of the world's largest independent oil and gas exploration and production companies. Anadarko had 2.28 billion barrels of oil equivalent (BBOE) of proved reserves at year-end 2008 and production of 206 million BBOE as of December 31, 2008.

The company's portfolio of assets encompasses premier positions in 10 major United States (US) onshore natural gas resource plays. The company also is the largest independent deepwater producer in the Gulf of Mexico, and has production and/or exploration in Alaska, Algeria, Brazil, China, Indonesia, Mozambique and West Africa.

Anadarko was a subsidiary of Panhandle Eastern Corporation (1928-1993). Panhandle which has since been acquired by Southern Union Company, was formed in 1959 after the discovery of large amounts of natural gas in the Anadarko Basin (the basin comprises the Texas and Oklahoma panhandles, and southwest Kansas), thus the company's name. Anadarko spun off from Panhandle Eastern as an independent corporation in 1986.

At the end of 2008, about 9% of the Company's proved reserves were located in Algeria where a total of nine fields discovered by the Company were on production. During 2008, Anadarko participated in 11 development wells with an 82% success rate.

Anadarko Algeria is part of Anadarko Petroleum's International/Frontier division, which also oversees exploration and production activities in Brazil, China, Indonesia, and Sub-Saharan Africa.
Anadarko Algeria Company

4 Chemin des Glycines, Hydra, Algiers, Algeria
Telephone: +213-2-69-13-98
Telefax: +213-2-23-06-30

Anadarko develops, acquires and explores for oil and natural gas resources. In Algeria, on Block 404, production from the HBNS field and its associated satellite fields averaged 139 MBbls/d of oil (gross) in 2008. Production from the HBN field, which extends from Block 404 into Block 403, averaged 64 MBbls/d of oil (gross) in 2008. Anadarko is also actively involved in the unitized Ourhoud field, which is located in portions of Block 404, Block 406a and Block 405. Production from this field averaged 230 MBbls/d of oil (gross) in 2008.

Anadarko has an interest in several fields further south on Block 208 where development is expected to occur during the first half of 2009 and initial production is expected to occur in late 2011.

Oil from Algeria is sold by tanker as Saharan Blend to customers primarily in the Mediterranean area. Saharan Blend is a high quality crude that provides refiners large quantities of premium products such as jet and diesel fuel.

The Company also purchases natural gas, crude oil, condensate and NGLs volumes for resale primarily from partners and producers near Anadarko's production. The Company does not engage in market-making practices nor does it trade in any non-energy-related commodities.

The Company also engages in sales of greenhouse gas emission reduction credits (ERCs) derived from CO2 injection operations in Wyoming.

As of December 31, 2008, the Company had approximately 4,300 employees; approximately 350 in Algeria.
Anadarko Petroleum Corp. had revenues for the full year 2008 of US$13.3 billion. This was 18.2% above the prior year's results. In 2008, net sales volumes from the Company's properties in Algeria represented 10% of the Company's total sales volumes.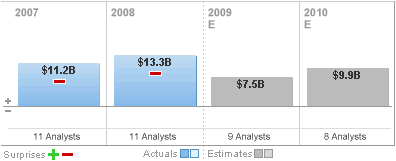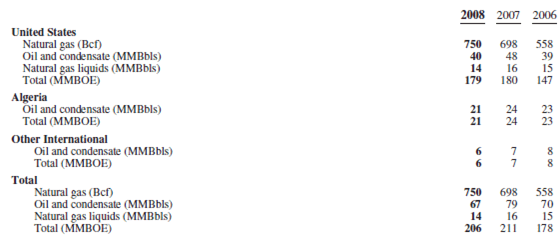 Sales Prices and Production Costs


Sales revenues by geographic area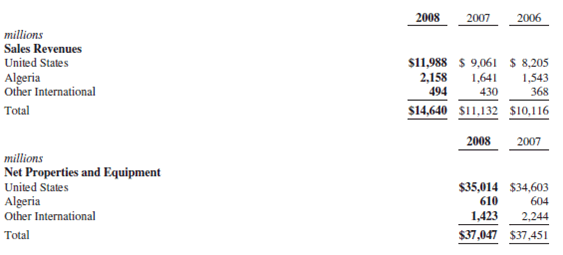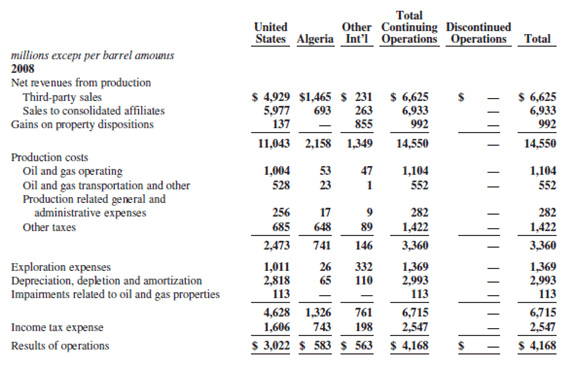 Anadarko is the largest foreign oil producer in Algeria with total production capacity of more than 500,000 bbl/d, from its operation at the combined Hassi Berkine South and Ourhound fields in eastern Algeria. As of the fourth quarter of 2008, Anadarko had gross oil production of 422,000 bbl/d from the project. Estimated market share of 84% in 2008.
Identify and commercialize resources  
Explore in high-potential, proven basins  
Employ global business development approach  
Ensure financial discipline and flexibility  
In 2005 Anadarko re-defined its operating and financial strategy and realigned its asset portfolio to maximize its competitive returns on capital and growth.

To achieve this, the company increased its capital focus upon areas where Anadarko has performed exceptionally well in the past, i.e. the identification and development of unconventional resources, to high-potential exploration, and to a more global utilization of its skill sets.

As part of the strategy, the company then aligned the assets to ensure that it could best pursue this corporate commitment. Assets that fit the new strategy were retained, and those that didn't were sold or swapped. Retained projects were then categorized as either Foundation or Growth Platform Assets.

The Foundation Assets are primarily comprised of lower-risk properties, with multiple years of already captured drilling potential. The four primary unconventional plays in this area are tight gas, coalbed methane, fractured reservoirs and enhanced oil recovery. These areas, combined with historical, conventional resource plays, act as both growth vehicles and as funding sources for other Growth Platforms.

Solidly established platforms include the Deepwater (currently in the Gulf of Mexico, but with other geographic opportunities in active pursuit) and North Africa (primarily Algeria, but also Tunisia and Libya). Other International projects include the Middle East (specifically Qatar), Venezuela and a newly acquired shallow-water exploration block in Indonesia. Each of these areas is being considered as a potential future Growth Platform.

Additionally, the company launched an effort to commercialize infrastructure-constrained energy resources, beginning with the acquisition of a liquefied natural gas (LNG) receiving terminal project in Nova Scotia to leverage into a full-value-chain natural gas development and marketing venture.

The refocused strategy anticipates reinvesting mid-cycle-level cash flows, using the balance sheet to maintain drilling activity during the cycle's lows and directing excess cash during the cycle's highs to buy back shares, reduce net debt and pursue other strategic options.

With the new strategy the company moved away from the riskier business model that was much more exploration centric, to grow production and replace reserves. Management also de-levered the company from a peak of about 69% debt to cap to around 30% debt to cap number at the end of 2008.

Anadarko's interest in the Production Sharing Agreement (PSA) for Blocks 404 and 208 is 50% before participation at the exploitation stage by Sonatrach, the national oil and Gas Company of Algeria. The Company has two partners, Maersk Olie Algeriet and ENI Oil Algeria each with a 25% interest, also prior to participation by Sonatrach.

Benefits Offered and Relations with Government
Anadarko's operations in Algeria have been governed by the PSA since October 1989. In March 2006, Anadarko received from Sonatrach a letter purporting to give notice under the PSA that enactment of a law in 2005 (2005 Law) relating to hydrocarbons triggered Sonatrach's right under the PSA to renegotiate the PSA in order to re-establish the equilibrium of Anadarko's and Sonatrach's interests.

Anadarko and Sonatrach reached an impasse over whether Sonatrach had a right to renegotiate the PSA based on the 2005 Law and entered into a formal non-binding conciliation process under the terms of the PSA in an attempt to resolve this dispute.

The conciliation on the 2005 Law dispute was concluded in 2007 without a definitive resolution. There have been no further developments on the 2005 Law dispute. As of 1st Q 2009, Anadarko is unable to reasonably estimate the economic impact under the PSA if Sonatrach were to succeed in modifying the PSA.

In July 2006, the Algerian parliament approved legislation establishing an exceptional profits tax on foreign companies' Algerian oil production. In December 2006, implementing regulations regarding this legislation were issued. These regulations provide for an exceptional profits tax imposed on gross production at rates of taxation ranging from 5% to 50% based on average daily production volumes for each calendar month in which the price of Brent crude averages over $30 per barrel, retroactively effective to August 2006 production.

At December 31, 2008, Anadarko had 83 MMBbls of PUDs in Algeria, the economics of which are sensitive to the exceptional profits tax. Anadarko is continuing to evaluate the impact of the exceptional profits tax on the economic viability of its future projects in Algeria, as well as its legal remedies with regard to the exceptional profits tax.

In response to the Algerian government's imposition of the exceptional profits tax, the Company has notified Sonatrach of its disagreement with the collection of the exceptional profits tax. The Conciliation Board issued its non-binding recommendation on November 26, 2008, which the Company received on December 1, 2008. On February 15, 2009, the Company initiated arbitration against Sonatrach with regard to the exceptional profits tax. In conformance with the terms of the PSA, a notice of arbitration was submitted to Sonatrach.
Under the terms of the PSA, oil reserves that are discovered, developed and produced are shared by Sonatrach, Anadarko and its two partners.

Sonatrach is responsible for 51% of the development and production costs. Anadarko and its partners have completed the exploration program on Blocks 404 and 208 and now participate only in development activity on these blocks. Anadarko and its joint-venture partners funded Sonatrach's share of exploration costs and are entitled to recover these exploration costs from production during the development phase.

During 2009, the Company expects to drill about 10 development wells, exclusive of water and gas injection wells, in Algeria. Anadarko is developing seven new oil and natural gas fields in Block 208 of the Berkine Basin; with output projected to reach 150,000 bbl/d of crude oil and condensate.

In Algeria, an Anadarko drilling superintendent devised an innovative conservation tool that reduces fresh water usage 40% at desert facilities by re-circulating surplus water that would otherwise be pumped into evaporation pits. Named after its creator, the "Mosley Recirculation Manifold" has been installed at water supply wells drilled by the Anadarko/Sonatrach partnership in the Berkine Basin.