Omnium Nord Africain (ONA)
Company Profile and History
ONA is the first private-equity industrial and financial group in Morocco and is a publicly listed company on the Casablanca and Paris stock markets. Approximately 5% of the Casablanca Stock Exchange is represented by the Group's market capitalisation.

It has its origins in the Compagnie Générale de Transport et de Tourisme (CGTT) which was established in 1919 and became ONA in 1934. In the beginning of the 1980's, the Group diversified its activities through equity investments in various business segments, mainly dairy products (Centrale Laitière, Pingouin), sugar (Cosumar), oil & fats (Unigral Cristal, Sepo), banking (Société de Banque et de Crédit), marine transit, chemical products and textile.

ONA pursued its development in these traditional business segments through: equity investment in Lesieur Afrique; acquisition of Sugar mills by Cosumar; acquisition of a 40 percent stake in Banque Commerciale du Maroc; equity investment in Compagnie Africaine d'Assurances; acquisition of an industrial fishing fleet and equity investments in the canned fish industry; and development of mining activities. In the early 90's, ONA entered into cutting-edge domains such as communications, multimedia, modern retail distribution and real-estate.

The Group has also signed several strategic agreements: strategic partnership with SEMAFO, a Canadian company specialized in mining; strengthening of the partnership with DANONE for the acquisition of BIMO and LEADERFOOD companies; and a partnership with AUCHAN for the development of modern retail distribution in Morocco (hyper and supermarkets).


60, Rue d'Alger, Casablanca, Maroc;
Telephone: +212 (0)5 22 22 41 02 / 22 43 21 00
Telefax: +212 (0)5 22 29 93 18

ONA operates in 5 strategic business areas: retailing; financial services; agribusiness; and mining. Growth drivers, include telecoms, real estate, energy, environment and information technologies.

Managem , a public listed company produces and sells cobalt, base metals and metal derivatives. It has specialized service companies in exploration, research, development and engineering.

Created in 2002, Mercure.com is an IT holding company. In 2005, Mercure.com concluded a strategic partnership agreement with Bearing Point Group, a world leader in management consulting. Mercure.com also holds a participation of 34% in Involys, a company specializing in the production of software. Created in 1992, Netcom Technology , a subsidiary of Mercure.com, specializes in systems and corporate networks. Created in May 2004, Accolade, another subsidiary of Mercure.com, is a call centre servicing customers of large (mainly European) companies operating in various sectors such as tourism, the Internet and telephony.

Founded in 1995, Archos Conseil operates mainly in two market segments: information systems management consulting and software applications.

Onapar represents the real estate holding company of the Group. The company aims at realizing tourism-oriented large scale real estate projects and participating in development projects of industrial areas.

CMB Plastique operates in the segment of plastic packaging for the liquid food industry.

Cosumar , a PLC created in 1929, is involved in sugar production, import, transformation, branding and distribution.

Bimo is a market leader in the biscuit industry in Morocco. Bimo has 40 trademarks under 5 different brands.

Created in 1940, Centrale Laitière is a group of companies specializing in the Milk and dairy products industry. Centrale Laitière is owned by ONA Group since 1981 in partnership with Danone Group.

Sotherma (Société du Thermalisme Marocain) markets natural still water since 1968. In 2002, Sotherma signed a partnership agreement with Danone Group and extended its product range by selling a new brand; Danone Aïn Saïss.

The first Moroccan Agro-Industrial company, Lesieur Cristal works in two sectors; the triturating of oleaginous seeds, and refining of oils. During 2005, the company diversified its activities in the field of bleaches and products of hygiene and domestic maintenance and is prominent in the field of animal feeds.

Marona operates in deep sea fishing and specializes in selling a wide variety of fish mainly cephalopods. Japan is considered their main export market (mainly for octopus), while the Spanish and Italian (for white fish).

Sopriam is the exclusive distributor of the Peugeot and Citroën car brands, and a market leader in the "new" cars segment in Morocco.

Marjane is a hypermarket chain with 14 stores in Casablanca, Rabat, Marrakech, Tangier, Fès, Agadir, Tétouan and Meknes.

Created in 2002 in partnership with Auchan, Acima introduced the "supermarket proximity" concept into districts of large cities, which was extended to small and average sized cities.

Optorg and its subsidiaries distribute goods and services in Morocco (through Tractafric Maroc) and in Sub-saharian Africa. Business activities are divided into two main segments: Tractafric Equipement-materials for public works, forest, mining-Caterpillar, Hyster, Manitou, and Perkins; and Tratafric Motors-Trucks, private vehicles-Mercedes Benz, Chrysler, Jeep, Mitsubishi, Hyundai, Mazda and Michelin.

ONA is present in the banking sector through Attijariwafa Bank. Attijariwafa Bank concentrates the majority of its activities in Morocco, but has representative offices in various European countries.

Agma Lahlou Tazi is involved in the insurance business and is an official partner of Marsh, a world leader in risk management consulting and insurance brokerage.

Wana (previously Maroc Connect) is involved in the ICT sector.

Established in January 2005, Nareva specializes in energy, environment and utilities.

More than 32000 employees, amongst others: Mercure.com: 454 people; Onapar: 103 people; CMB Plastique: 56 people; Cosumar: 2 571 people; Bimo: 1341 people; Centrale Laitière: 2 453 people; Sotherma: 314 people; Lesieur Cristal: 1 314 people; Sopriam: 364 people; Marona: 526 people; Marjane: 5 134 people; Acima: 1 238 people; Optorg: 1 273 people; Attijariwafa Bank: 8 196 people; Agma Lahlou Tazi: 162 people; Wana: 574 people; Nareva: 21 people
2008 Revenues: MAD36,635 million. Share capital: MAD1,746,245,000

Managem 2007 turnover: MAD 2 208,8m; Operating profit: MAD 172,5m; Mercure.com 2007 turnover: MAD 112m; Onapar: 2007 turnover: MAD 511m; CMB Plastique 2007 turnover: MAD 184,7m;Cosumar 2007 turnover: MAD 5,462,6m; Bimo 2007 turnover: MAD 537,6m; Centrale Laitière 2007 turnover: MAD 4 483,6 m; Sotherma 2007 turnover: MAD 192,1m; Lesieur Cristal 2007 turnover: MAD 3 694 m; Marona 2007 turnover: MAD 303,7m; Sopriam 2007 turnover: MAD 2 587,2 m; Marjane 2007 turnover: MAD 6 338,1 m; Acima 2007 turnover: MAD 1 804,7 m; Optorg 2007 turnover: 427,1 M€; Attijariwafa Bank: Net banking product-MAD 8 793,1 m; Agma Lahlou Tazi 2007 turnover: MAD 109,56 m; Wana 2007 turnover: MAD 791,2 m; Nareva 2007 turnover: MAD 3,8 m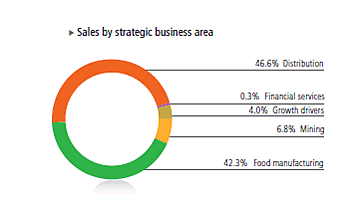 ONA is Morocco's largest private-equity group. Managem is the largest Moroccan integrated mining operator; Cosumar the leader in sugar production, import, transformation, branding and distribution; Bimo Market share: 41.7%; Centrale Laitière Market share (milk) : 58.8 %; Lesieur Cristal Market share: Edible Oil: 4%, Olive oil: 16%, Oil cakes : 45%, Soap: 87%, Cleaning products : 28%; Sopriam, Market share: 18.1%; Agma Lahlou Tazi Market share: 7.8%; Attijariwafa Bank, ranked second after Banques Populaires Group; Agma Lahlou Tazi, is the market leader in insurance in Morocco.

"To become not only a major domestic but also regional economic force"

"Our aim is to reach a balance between delivering growth and improving profitability whilst pursuing our social and economic ambitions."

After years of strong development and diversification, the Group started making strategic changes between 1995 and 1997 by refocusing its business activities. The group's objective was to capitalize on competitive advantages and foster growth. ONA emphasizes productivity, quality and innovation whilst making every effort to mobilise both financial and high-calibre human resources to be able to satisfy demand and seize opportunities. The Group's investment strategy is based on the principle of majority ownership whilst retaining management control. A hands-on management approach underpins this strategy aimed at developing a stable portfolio over the long-term. The Group aims to generate sustainable growth over the long-term from its traditional businesses (food manufacturing and mining), services sectors (distribution and financial services), as well as from new activities with strong growth potential (growth drivers).

ONA Holding bases its model on the following: maximise each subsidiary's return on invested capital and ensure the profitable growth of the Group's various activities; ensure an optimal allocation of capital, whilst taking into consideration the overall risk-reward profile; validate the strategy and monitor the performance and risks of its subsidiaries; encourage synergies between subsidiaries; provide support and expertise to its subsidiaries (legal, tax-related, financial communications, etc).

ONA's "Synergies" and "Risk Management" projects are vitally important for the Group's development. Both these functions have a common objective, that of value-creation. The Synergies programme endeavours to match resources to skills whilst the Risk Management programme is aimed at improving risk control and decision-making.

The Synergies programme, which was launched in 2005 by the Development and Synergies division, has resulted in a corporate culture founded on best practice. Other projects have been launched aimed at generating sustainable cost savings and exploring new areas for potential synergies.

Risk management, for which the holding company's General Control division is responsible, is one of the key functions of the Group. The aim is to progressively put in place a global risk management system for all the Group's subsidiaries. This system identifies and manages risks, improves decision-making processes and allocation of resources and provides support for implementing corporate strategy. The Risk Management system manages both risks relating to the external environment (external factors that may affect the viability of a subsidiary's business model), risks relating to the business model itself (operational, HR, organisational, ethical and IT-related risks) and risks relating to the accuracy and relevance of information as the basis for taking strategic and operational decisions.

Holding Companies: Mercure.Com, 100.0% owned by ONA Group; Archos, 100.0% owned by ONA Group since 2003; Netcom, 100.0% owned by ONA Group since 2001; Accolade,100.0% owned by ONA Group; Onapar, 100.0% owned by ONA Group

Managem Owned 78.18% by ONA Group; Cosumar, 55.5% owned by ONA Group; Bimo, 50.0% owned by ONA Group; Centrale Laitiere, 51% owned by ONA Group; Sotherma, 30% owned by ONA Group; CMB Plastique, 56.1% owned by ONA Group; Lesieur Cristal, 56.1% owned by ONA Group; Marona, 98.73% owned by ONA Group; Sopriam, 91.0% owned by ONA Group; Marjane, 100% owned by ONA Group; Acima, 100% owned by ONA Group; Optorg, 100.0% owned by ONA Group; Attijariwafa Bank,29.6% owned by ONA Group; Agma Lahlou Tazi, 49.0% owned by ONA Group; Wana, 51.0% owned byONA Group; Nareva, 100.0% owned by ONA Group

Benefits Offered and Relations with Government
The company is controlled by the Moroccan royal family, and it enjoys preferential treatment, privileges and sometimes even state-protected monopoly in many vital economic sectors of the country.

Emaar Properties, the largest real estate developer in the world in terms of market capitalisation and ONA Group entered into a joint venture to create large scale residential and golfing development projects throughout Morocco. The first project is Amelkis II-a luxury residential golfing complex in Marrakech.