Global Value Chains: Quo Vadis?
July 5, 2013, (Friday)
National Graduate Institute for Policy Studies (GRIPS) Soukairou Hall

>>>>Event Guide/Program
Organizers: IDE-JETRO, WTO
Richard Baldwin
Professor of International Economics,
The Graduate Institute of International and Development Studies, Geneva
The contemplation of 21st-century globalization with 20th-century intellectual frameworks is leading governments to make all sorts of policy mistakes. It's thus time to rethink. Globalization has conventionally been believed to develop through a "single process" in which trade costs are reduced, national borders are opened, and economies are gradually integrated and grow together. However, this is a mistake. In fact, globalization consists of two processes, not one.

Global value chains (GVCs) are changing. In GVCs in the 1970s and 1980s, the value-added in the pre-manufacturing stage, the value-added in the processing and fabrication process, and the value-added in the post-manufacturing stage were evenly distributed. In recent years, however, most of the value-added concentrate on the service industry in the pre- and post-manufacturing stages. What caused this change in GVCs was the fact that know-how can cross national borders, and this can be revolutionary. Know-how is not "nation-specific" but "firm-specific." The biggest change is that such know-how can now move across borders.

The development of globalization has been constrained by three requisite conditions: 1) cheap transport systems, 2) the coordination of different production processes, and 3) face-to-face communication. As the barrier in 1) was significantly lowered with the invention of the steam engine, industrial clusters were formed in each region. Then, the development of ICT (information and communication technology) helped reduce the barrier in 2) and made it technically possible to separate the production process into several processes at low cost. Technology that had been used only in advanced countries flowed across borders, and as a result, the growth of the share of G7 countries in the global GDP took a downward turn in the mid-1980s, while the output of other regions sharply increased.

In terms of policy, these changes were different in that the consequences of 1) were controlled with the gradual reduction of tariffs, while those of the ICT revolution in 2) are uncontrollable and less predictable. GATT is a system that was established at the time when the world was simpler. Today, in order to deal with the much more complex global economy, it is necessary to reorganize trade disciplines and change the form of trade governance. What is needed for the new governance is to connect production bases in order to expedite communication, transport services, and business, and to reconsider the existence of state-owned enterprises from the perspective of property rights, freedom from labor exploitation, and competition policies. Changes in GVCs also require changes in development policy. It is an important point for developing countries to recognize that "industrialization" has a less significant meaning.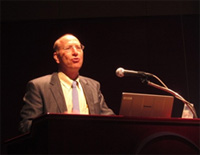 Richard Baldwin
Professor of International Economics,
The Graduate Institute of International
and Development Studies, Geneva