COP23 Session co-organized by IDE-JETRO and Nagoya University
"What You Eat Matters: Climate Change, Food Security, and Public Health"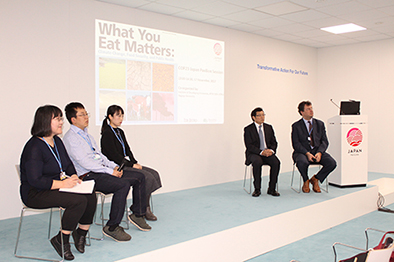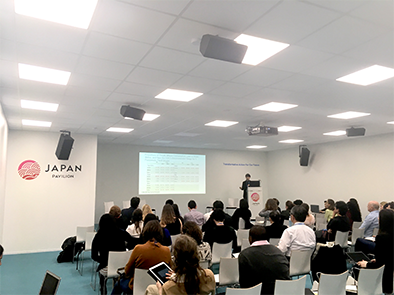 Date and Time
November 17, 2017. (Friday) 13:00-14:30
Venue
COP23 Japan Pavilion, Bonn Zone
Programme
Introduction:

Prof. Yukari Takamura Professor, Applied Social System Institute of Asia (ASSIA) / Graduate School of Environmental Studies of Nagoya University, Japan

Presentations:
"Climate Change, Food Security and Public Health"
Prof. Jinjun Xue, Professor, Applied Social System Institute of Asia (ASSIA) / Graduate School of Economics of Nagoya University, Japan
Dr. Zhu Liu, Research Associate, Harvard University; Lecture/Assistant Professor, University of East Anglia; Associate Professor, Nagoya University, USA
Dr. Nicola Cantore, Industrial Development Officer, United Nations Industrial Development Organization (UNIDO)
"Climate change and agri-food industry: a global view" (732KB)
Dr. Lei Lei, Research Fellow, Institute of Developing Economies, Japan External Trade Organization (IDE-JETRO), Japan
"The Impact of Dietary Patterns on Environmental Sustainability- the Case of China" (557KB)

Q&A
Session Summary
The session provided an overview of the global interaction between climate change, public health, and agriculture production with a specific case study at the end. Analysis data and figures were shown to illustrate the general trend of climate change globally, how much climate change negatively affects public health, and how daily consumption affects climate change in the first presentation by prof. Xue and Dr. Liu.
The second presentation by Dr. Cantore elaborated on the impact of climate change on agricultural production especially agri-food industry thorough data supports, from prospective including productivity, supply and demand, migration, and so on. Challenges and prospects of organic agri-food industry were also presented.
The last presentation by Dr. Lei demonstrated the impact of agriculture on climate change and public health through food consumption with a case of China. The case provided a new prospect to study the climate change issue. With the problems being identified in all the presentations, heated discussion was carried out among the panelists and audiences (experts from related fields) within the theoretical framework of development and international trade. Suggestions and potential solutions were provided such as adopting organic farming, shortening supply chain, identifying leading stakeholders for further governance.
Session Report: COP23 Japan Pavilion Official Website
http://copjapan.env.go.jp/cop23/event/nov17/02.html
Session report by Dr. Nicola Cantore, Industrial Development Officer, UNIDO (speaker)
https://www.unido.org/news/what-you-eat-matters-climate-change-food-security-and-public-health
Languages
English