"Meeting Standards, Winning Markets" – Opportunities and Challenges to East Asian Agri-food Trade towards Regional and Global Markets
September 19, 2013 (Thursday)
Japan External Trade Organization (JETRO), 5th Floor, Ark Mori Building

>>Event Guide/Program
Since 2012 in cooperation with the United Nations Industrial Development Organization (UNIDO), the Institute of Developing Economies, Japan External Trade Organization (IDE-JETRO) has analyzed the data on agri-food import rejections provided by the food safety regulatory authorities of developed countries. Based on these data, IDE-JETRO has examined the issues related to the regulatory compliance capacities of developing countries in Asia when they export agricultural and food products. The results of the studies will be published by UNIDO and IDE-JETRO in October as a report, titled Asian Trade Standards Compliance Report (ATSCR) 2013. This international symposium was held to disseminate the results prior to the publication of the report.

As trade of agricultural and food products are becoming more globalized and as countries set stricter food safety standards to ensure the safety of imported agricultural and food products, a large number of import rejections have been recorded in agricultural and food products exported from developing countries. In developing countries, agriculture and food processing are important industries in terms of creating employment opportunities, and the promotion of agricultural and food product exports is an important policy and development goal. Therefore, it is essential for developing countries to reduce rejections and to improve confidence in their products within the importing markets so as to ensure stable export of food products. In addition, violations and the resulting quarantine rejection will lead to substantial costs for firms involved in the trade of agricultural and food products. Thus, reducing this risk is important for both exporters and importers.

For importing countries, procuring safe food products from abroad is a key issue as well. The fact that Japan largely depends on imported food from foreign countries implies that securing food safety is impossible without appropriate management by suppliers involved in agri-food supply chains, which will inevitably include those in developing countries.

This symposium presented the challenges from the perspective of diverse stakeholders, including regulatory authorities on food safety, exporters in developing countries, importers, and international organizations. The symposium discussed the changes taking place in the organization of supply chains through private efforts for compliance with regulations and standards, bottlenecks in supply chains, and possible policy levers, based on the analysis of data from Asia gathered by a research team from IDE-JETRO and through detailed case study analyses conducted in Vietnam and China.

In Session 1, Mr. Steffen Kaeser from UNIDO presented the background and overall design of the global version of the Trade Standards Compliance Report (TSCR), followed by Mr. Kaoru Nabeshima from IDE-JETRO, who introduced the contents of the East Asian version of the Trade Standards Compliance Report (ATSCR) and discussed its policy implications relevant to East Asian countries. Mr. Masanori Imagawa from the Ministry of Health, Labour and Welfare (MHLW) summarized the importance of the food safety standards for Japan and the systems to ensure food safety, from the viewpoint of Japan's food safety regulatory authorities.

In the panel discussion in Session 2, a representative of fishery industry association in a developing country and then a Japanese supplier importing food products from developing countries addressed the current situation, issues, and efforts to overcome food safety issues from their own perspectives. This was followed by examinations of the supply chains in Vietnam (cultured shrimps and pangasius) and in China (frozen vegetables), which were the subjects of the ATSCR case studies. The case studies analyzed each step involved in the production of these products, identify the weakest link in the supply chain, and discussed potential policy options to improve overall food safety of these products.
Address 1 "UNIDO's Trade Standards Compliance Activities An Overview"
Steffen Kaeser
Unit Chief,
Quality, Standards and Conformity Unit, UNIDO

Spencer Henson
Professional Fellow, Globalisation Team,
Institute of Development Studies, University of Sussex
As a specialized agency of the United Nations, the United Nations Industrial Development Organization (UNIDO), focuses on poverty reduction through industrial development, analyzes issues related to energy and environment, as well as provides capacity-building programs in general and in particular to improve trade standard compliance aimed at developing countries. While there are currently a wide variety of trade-related challenges facing developing countries, one of the concerns is their inability to fully comply with the safety and quality standards on agricultural and food products set by the importing markets. Their concern is that this will hamper their ability to continue exporting these products to advanced countries, which is a first necessary step for development.

As an approach to promote global trade participation in agriculture and food products, UNIDO emphasizes the following: improving the productivity and capacities of producers, upgrading the capacity of governments regarding conformity assessment as an essential infrastructure for compliance with food safety and quality standards in importing countries, export promotion activities based on these efforts, and the promotion of trade facilitation by streamlining customs clearance procedures. Meanwhile, it was deemed indispensable to analyze the bottlenecks in these challenges to support developing countries effectively.

In order to deepen the understandings in this issue, UNIDO obtained individual data on import rejections provided by the regulatory authorities of four countries: EU Directorate General for Health and Consumer Protection (EU DG Sanco); U.S. Food and Drug Administration (US FDA); Japan's MHLW; and the Australian Quarantine and Inspection Service (AQIS), and analyzed the data in cooperation with the Institute of Development Studies (IDS). The analysis based on this data can reveal which goods from which countries were rejected for what reasons, frequencies of rejections, and each country's comparative performance in compliance with food safety standards. Moreover, UNIDO conducted surveys of importers and also developed indicators that assess the quality control infrastructure available in each country. These data and indicators are all made publicly available.

TSCR 2010 presents the results of analytical work conducted based on these data. For example, the loss incurred by Vietnamese fish and fishery product exporters due to the rejection in four major markets (Australia, EU, Japan, and the U.S.) is estimated to worth 13 million U.S. dollars. The loss accounts for only a small percentage of the country's export value, but these import rejections by the regulatory authorities represent only a 'tip of the iceberg.' We believe that a fundamental improvement in quality control within the food supply chain is needed to improve the overall regulatory compliance capacities in these countries.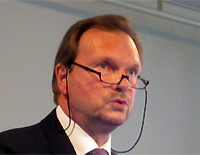 Steffen Kaeser
Unit Chief,
Quality, Standards and Conformity Unit,
UNIDO
Address 2 "Import Rejections of Agricultural and Food Products from East Asia: Issues and Future Challenges"
Kaoru Nabeshima
Chief Senior Researcher, IDE-JETRO
IDE-JETRO produced an East Asian version of TSCR (ATSCR) with a focus on East Asia, complementing the TSCR written by the UNIDO from a global perspective. The East Asian version covers ASEAN countries, China, Japan, and South Korea. In terms of the global export value of agricultural and food products, the export value of agricultural and food products from East Asia is large and comparable to that from Latin American countries. In addition, the food processing industry has a large share in the manufacturing industry in most countries and the food processing industry will continue to be an important industry for developing countries in Asia. For example, the share of food processing industry in overall manufacturing activity is 30% in Vietnam and 25% in Indonesia. The backward linkage effect will affect the agricultural production that is expected to absorb employment in rural areas. Japan remains an important export counterpart for the East Asian countries, although its share is decreasing.

Among the top 10 countries from which products were rejected by Japan, Asian countries occupied five placesChina ranking the 1st, Vietnam the 3rd, Thailand the 4th, Indonesia the 7th, and South Korea the 9th. Based on this statistical data, the ATSCR conducted an analysis with a focus on the agricultural and food products exported from Asian countries and rejections by the Japanese authorities. More than one-third of the rejected commodities were fish and fishery products. The major causes for rejections were bacterial contamination and pesticide residues.

The case studies analyzed import rejections with the recognition that, to reduce import rejections at ports, it is necessary to examine in which step of the supply chains various rejection factors occur and what issues exist in each step of these supply chains. The results of the detailed case studies of Vietnam and China are summarized as follows. First, it is critical that proper uses of pesticide residues and antibiotic products are well understood, and these substances are well controlled and managed by farmers. However, the case studies reveal that small-scale farmers lack sufficient knowledge on these, making the supply chain management difficult. In export-oriented supply chains with stricter standards, vertical integration is progressing to ensure traceability. As a result, supply chains are being bifurcated, depending on their destinations, into export and domestic markets. Meanwhile, China and Vietnam are upgrading domestic food regulations, foreshadowing that food safety will become an important domestic issue even for developing countries in the future. The case studies revealed that producers in developing countries find it difficult to: keep up with changing regulations in importing countries; obtain an increasing number of certificates and private standards required by customers, and to adjust their production processes reflecting more complex requirements imposed by their buyers.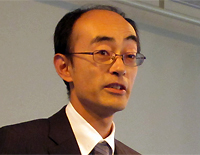 Kaoru Nabeshima
Chief Senior Researcher, IDE-JETRO

Address 3 "Ensuring the Security of Imported Foods"
Masanori Imagawa
Deputy Director, Office of Import Food Safety, Inspection and Safety Division,
Department of Food Safety, Ministry of Health, Labour and Welfare
Japan's food self-sufficiency ratio (calculated by caloric base) was 39% in 2009, and Japan depends on approximately 60% of all of its foods being imported. Ensuring the safety of imported foods is a very important issue, and commercial food products need to submit notifications to appropriate authorities without an exception. In Japan, 140 municipalities monitor domestic and imported food. To ensure domestic food safety, three different measures are implemented within the monitoring system: measures for exporting countries, measures taken at the time of importation, and in-country measures. To exporting countries, Japan is actively disseminating information about its food and sanitation regulations. Bilateral discussions and field investigations are also conducted when deemed appropriate. Japan also provides technical assistance to exporting countries. For example, Japan provides three-year training programs to Vietnamese trainees through the Japan International Cooperation Agency (JICA) to improve their inspection abilities.

In Japan, there are 32 quarantine stations where one can submit import notifications for food and related products. Inspection centers in Yokohama and Kobe are in charge of advanced inspections. The inspection system at the time of importation consists of three major types of inspection. The first one is provision of guidance to importers by MHLW, in which importers checks for the pesticides or food additives as a part of their voluntary inspection. The second one is monitoring inspections where a wide variety of imported foods are classified and undergo a sampling inspection according to the nation's total amount of intake of the targeted food, probability of violation, and past track records of violations. In FY2012, approximately 90,000 samples were inspected. In monitoring inspections, residual agricultural chemicals, antibiotics, pathogenic microorganisms, additives, component specifications, toxigenic fungi, genetically modified foods, and irradiated foods are inspected based on violation histories in the past and on the probability of violation, at the expense of the government. The last one consists of inspection orders given to importers. The importers who received this order must conduct an inspection at each time of import on foods with higher probability of violation. These foods were found to be violating laws during voluntary inspections, monitoring inspections, and sampling inspections conducted in Japan. The expenses of these inspections are paid by the importers, and the importers are not allowed to import foods without obtaining the results of the inspections. As many as 1,053 violations were reported in FY2012, of which approximately 60% violated the standards and regulations on agricultural chemical residues and additives.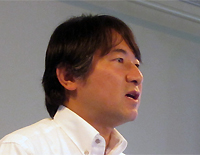 Masanori Imagawa
Deputy Director,
Office of Import Food Safety,
Inspection and Safety Division,
Department of Food Safety,
Ministry of Health, Labour and Welfare