IDE School on Urban and Regional Economics in Developing Countries for Young Economists

If you have good mentors, new and hot research topics, and good students, summer school can create a new era of economics.
Professor Kyoji Fukao, the president of IDE stated in his opening remarks at IDE School. Professor Fukao emphasised the significance of academic exchange and interaction over generation for further development of research.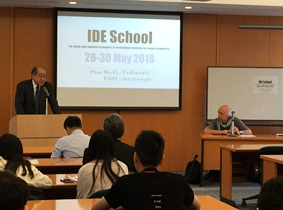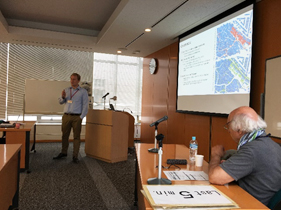 IDE-JETRO organised 'IDE School' from 28th of May 2018 to 30th of May 2018. Professor Jacques François Thisse (Universite Catholique de Louvain/IDE) has taken initiative of developing the school program, we have hosted seventeen excellent young economists as participants mainly from East Asia, North America and Europe. Their diversified research interests have been well expressed and discussed during their research presentations.
Importantly we fortunately have had wonderful lecturers and commentators; Professor Gilles Duranton (Warton School, University of Pennsylvania), Professor Diego Puga (Center for Monetary and Financial Studies, Spain), Professor Tetsuji Okazaki (University of Tokyo, Japan), Professor Kentaro Nakajima (Hitotsubashi University, Japan) and Professor Yukako Ono (Keio University, Japan). From IDE-JETRO, Dr. Yoshihiro Hashiguchi has taken his role as a lecturer.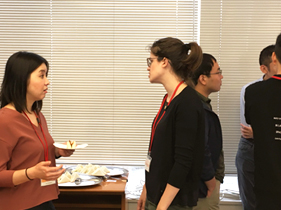 IDE-JETRO will organise academic conferences and other outreach programs in various research fields that accommodate researchers and experts globally in order to stimulate visible research accumulation and to develop broader and deeper research networks.
Noburu Yoshida (Research Planning Department, IDE-JETRO)
Date:
May 28, 2018 (Monday) - 30 (Wednesday)
Venue:
Institute of Developing Economies
List of participants: IDE School for Urban and Regional Economics in Developing Countries for Young Economists
| Name | Title | Affiliation | Title of the paper |
| --- | --- | --- | --- |
| Akira Sasahara | Assistant Professor | College of Business and Economics, University of Idaho | Spatial Income Inequality, Spatial Frictions, and Endogenous Occupational Choice |
| Tanner Regan | PhD Candidate | London School of Economics and Political Science | Building the city: urban transition and institutional frictions |
| Hangtian Xu | Associate Professor | School of Economics and Trade, Funan University | Why do cities providing more public housings face higher vacancy rate? Some facts from Japan |
| Jian Wang | Assitant Professor | Department of Economics, Business School, Shanghai University | The Denser You Live, The Less Birth You Give |
| Lumin Shen | PhD Candidate | Zhejiang University | Sea reclamation, resource curse or resources gospel? |
| Hayato Kato | Research Fellow (PD) | Faculty of Economics, Keio University | The Impact of a Natural Disaster on Foreign Direct Investment and Vertical Linkages |
| Chigusa Okamoto | PhD Student | Graduate School of Economics, the University of Tokyo | Neighborhood externalities from one-room apartments |
| Yong You | PhD Candidate | Zhejiang University | not present a paper |
| Ye Liu | PhD Candidate | Zhejiang University | Entrepreneurship and Industrial Clusters: Evidence from China Industrial Census |
| Aysenur Aydinbakar | PhD Candidate | Graduate School of Economics and Management, Tohoku University | Living Arrangement and Mother's Employment in Japan |
| Lianming Zhu | Assistant Professor | Institute of Social and Economic Research, Osaka University | Does Foreign Direct Investment Lead to Industrial Agglomeration? |
| Takeru Sugasawa | PhD Candidate | Graduate School of Economics and Management Tohoku University | The accessibility to the nearest urban metropolitan area and rural poverty in Japan |
| Heejin Kim | PhD Candidate | Department of Economics, University of Illinois at Urbana-Champaign | not present a paper |
| Mehdi Bida | PhD student in Geography | University of Lausanne | not present a paper |
| Yoko Sakamoto | PhD Student | Graduate School of Economics, University of Wisconsin-Madison | Product Life-Cycle, Innovation and Agglomeration (Overview) |
| Hyoung Suk Shim | Assistant Professor in Finance & Business Data Analytics | School of Business, College of Staten Island,City University New York | Non-monocentric Household Location Choice |
| Keitaro Ninomiya | MA Student | Kobe University | not present a paper |