Zambeef
Company Profile and History
Zambeef began as a small butcher shop in the capital, Lusaka in 1991 with minimum capitalisation. In February 2003, the Company was quoted on the Lusaka stock Exchange and subsequently moved to the listed tier in April 2005. Its shareholding base has gradually increased from 70 at the time it was quoted to 310 as at 30 September 2006 and has a market capitalisation of US $200 million.
Zambeef is currently one of the largest agro-businesses in Zambia, slaughtering over 60,000 cattle, 26,000 pigs and 3.5 million chickens, producing 8.5 million litres of milk and harvesting 50,000 tonnes of crops every year. The company is also one of the largest cropping operations in Africa with 3 660 hectares under irrigation and a further 1 500 hectares of dry land crops; has 93 butcheries throughout Zambia, Nigeria and Ghana; 8 Abattoirs around Zambia; a transport fleet of over 200 units; and the largest feedlotter of quality beef in Zambia feedlotting 12 000 grain-fed cattle per annum
Zambeef has a wholly owned subsidiary called Zamleather Limited, which is involved in the tanning of hides for export to the Far East and Europe as well as the production of finished leather, shoes and industrial footwear, mainly for the domestic and regional markets.
Master Pork became a wholly owned subsidiary of Zambeef Products PLC on 1 January 2008. The largest edible oils plant in Zambia was acquired in 2008 and operates as a wholly owned subsidiary called Zamanita Ltd.
Zambia Sugar, Zambeef Products and Zanaco completed the sale of 85.73 percent of its shares in Nanga Farms to Zambia Sugar in 2009 to focus on their core business of primary agriculture and agriprocessing.
Business Address Postal Address
Plot 1164, Nkanchibaya Road Private Bag 17
Rhodes Park Woodlands
Lusaka
Zambia

Zambeef Products PLC engages in the production, processing, distribution, and retail of beef, chicken, eggs, milk, and dairy products in Zambia. The company is also involved in the tanning of hides, as well as the production of finished leather, shoes, and industrial footwear. It operates 82 retail outlets that sell meat, chicken, milk, eggs, and processed meat in Zambia; in-store butcheries in Shoprite supermarkets; and fast food outlets, selling fried chicken and chips. In addition, the company provides transportation services
through a fleet of approximately 200 trucks; and operates as a franchise on Shoprite Checkers butcheries.

The dairy division has expanded into the production of high quality yogurt drink under the Zamsip brand name. The Gwembe Valley project fed into other divisions through the provision of wheat and maize throughout the year. The project allows Zambeef to produce irrigated winter maize and wheat.
As of 2008 Zambeef employs 3,485 people
According to their audited consolidated results for the year ending 30th September 2008, turnover was up 69% to ZMK493bn up from ZMK292bn in September 2007. Profits before taxes increased 57% to ZMK44bn from ZMK28bn. Net profits rose by 59% to ZMK38.3bn. The major revenue source during the year under review was the issuance of 44 million new ordinary shares in the group, which helped to the company raise K259 billion.
During the year under review, the group recorded export sales in excess of US$ 2 million compared toUS $1.9 million registered in 2007, while it purchased fixed assets totaling K220.5 billion compared K33.8 billion worth of assets bought in 2007.
Currency in Millions of Zambian Kwachas
As of:
2004
Oct 02
Reclassified
2005
Oct 02
Reclassified
2006
Oct 02
Reclassified
2007
Oct 02
Revenues
164,740.9
196,576.1
223,782.0
291,971.0
TOTAL REVENUES
164,740.9
196,576.1
223,782.0
291,971.0
Cost of Goods Sold
99,177.3
110,754.9
123,350.0
163,515.0
GROSS PROFIT
65,563.6
85,821.2
100,432.0
128,456.0
Selling General & Admin Expenses, Total
47,131.6
69,173.7
78,136.0
97,631.0
Other Operating Expenses
-33.7
-2,926.6
-1,662.0
-244.0
OTHER OPERATING EXPENSES, TOTAL
47,097.9
66,247.1
76,474.0
97,387.0
OPERATING INCOME
18,465.7
19,574.1
23,958.0
31,069.0
NET INCOME
14,529.8
16,683.6
19,634.0
23,500.0
NET INCOME TO COMMON INCLUDING EXTRA ITEMS
14,529.8
16,683.6
19,634.0
23,500.0
NET INCOME TO COMMON EXCLUDING EXTRA ITEMS
14,529.8
16,683.6
19,634.0
23,500.0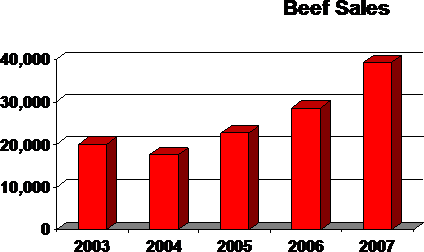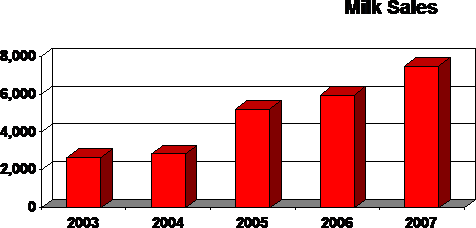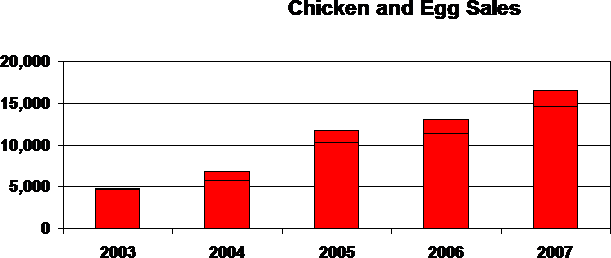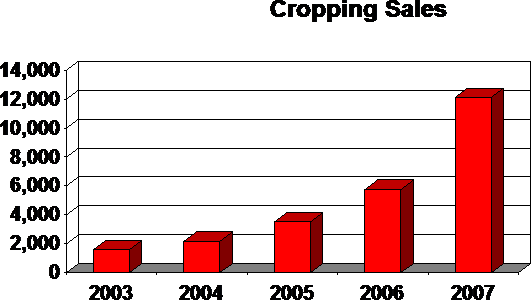 Zambeef is the largest firm both in terms of capital and sales. Zambeef currently dominates the meat supply market. Zambeef's position in the market has evolved into an 'exclusive supply' arrangement with Shoprite based on the high quality standards imposed by Shoprite upon its suppliers - standards that only Zambeef can meet.
Market Shares in the Beef Sector
Beef Producer
Brand Name
Ownership Status
Market share
Zambeef
Zambeef
Publicly Owned
65%
Galaun Holdings
Luscold
Privately Owned
10%
Northern Zambezi Traders
Pama
Privately Owned
7%
Dar Farms
King Quality
Privately Owned
3%
Best Beef Company
Best Beef
Privately Owned
3%
Savannah Beef
Savannah
Privately Owned
2%
Others
Traditional
Privately Owned
10%
Total
100%
Market shares in the Eggs Segment
Producer
Brand Name
Ownership Status
Market share
Flamingo
Golden Lay
49% Foreign
20%
Mega Farms
Mega Eggs
Private
15%
Zambeef
Zamchick Eggs
Publicly Owned
15%
Cedrics Farm
Cedrics
Private Foreign
10%
Simonga Farms
Simonga
Locally Owned
10%
Collet
10%
Bokomo
5%
Sunrise
5%
Others
10%
Total
100%
Dairy Sector - Market Shares in the Fresh Milk.
Producer
Brand Name
Ownership Status
Market share
Parmalat
Parmalat
71.5% Foreign
50%
Zambeef
Zammilk
Publicly Owned
20%
Galaun Holdings
Diamondale
Privately owned
12%
Finta
Finta
Locally Owned with Danish interests
10%
Others
8%
Total
100%
Dairy Sector - Market Shares in Processed Milk
Producer
Brand Name
Ownership Status
Market share
Parmalat
Parmalat
71.5% Foreign
50%
Zambeef
Zammilk
Publicly Owned
20%
Galaun Holdings
Diamondale
Privately owned
12%
Finta
Finta
Locally Owned with Danish interests
10%
Others
8%
Total
100%
Poultry Sector - Market Shares for Processed Chicken Brands
Producer
Brand Name
Ownership Status
Market share
Zambeef
Zamchick
Public
25%
Hybrid
Verino
Private
20%
Galaun Holdings
Crest
Private
15%
Eureka Chickens
Eureka
Private
10%
Savannah Chickens
Savannah
Private
5%
Zambezi Nkuku
Zambezi Nkuku
Private
5%
Informal Sector
Traditional
Informal
20%
Total
100%
It is the largest Pork Processor in Zambia with a 2007 turnover of around US$ 5 million
To continue to grow, expand and diversify the business in areas where the group believes it has a competitive advantage, with the aim of being the leading food provider for the region.
The company's business model of controlling every stage of the food production chain-including retailing-has been the key to its success. The company also focuses on a diversification strategy and re-investment policy which contributes to their success despite the tough global economic climate. This strategy helped reduce the volatility of its earnings while improving the quality of earnings.
In addition the company concentrate on activities and markets in which it believes it has a comparative advantage.
It has basically integrated vertically both downstream by owning most of the refrigerator trucks that transport the carcasses, and upstream by buying out five strategically located commercial abattoirs. All transfer of goods has been internalized reducing their costs of supplying and distributing greatly. Economic efficiency has increased with management synergy and legal contract cost reduction.
Zambeef is a Publicly Owned company registered on the Luse.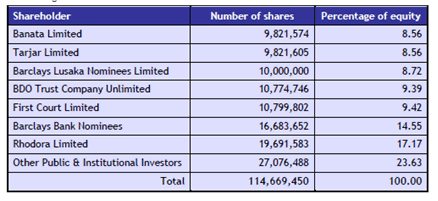 Benefits Offered and Relations with Government
Zambeef is amongst the few local companies contributing in excess of US$1.5 million to Government revenue each year through taxes and duties.
In 2009 the Zambia's Agriculture Minister, Dr Brian Chituwo, said the government recognises that the country's farmers need incentives if the industry is to continue to grow. "We don't really believe that agriculture can take off without credit facilities," he stated. Dr Chituwo says the problem of access to credit, which is particularly critical for small-scale farmers, will be addressed in the next session of parliament.
"When a country has enough food, the way we have this year, and jobs are created as a result of the same food production and processing, then we have got something to smile about as a ministry and as a country. It is our responsibility to make sure that we have more than enough food in the county. If Zambeef have such an addition to what we have already recorded, that is more than welcome," Dr Chituwo added.
The company will spend US$30 million on expansion of existing projects and the initiation of new business activities in 2009. The group would also set up a new poultry hatchery, establish ranching operations, expand its piggery and pork processing operations, and establish the first 3,500 hectares of the planned 20,000 hectare palm plantation in Mpika. Zambeef has further commissioned the new equipment in its milk plant which will increase the capacity for drinking and eating yoghurts from 2,800 litres per day to 16,000 litres per day. This will allow Zambeef to increase volumes and yields in its milk plant significantly.
The acquisition of Chiawa Farms in February 2008 also added another 960 hectares under irrigation to Zambeef's farming operation. This farm has the land and water to develop another 1 500 hectares under irrigation. Zambeef plans to develop a modern new Stockfeed plant to service third party clients and add maximum value to the protein which is the main by product for the Zamanita Oil Crushing plant.
Zambeef furthermore intends to launch a certification system for social and environmental standards with the aim of strengthening its market position.