Namdeb
Company Profile and History
Namdeb's predecessor, Consolidated Diamond Mines (CDM), was a wholly owned subsidiary of De Beers until 1994 when CDM was reconstituted as Namdeb Diamond Corporation owned in equal shares by the Government of the Republic of Namibia and De Beers Centenary AG. CDM was formed in 1920 to mine various concessions in the "Spergebiet" of Namibia. In 1929 CDM was transferred to De Beers. The De Beers Group dominates the world market in rough diamonds. Formed by Cecil Rhodes and others, De Beers is a close associate of the Anglo American Corporation of South Africa (Anglo), founded by Ernest Oppenheimer in 1917.

Together they are often referred to as the Oppenheimer empire or "greater group," forged by Ernest Oppenheimer.

Diamonds were discovered in 1908 along the coast of then German South West Africa (Namibia). Exclusive prospecting and mining rights were given to German companies. The Germans set up the Diamond Regie to regulate their production and marketing. In 1915 South Africa invaded South West Africa, defeating the German forces there and paving the way for the takeover of German diamond interests in the region.

In the years since joint ownership took effect, Namdeb has continued to recover diamonds and generate employment for Namibian citizens. The revenue generated has played a central role in building the social and physical infrastructure of an independent Namibia

All Namdeb diamonds mined at Namdeb's operation are sold to the Namibia Diamond Trading Company (NDTC) for resale on the international diamond market.

Head Office, Tenth Floor, Namdeb Centre, 10 Dr Frans Indongo Street, Windhoek, Namibia;
Telephone: +(264) 61 204 3333
Telefax: +(264) 61 204 3334

The company holds mining licences in the following areas: The Orange River Mining Licence: Extends along the Orange River for about 50 kilometres inland from the Mining Area 1 boundary; Atlantic 1 Mining Licence: Encompasses a portion of the middle shelf of the Atlantic Ocean, from the boundary of Mining Area 1 to about 65 kilometres from the shore; Mining Area No.1, Bogenfels and Elizabeth Bay Mining Licences extend from the Orange River in the south to Lüderitz in the north, and approximately 5.5 kilometres off shore in the Atlantic Ocean to approximately 20 to 35 kilometres inland; Douglas Bay Mining Licence extends from Lüderitz north to latitude 26 degrees south and from the high water mark of the Atlantic Ocean to about 15 kilometres inland

The town of Oranjemund serves the Mining Area 1 and Orange River Mines operations. It is also the logistics base for the De Beers Marine Namibia crew-change operation and home to most Namdeb employees. The Namdeb office in the town of Lüderitz provides services to Elizabeth Bay (E/Bay) Mine.

Diamond mining in Namibia and related activities, such as sorting, cutting and polishing. At Okahandja, NamGem - a wholly owned subsidiary of Namdeb, has been cutting and polishing top quality gems supplied to it by the Diamond Trading Company (DTC) International since 1999.

The company's social responsibility programme is managed by the Namdeb Social Fund (NSF) while Oshipe Development Fund, a wholly owned subsidiary of Namdeb, aims to promote entrepreneurship and small business development through investment in commercially viable business in the country.

A fully functional hospital and primary school are maintained by the company.

Namdeb, De Beers Marine Namibia (DBMN), NamGem and the NDTC employ over 3,000 people.


Diamond production from January to June 2009 fell by more than 60 percent compared to the first six months of last year. Production came in just under 400,000 carats, compared to over a million carats in 2008. Despite mining 2, 1 million carats in 2008, Namdeb could only sell 1,611 million carats as global spending power shrunk and reduced diamond exports by 30 percent compared to 2008.

However Namdeb reported that its net profit for the year ended December 30, 2008, was 226.5% higher at N$467-million, compared with N$143-million earned in the 2007 financial year. Diamond sales were 24% higher at N$5.6-million for the year, compared with N$4.5-million in 2007, owing to "buoyant demand" in the first three quarters of the year. Sales had, however, slowed significantly in the fourth quarter of last year, with conditions continuing to deteriorate well into 2009.

De Beers however remains "cautiously optimistic" of a recovery, with this year's estimated rough diamond sales of US$1.5 billion for the first six sights of 2009, standing far below the US$1.9 billion in sales achieved for the first two sights of 2008.

Namdeb supply more than 85% of the entire diamond production of Namibia. Diamonds are an important generator of export earnings, accounting for more than 40% of export revenue, 7% of government revenue and more than 10% of GDP.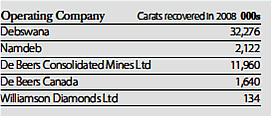 To maintain its position as the world's leading alluvial-diamond mining company

Since the end of last year, following the global economic crunch, Namdeb has been evaluating the new business environment in which the company's mines will operate. During this period a number of initiatives to reduce operating costs, maximise cash flow and alleviate the impact on employees have been taken. Additionally, Namdeb had revised its mining plans for 2009 in line with client demand, and built into those plans the capacity to change production to meet evolving demand in the market. By being proactive it put itself in a position to expand the business when the economic recovery begins.

Against this background, Namdeb pushed forward a plan to slash this year's operating and capital costs by US$1.5 billion. It also ended its three months production interruption that took effect in the second week of April 2009 and mining activities restarted from mid-July; reducing employee shift patterns in most of the traditional land-based operations and adapting forecasts for land and marine production accordingly.

Namdeb will also look increasingly to marine operations to satisfy anticipated increasing international demand, and to maintain production and revenues. Namdeb plans to reposition the land operations into a smaller and decentralized business unit making a still significant contribution to carats production and revenue for its shareholders.

NamGem's strategic partnership with Lazare Kaplan International has added momentum to the company's drive towards profitability and global competitiveness.

Namdeb Diamond Corporation (Pty) Limited is owned in equal shares by the Government of the Republic of Namibia and De Beers Centenary AG.

Benefits Offered and Relations with Government
Namdeb has received permission from the ministry of mines and energy to defer the payment of royalties to November 2009. The move is designed to allow Namdeb recover from the effects of the global slump in diamond sales. Namibia's minister of mines and energy, Erkki Nghimtina, said that government would defer Namdeb's royalty payment by three months after which the diamond miner's financial performance would be assessed. "We have not granted them a complete waiver, what we decided on is deferment of royalty payment, they can't pay now so we have given them three months and if their situation is not improving, maybe we might extend by another three months," the minister said. Namdeb royalty payment for 2009 is expected to be about 125 million rand ($16.1 million). For 2007, the 10 percent royalty fee brought around N$450 million into the state's coffers, along with N$633 million in corporate taxes .

In addition the company has been granted "a temporary covenant waiver" on its £1.8 billion debt. The waiver, granted by five different banks, lasts until September 2009, with De Beers in return having to pay upfront fees and a higher interest rate on the debt.

To prevent Namdeb from "collapsing", Government also recently helped the company to sidestep the DTC in an unusual move to sell a significant portion of its stockpile directly to the Indian consortium, Diamonds India Limited to relieve the cash flow problem.

Diamonds are subject to a 10% royalty on sales. Diamond mining is subject to a 68.8% Marginal Effective Tax Rate (METR), possibly the highest in the world,
In January 2007, the government and De Beers signed a new sorting, valuing and marketing agreement and the Namibia Diamond Trading Company (NDTC-a 50:50 joint venture between the government and De Beers) was formed "to recognise and formalise the government and De Beers efforts to develop a sustainable local downstream diamond industry in Namibia." The purpose of NDTC is to make diamonds available for sale in Namibia for local manufacturing. This will support Namibia's economic imperative to drive job creation and value creation from its diamond resources.

It is envisaged that NDTC will be the primary vehicle for growing the diamond manufacturing industry in Namibia and driving the creation of a sustainable downstream diamond industry in the country that will: provide maximum long term value from diamonds through world class sorting, valuing and sales practices in Namibia; maintain and develop employment opportunities and broaden the skills base in Namibia; ensure that new skills and capabilities are created amongst Namibia's citizens; and be a potential catalyst for other international business to invest in Namibia.

In addition to being sorted and valued, a proportion of diamonds from Namdeb is sold directly by NDTC to local manufacturers, without being aggregated. This is for the primary purpose of creating a local Namibian brand.